Coaching
LTA free virtual live coaching sessions
Sun, 07 Feb 2021 00:00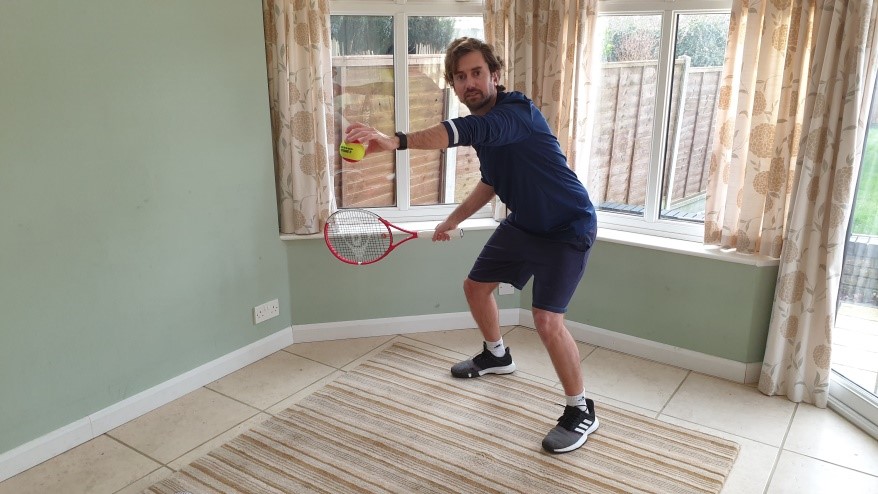 LTA LAUNCHES FREE VIRTUAL LIVE TENNIS COACHING SESSIONS FOR FAMILIES
Posted on 4th February 2021by Wiltshire Tennis
The LTA will host four virtual live tennis coaching sessions for families every Saturday morning throughout February and during Half Term at 10am
LTA British Coach of the Year Matt Smith will lead the free classes
As the Australian Open kicks off on the 8th January, the LTA is providing additional free Tennis At Home fitness and training content for sports fans to get involved with
The LTA is launching free virtual coaching sessions for families throughout February and over school Half Terms (England and Wales 15-19, Scotland 8-12) via the LTA's Facebook page,. While it's not possible to get on court due to lockdown guidelines, the sessions will take place every Saturday morning at 10am and will be hosted by LTA coach of the year, Matt Smith.
Matt will take families through a 45-minute lesson with extra time for one-to-one tuition at the end of each session. The training is free, easily accessible, suitable for all levels and can be enjoyed safely in any available space at home. It doesn't matter if participants don't have any tennis equipment – just pick up a frying pan, a pair of socks and anyone can get involved.
Inspired by the tennis stars we have seen training from their hotel rooms ahead of the Australian Open, Tennis at Home replicates on court practice resulting in a full body workout which incorporates strength and cardio exercises, burning around 300 calories each session. Playing tennis improves your coordination, balance and fitness levels as well as helping to boost your mental wellbeing.
As well as its virtual coaching sessions on Facebook, the LTA will also host live fitness sessions over on TikTok. LTA expert coach and fitness trainer Isla Smith will lead a Tennis HIIT workout on the governing body's channel to inspire players and fans to get active and enjoy a tennis-themed workout.
LTA coach of the year Matt Smith comments, "The LTA Tennis At Home coaching series is an excellent way to keep the family entertained, as well as fighting fit both physically and mentally during lockdown. The classes will include a host of fun tennis activities exploring technique, footwork, rallying, volleying and serving to improve your skills. Anyone can take part, either on your own or with someone in your household, and the interactive challenges and games will help players get ready for when we can eventually return to court. Tennis enables families to have fun, play and socialise, so whether you're a seasoned veteran or want to learn a new skill, we want to get as many people involved in Tennis at Home as possible."
The free sessions from the LTA are part of their vast array of Tennis at Home content available to all, at no cost on lta.org.uk. The Tennis at Home Hub hosts a wide range of content from LTA experts including physiotherapy and yoga from LTA Physiotherapist Anna Poyser and tennis inspired fitness workouts from Isla Smith.
Last summer, the LTA launched Play Your Way, its commitment to opening tennis up to the nation, with the ambition of inspiring people of all abilities, age and background to pick up a racket and play tennis on their terms. Play Your Way is an invitation to anyone and everyone, creating a more inclusive world around tennis that celebrates individualism and welcomes all styles of playing. The LTA hopes that the free virtual tennis coaching sessions throughout February will inspire families to continue or start to play tennis when we are able to get back on court. When we are able to, tennis enthusiasts can find their nearest Club or park court on Rally the LTA free booking site.
Matt Smith is the Coach Development and Learning Manager at the LTA. He is an LTA Level 5 Master Club Coach, Coach Educator and Tutor Trainer with 16 years-experience and has previously been awarded the LTA British Coach of the Year, amongst many other accolades. Matt is the founder of Mini Tennis World Tour, a charitable project delivering mini tennis around the world to deprived primary schools and orphanages.
Twitter: @msmithtennis
Instagram: @msmithtennis
Tennis At Home Live Sessions Timetable
| | | | |
| --- | --- | --- | --- |
| DATE | TIME | SESSION | PLATFORM |
| Saturday 6 February | 10:00AM | Ready to Rally | Facebook |
| Friday 12 February | 6:00PM | Tennis HIIT | TikTok |
| Saturday 13 February | 10:00AM | Ninjas at the Net | Facebook |
| Saturday 20 February | 10:00AM | Serve It Up | Facebook |
| Saturday 27 February | 10:00AM | Going For The Win | Facebook |
Read more HERE