GRAND SLAM TENNIS SESSIONS
Fri, 10 Apr 2020 00:00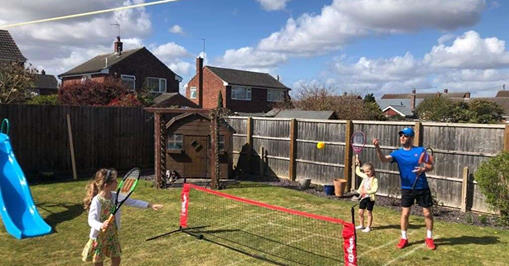 A tennis coach said he is making the most of the self-isolation period after moving his services online, having faced the tough reality of closing his club's doors during lockdown.
Coach James Harding, of Caunton Tennis Club and Tennis 4 All, is hosting a bunch of online games, sessions and exercises for members and said the feedback has been great.
"It was difficult at the start and it was really upsetting to have to stop everything and close the club because we knew people would want to stay physically active," said Harding.
"I realise that at this time people need to have the physical and mental benefits that exercise can bring.
"I also want to keep the members of the club and coaching programme together as the children have many friends at the club, as do the adults, so the more they are interacting through things like the tap up tournament or the virtual tennis sessions the better."
He said the main aim was to keep members both physically and mentally healthy from the safety of their home throughout the sessions.
The club is currently hosting a 20-day fitness challenge, as well as a tap up tournament, live mini tennis session, live fitness sessions and technique sessions.
With its annual Easter celebrations cancelled, Harding will host an egg hunt by using an aerial photo of the club, which will be posted on the Facebook page with numerous clues.
Using the clues, members will mark on the map where they think the eggs would have been hidden.
To get involved visit 'tennis4allcoachingservices' on Facebook.