Club
Graham Mitchell Tournament
Wed, 26 May 2021 00:00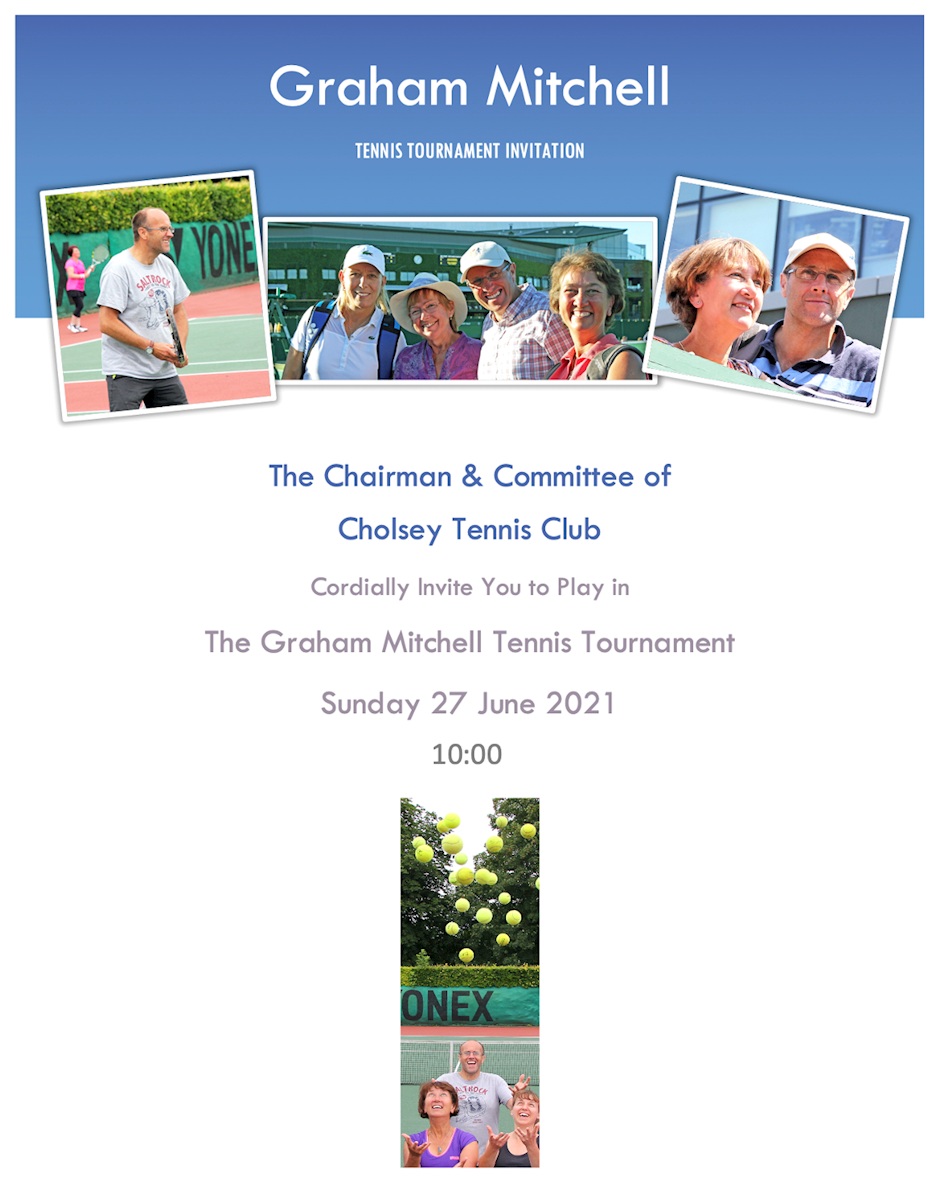 It is with great pleasure that I announce that we will be running the The Graham Mitchell Tournament, which will now take place in late June.

Graham Mitchell was a stalwart member of the Club, always up for a laugh, and a great advocate for social tennis. He passed away far too soon in May last year, and at last we are able to remember him by holding a fun tournament in his name. A special trophy has kindly been donated by Siobhan Binchy, who is a good family friend to Graham, Stella and the boys.

Date: Sunday 27th June

Time: 10:00-17:00

Format: American Doubles Tournament.

Rules:

Players will be either be seeded or unseeded. In the round robin group stage, players will be allocated a partner by drawing names from a hat. In each match, each player plays 4 games with their partner and 4 against their partner. In order to speed up play, each game will be decided by "sudden death" deuce.

The 4 seeded and unseeded players who win the most games in the group stage will progress to the semi finals. New pairings will then be drawn from a hat. A semi final and final will be played, each consisting of one tie break set.

Optional Dress Code: Claret and Blue (to reflect Graham's love of Aston Villa).

Experience Required: This is a competitive tournament aimed at team players, regular Tuesday night players and stronger juniors.

Food: We will have a buffet in between the group stage and semi finals. We ask that all participants and spectators bring either a sweet or savoury dish, and specify what they will bring in the sign-up sheet to ensure a varied spread.

Drink: tea and coffee will be provided, but please bring your own drinks for during and after play.

How do I sign up?

If you would like to participate in the tournament, please sign up on the following form by Friday 7th June:

https://docs.google.com/spreadsheets/d/1-Ep5DBMQVrjfp20CiDQta8do0js9YU7uLzOGFmYmT5Q/edit

We are currently limiting places to 24 players on a first-come, first-served basis.

All members, regardless of whether they wish to take part, are encouraged to come and watch the tournament and enjoy the buffet.