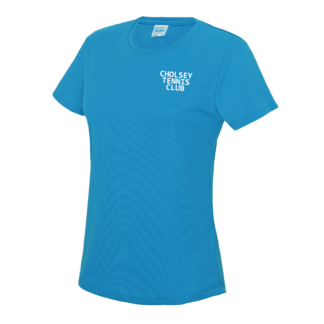 We are pleased to launch a Webshop for a range of Club clothing, with the assistance of a local business, Make It Mine, based in Didcot, run by Debi Ripley.
Debi has created the Webshop with details of the range of T-shirts, Sweatshirts and Hoodies which are available, for adults and children, and will deal with all aspects of any sales, including free local delivery. Her telephone number is 01235 519138.
Please refer to the link below:
Cholsey Tennis Club - Make It Mine
After consultation with team Captains, the suggestion is that Men's teams should have Arctic white T-shirts, and Ladies teams Sapphire blue, as illustrated. Player's initials can be added to all items as an optional extra, whether on the sleeve or chest.
Additional ranges and colours are also available by request to Debi, and she is very happy to advise generally. The site currently shows all available sizes, and more will be added as they become available.
We think that the range, duly overprinted with the Cholsey Tennis Club logo, will be a great way of putting our thriving Club further on the map, and we hope members will support the initiative with enthusiasm!