Competition
Peterborough Tennis Festival Report
Fri, 20 Aug 2021 00:00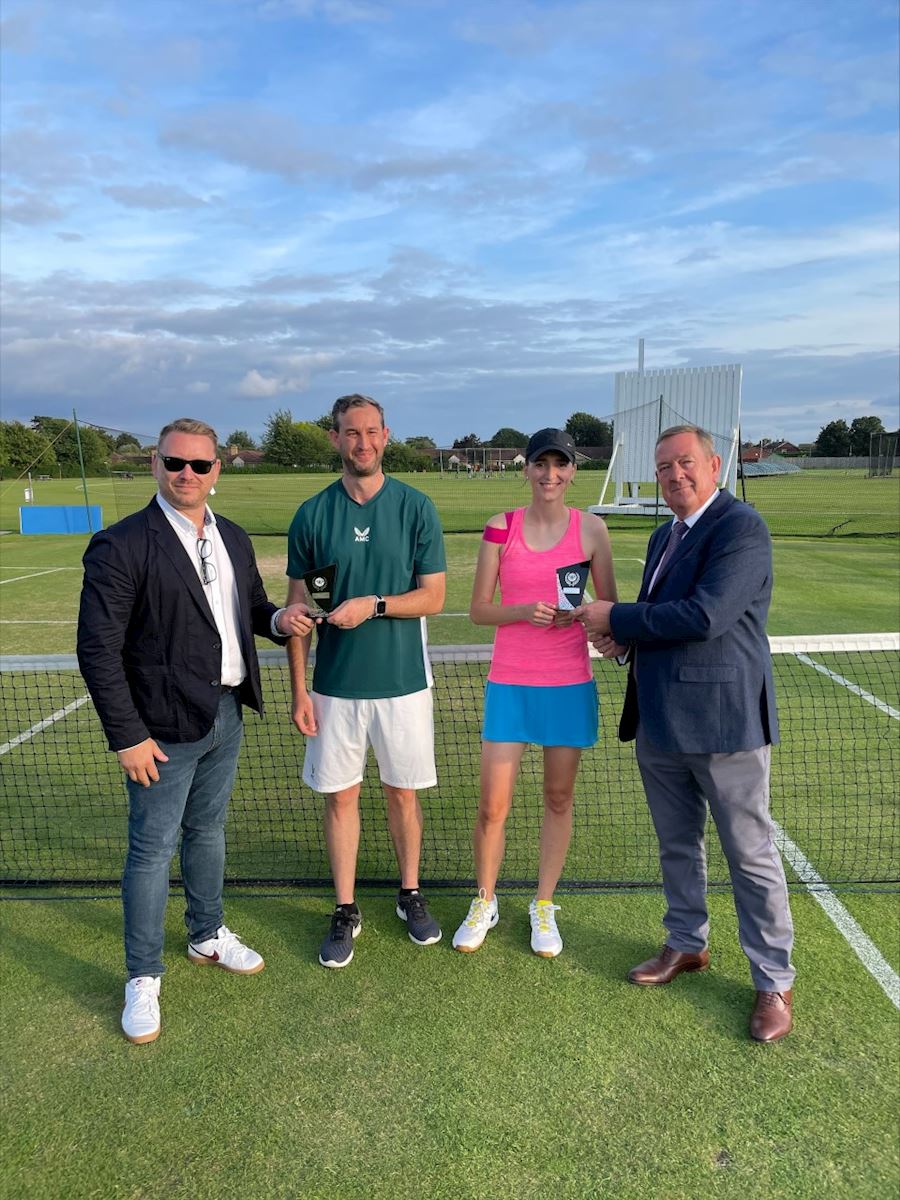 WOW what a fantastic week we had at the Peterborough Tennis Festival with 133 players
entered into all events, 180 matches, 246 sets and 1959 games played over the 5 days.
Thank you to everyone who played in the event. Congratulations to Arif from Cambourne
who overcame a tough battle from our very own Ady Payne 6-3,7-5 after Ady destroyed
the hopes of many club members with his heroism on the grass courts.
In the ladies singles Iva Taylor beat Anita in a great match played on the wednesday night lights in front of the social 6-1, 6-1. In the mixed doubles Iva teamed up with Mark Ormston to win the competition only dropping a total of 6 games in the 4 matches played ! They beat Jenny & Isaac Rice 6-1,6-0. The Ladies doubles was the closest final of the day
with Nicky Keir our ladies club captain teaming up with Liz Williams to win 6-2,5-7,10-8 against Lisa
Mcdonough & Jenny Rice.
The Men's doubles was won by our friends at Cambourne Arif and Steve who won 6-0,6-2 against Ady
Payne & George Green.
We also hosted a Wheelchair tennis event as part of the festival. There are only a handful of tournaments in the
UK that have both Wheelchair and able bodied events happening at the same time ! With club member
Gemma winning the consolation draw
There were also 5 junior events in the week. Congratulations to club members Adam Sullyman for com-
ing runner up in the u8's, Aryan Adarsh for coming runner up in the u9's and Jess Sackey for winning the u12's.
I would also like to thank Gary Rice the groundsman for creating 3 fantastic grass courts for us, Simon Youngs from Diligent Cleaning for being the main tournament sponsor and of course a massive thankyou to Paul Evans who ended up serving behind the bar most of the week and also donated the balls on behalf of G&L Sports. And another massive thankyou to Shayne and her husband Stuart for volunteering on the bbq for the night, the food was donated to the club from Tescos which raised £220 from selling burgers and sausages all night.
MANY THANKS TO MAX, AND ALL WHO HELPED MAKE THIS EVENT