Competition
Exciting Win at End of National League Season
Wed, 23 Jun 2021 00:00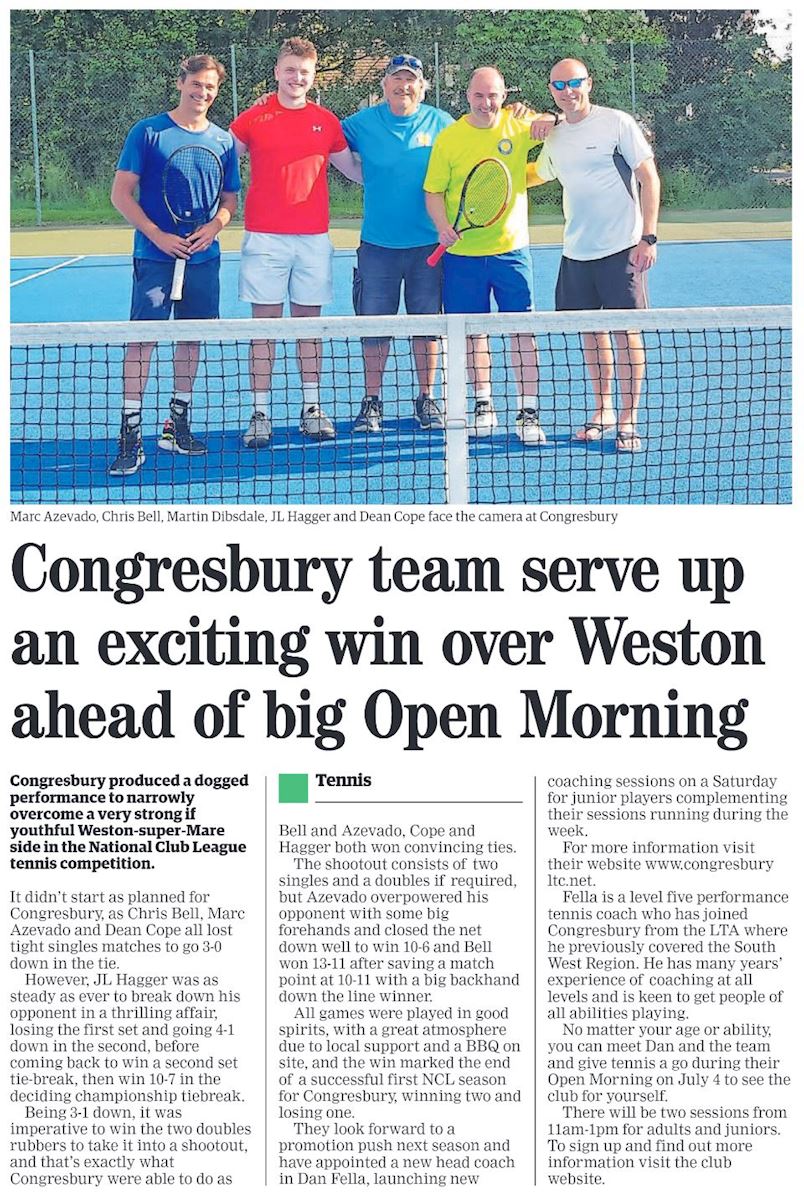 The photo shows the four players plus the team manager (left to right are Marc Azevado, Chris Bell, Martin Dibsdale (Team Manager), JL Hagger and Dean Cope)
Thank you to The North Somerset Times for printing this article - you can see the online version at https://www.northsomersettimes.co.uk/sport/congresbury-tennis-club-national-league-match-report-8074624
Sunday 13th June not only marked the hottest day of the year so far, a successful start for England in Euro 2020, but also a dogged performance from Congresbury to narrowly overcome a very strong if youthful Weston Super Mare side in the National Club League tennis competition.
It didn't start as planned for the Congresbury side, as Chris Bell, Marc Azevado and Dean Cope all lost tight singles matches to go 3-0 down in the tie. However, JL Hagger, being as steady as ever, broke down his opponent in a thrilling affair, initially losing the first set and going 4-1 down in the second, but them came back to win a second set tie-break, then won 10-7 in the deciding championship tiebreak
Being 3-1 down, it was imperative to win the two doubles rubbers to take it into a shootout, and that's exactly what Congresbury were able to do. Chris and Marc, Dean and JL both won convincing ties. The shootout consists of two singles, and a doubles if required. Marc and Chris played the opening singles matches. Marc out powered his opponent with some big forehands and closing the net down we'll, in winning a comfortable 10-6. Chris won 13-11, after saving a match point at 11-10, with a big backhand down-the-line winner.
All games were played in good spirits, with a great atmosphere due to local support and a BBQ on site. It marks an end to a successful first NCL season for Congresbury, winning 2 and losing 1. They look forward to a promotion push next season.
Along with the clubs recent league success Congresbury have appointed a new head coach Dan Fella and launched new coaching sessions on a Saturday for junior players complementing their sessions running during the week ­ – for more information please look at their website www.congresbury ltc.net. Dan Fella is a level 5 performance tennis coach who has joined Congresbury from the LTA where he previously covered the South West Region. He has many years' experience of coaching at all levels and is keen to get people of all abilities playing.
No matter your age or ability come along and meet Dan and the team and give tennis a go during their Open Morning on 4th July and see this friendly club for yourself. There will be two sessions from 11-1 for both adults and juniors, to sign up and find out more information please visit the club website.