Competition
Finals Day 2021
Sun, 19 Sep 2021 00:00
Finals Day 2021
There was an air of excitement buzzing around 90 Gores Lane on Saturday 18th Septemebr as the crowds gathered and the finalists stretched and warmed up ahead of what proceeded to be an afternoon of first class tennis.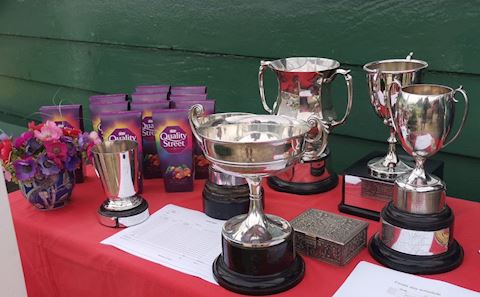 First up was the Mens and Ladies singles final, the pinnacle of the tennis calendar, and the finalists did not disappoint, providing the crowds with cintialating serves, volleys and ground stokes.
Ladies Singles
In the Ladies final two of FLTC's finest teenage prodigies went to head to head with Mia Shaliker triumphing against strong opposition in Katie Bentzen.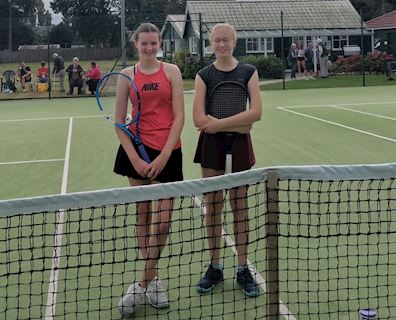 Mens Singles
The Men's final was an equally enthalling battle between former winner Garry Henwood and Phil Whalley however this was not going to be Garry's day and debutant Phil triumphed.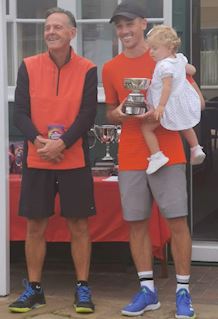 Ladies Doubles
The ladies doubles final saw the ladies singles finalists Mia Shaliker and Katy Bentzen team up to take on Martina Aiello and Keren Cartright with the two young singles finalists emerging victorious.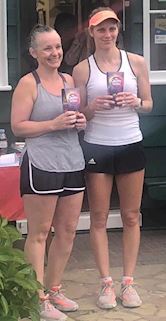 Runners up Keren and Martina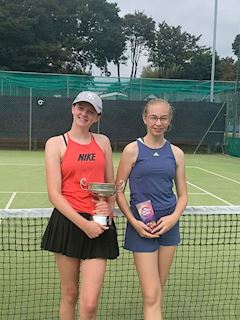 Winners Kate and Mia
Mens Doubles
The mens doubles was a classic contest with the Pete Sampras look-a-like Clive Lewis teaming up with Paul Chambers to take on the might of the Phils; Phil Whalley and Phil Gray to be precise. The Sampras doppelgänger and his partner put in a strong performance but it was not to be and 'the Phil's' took the crown in the end.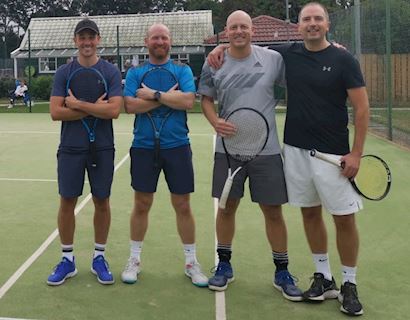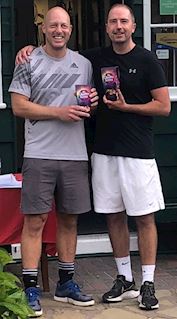 Runners up Paul Chambers and Clive 'Sampras' Lewis
The 'Phils" - Phil Whalley & Phil Gray
Mixed Doubles final
Husband and wife super-duo, Phil Whalley and Kelly Whalley faced off against Phil Gray and Sara Bergqvist. In this contest the 'Phils" now found themselves on court again but this time on opposites sides of the net and a close match ensued but the Whalleys were too hot to handle and the married couple walked away with the trophy.

Mixed Handicap final
The mixed doubles final found former wrestler, Dave Helmsley, picking up a racket instead of his opponent . He teamed up with Karen Cartright, fresh from her Ladies Doubles final, to take on the energetic Ben Cox with his partner Mandy Levine. Unfortunaletly for Dave this was not going to be a piledriver for him and Karen and Ben and Mandy walked away triumphant and thankly without any scrapes.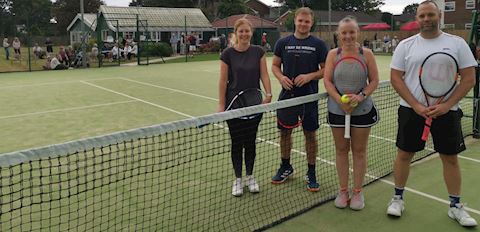 Mens Plate
The Mens plate was a contest between youth, in the form of Oscar Davidson against the experienced Rob Shalliker and in the end experience won out although we hope to see Oscar in futures finals at FLTC.