Coaching Team
We are lucky enough to have 3 great Coaches, so there are plenty of opportunities (and choices) to improve your game with us at Hadley Wood Tennis Club, whatever your level.
Adults
We run Get Fit Cardio Tennis sessions, one to one coaching, group coaching (get together in groups of 3 or 4) and also team training sessions - our Coaches will help you be the best that you can. The ladies have recently found that getting together in a group of 4 for a shared lesson is really beneficial and a lot of fun so you might like to try that ... it is a great way to learn new tactics and forge new partnerships for the team matches.
Juniors
At Hadley Wood we introduce children to tennis through mini tennis and a junior coaching programme. Children can sample these sessions in holiday camps or attend an after school course. The advantage for becoming a Club Member is that you get the benefit of attending Club Nights and joining in with matchplay sessions under the guidance of the Coaches and the adult members when you feel able to.
See our Summer Term Timetable under the Junior Coaching tab.
Meet our Coaches ... a brief introduction to each of them is shown below together with their contact details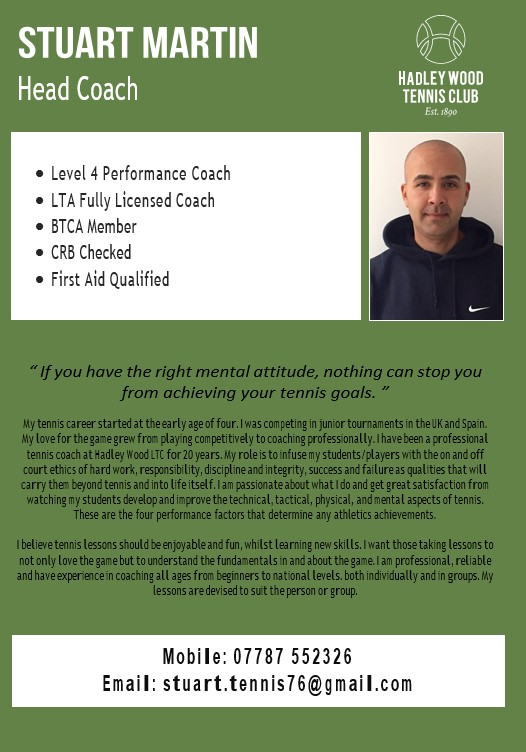 s