Social
Barbecue and Tournament - August 2019
Tue, 13 Aug 2019 00:00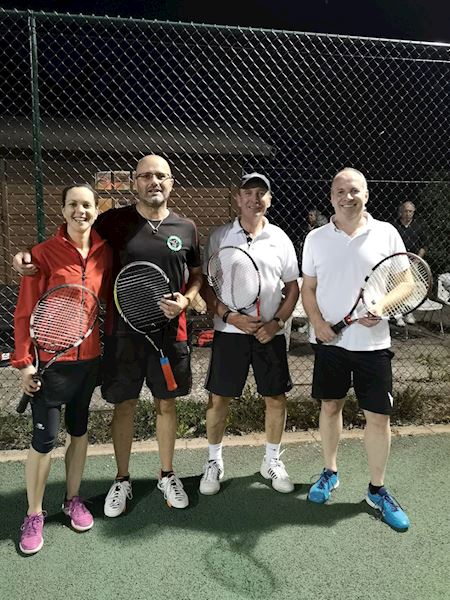 Coals to Newcastle
Well, thank goodness, the BBQ coals were diverted to Harbury by specialist procurement and lighting experts Mary & Keith Thompson. A sunny, warm evening was also duly delivered and thus the key ingredients for a feast of tennis for fifteen of Harbury's best.
Two groups battled for places in the semi-finals with Sue Johnson & Nigel Eaton and Katy Wiltshire & Steve Stark from Group I narrowly making it through. In Group II Keith Thompson & Andy Smith together with Robert Stockdale (more about his partner below) edged out James – (James Edge, geddit?) - and others.
The BBQ then took place before the semis and the final. A ravenous Andy Smith devoured his steak having had to wait whilst he fought for a semi-final place. But he did win the award for the player who travelled farthest to be in the tournament having flown overnight from Africa. James' wife Ruth came up trumps with delicious chocolate donuts sourced in a good deal from Tesco and so the games continued.
Robert was a sole player (being the 15th) and auditioned partners in his Group II games. Chris Cousins and James Edge were so close in his estimation that he could not choose between them, so he plumped for Neil Brown. This proved to be an inspired choice as he and Neil made it through to the final against Katy & Steve.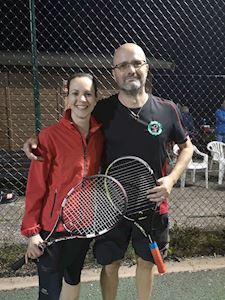 But then his luck ran out as Katy & Steve became BBQ 2019 Champions.
As someone may have said: "Harbury 2019 Tennis is cookin'." Another great evening.