Club
LTA MANAGED PLAY UPDATE
Mon, 01 Jun 2020 00:00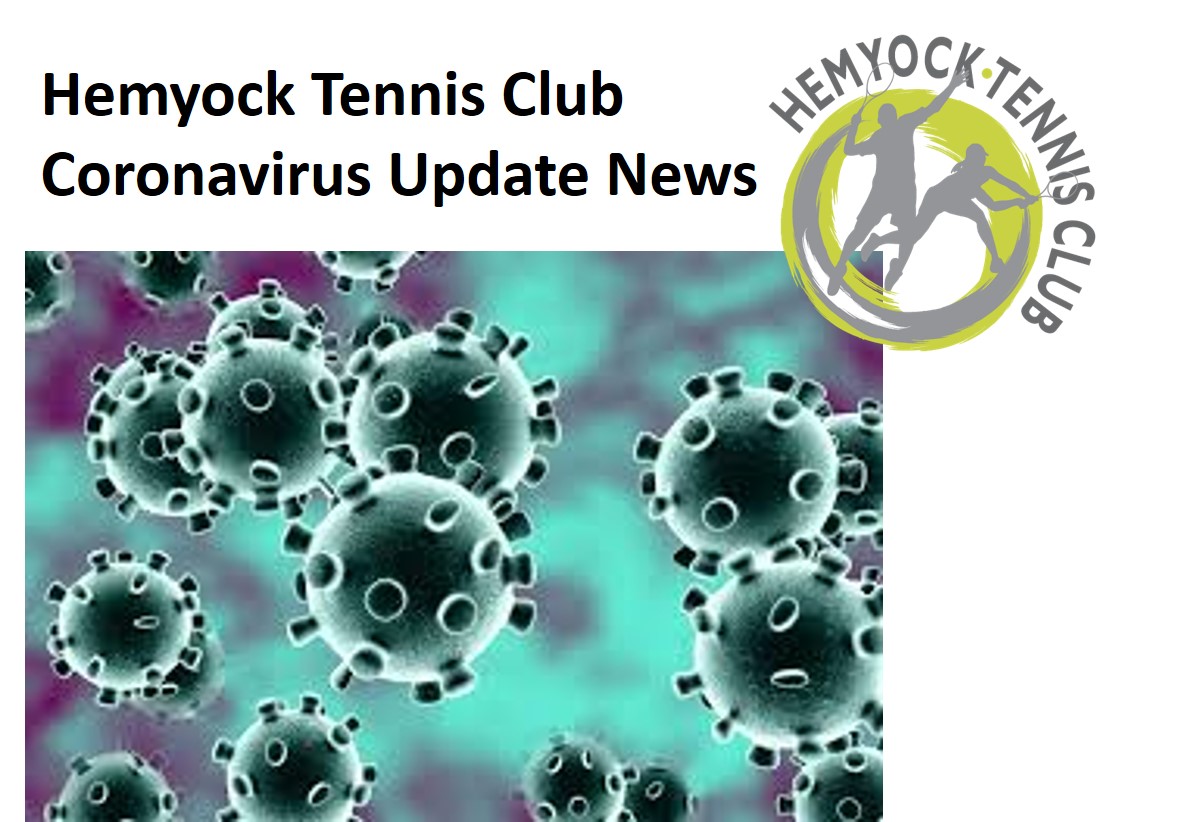 Good Morning
You may have read that there have been changes to restrictions with regard to playing sport, and particularly tennis, and the LTA have updated their guidelines to reflect this.
The guidelines for both players and the tennis venue are available via LTA link on our website clubspark.lta.org.uk/Hemyocktennisclub. Please take the time to read them BEFORE playing tennis. There are also some notices (some of which the LTA have not yet revised) that the club will display as soon as practicable, and hand sanitiser will be available at the court entrance(s).

The main change for players is that doubles play can be permitted where players are not necessarily from the same household, provided that the measures detailed in the guidelines can be met. The club will take the steps required as part of its responsibilities as soon as possible, and will keep members informed. Until then, anyone playing doubles with persons not from their household does so at their own risk!

To play, courts should be booked through Clubspark or using the smart phone app Booker. Please do not arrive at the courts earlier than your booked time, and finish play a few minutes before time, to allow safe distancing during changeover on the court.

Players booking and/or playing will do so on the understanding that they have read the LTA guidelines with regard to containing the spread of Covid 19 and will comply with measures in those guidelines.

Court 2 will remain closed for now. This will be reviewed regularly over the next four weeks.
The clubhouse must only be used for toilet facilities, and where the first aid kit is required.
Please ensure you bring sufficient drink for yourself when playing,

2020_21 Membership. Assuming that there is no worsening of the current situation regarding Covid 19, we anticipate that for membership purposes, our season will begin on 1/7/20, and that subs will be 75% of the annual fee. If we feel unable to open court 2 by that date, the subs will be 70% to reflect the reduced facility.

Social sessions remain suspended - play is strictly through booking only.

Non-members. Where non-members play, a fee is payable.

Coaching. Dan Sizer, our coach is fully aware of his responsibilities and relaxation of guidelines with regard to coaching and will be pleased to discuss your requirements. [email protected]

Finally, the club appreciates the inconvenience caused by many of the steps it has been forced to take, but it's good to be able to play tennis again, so please play and enjoy. By looking forward to starting the season for membership purposes on 1st July, the committee have given ourselves some time to manage the Clubspark set up, our policy on court 2, clubhouse arrangements, social play, and also any backtracking that may be necessary if restrictions need to be re tightened.

Thank you
Bob Hawkes
Hemyock Tennis Club