Competition
August mixed doubles tourament
Mon, 19 Aug 2019 00:00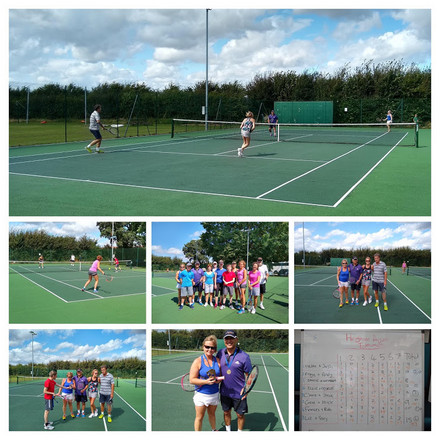 Our mixed doubles tournament was a great success. Sunday 18th Aug 2019 16 players competed over 4 hours in round robin style competitive play with fun and social atomosphere. Players included George, Ellie and Jamie who as junior players more than held there own against the adults!!
The final play off was won by Andy and Angie Hunt who pipped Franicis and Rob Whiting to the medals despite the fact Rob and Francis had been way out in front on matches won up until that point! Well played to all.
Food was plentiful as all players brought picnic food to share. A brief rain delay meant an early start to lunch but we managed to get a full 7 rounds of play in so plenty of tennis for everyone. We intend to run more of these Sunday tournaments as this one proved popular with a long list of reserves wanting to play. If you are a member find a partner and watch out for emails of the nect one.