Mike Seymour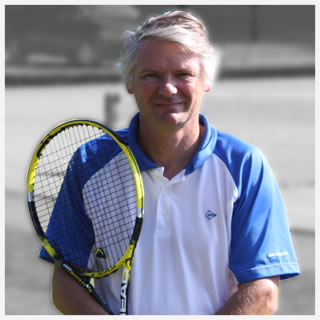 Hi, my name is Mike…
and I am joint Head Coach at Hoddesdon Lawn Tennis Club. I have been a tennis coach since 1993 and have been head coach at some of the top clubs in the local area including Melbourne Tennis Club (Cambridgeshire) and Broxbourne Tennis Club as well as assistant head coach at Hertford Tennis Club.
I joined the coaching team at Hoddesdon in April 2013 and am enjoying working with the both the pre-existing coaching staff and Hoddesdon Tennis Club members alike.
I am a LTA qualified club coach in addition to LTA Leaders Tutor. I also am a qualified cardio tennis instructor and SAQ (Speed Agility Quickness) Coach.
Lessons
I offer both individual and group lessons at Hoddesdon Tennis Club, including a "returners and receivers" group session on Wednesday nights for those who are looking to improve their tennis skills. The Wednesday night sessions focus on technical aspects of the game in addition to helping improve match fitness. Individual lessons are tailored to each specific player.
Career Highlights
As you would imagine; after 20 years of coaching there have been many highlights, but amongst those that stand out are working with Elena Baltacha on grass courts to help her prepare for Wimbledon and also coaching Hoddesdon's own Power Brothers (Luke and Scott) who have both gone on to play the game professionally.
Book a Tennis Lesson…
If you would like to find out more about how I can help improve your tennis game please contact me on T:07956 324540 or E: [email protected]