Club
COVID-19 Update 14 May 2020
Thu, 14 May 2020 00:00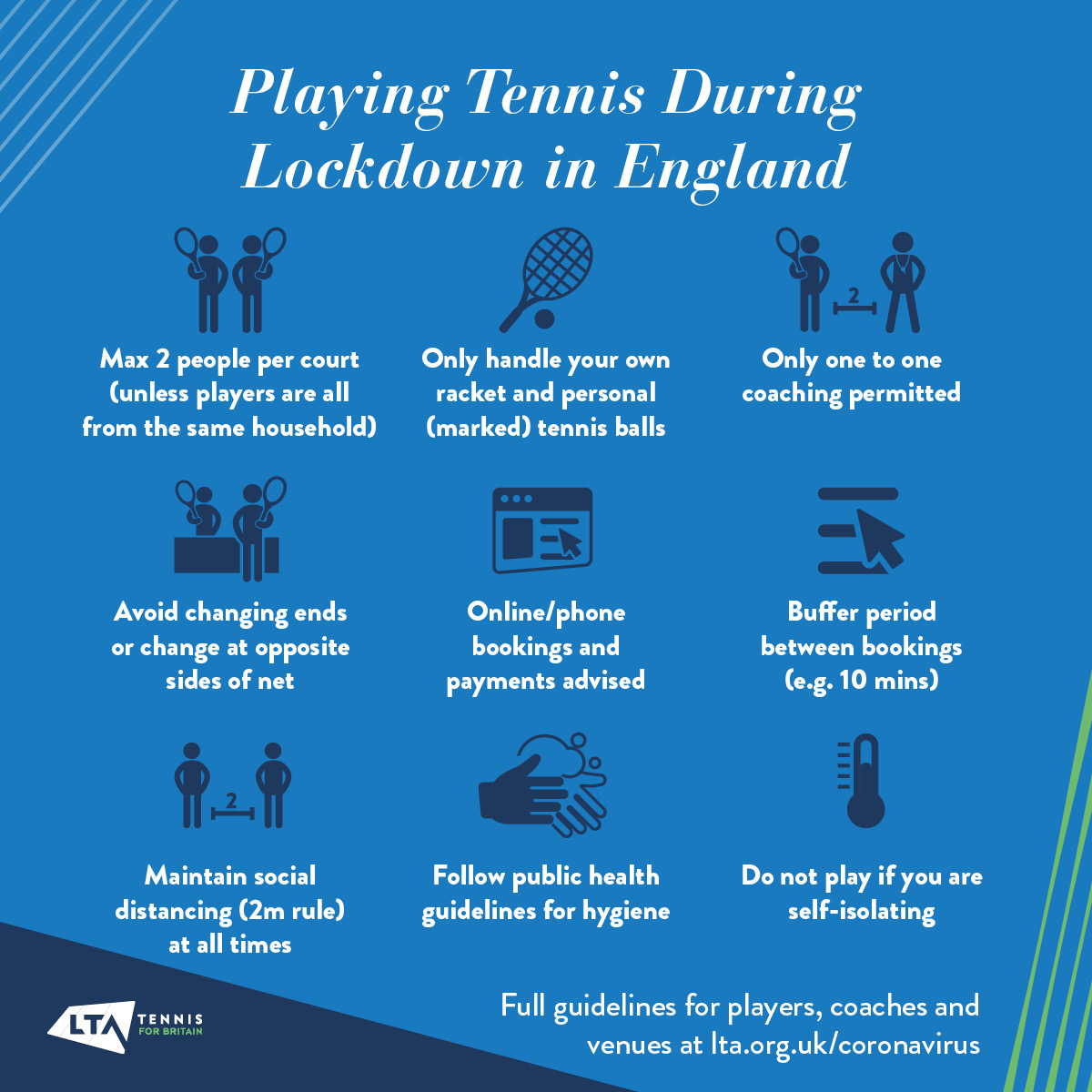 Dear Members
Due to changes in government guidelines and the LTA Guidelines being released earlier this week the club and it's committee are now in a position to slowly re open the outside courts for use whilst following strict rules.
In order to get the facility ready and safe for use we will be opening the club on Monday 18th May for a trial 2 week period at the end of which we will review if this can continue.
Your Memberships
As advised when we closed the club your memberships will be extended to take into account the time we closed. While it is still uncertain if the reopening will be long term this will be reviewed at the end of May and actioned if it is clear the reopening can continue. Unfortunately there is still a possibility we may have to return to lockdown.
Opening Times and facilities
Opening from 9am Monday 18th May
The club will be open daily from 9am – 8pm Monday to Sunday
The opening times are only daylight hours as floodlights are not in use at this time
There will be no access to toilet facilities at this time as the club house must remain closed
Access to the club will be via the front gate which will be padlocked and the code sent to players in the confirmation of court booking email.
First aid box will be situated in the outdoor cupboard
Booking Courts online or Via th APP
Outside courts 1,3 & 7 will be bookable for members only.
Bookings will open on Saturday 16th May
Book online via your booking APP or the website.
Any court use must be pre booked.
Bookings will be allowed hourly, up to 2 hours per player, but players must arrive at 5 past the hour and leave a 5 too the hour to reduce contact with others (10 minute buffer)
How to book courts via the booking APP - https://sportlabs.zendesk.com/hc/en-us/articles/206275005-ClubSpark-Booker-App
How to book courts on the website - https://sportlabs.zendesk.com/hc/en-us/articles/202250669-Booking-A-Court
Before and after Play
Wash your hands before leaving to visit the club and travel only with your household
Bring your own hand sanitiser to clean hands after touching gates
Players must leave straight away and NOT congregate in the patio area
Wash your hands on returning home as per guidance
Shut the club gate and lock the padlock when you leave
During Play
Bring your own personal tennis balls, Mark them to identify your own
Only serve your own, your opponent should serve their own
If you must change ends do so in a safe way, at distance
Do not share or leave tennis at the club
No net winders will be available, the net will be set for use
There will be no Benches
Coaching
Coaching is permitted only on a 121 basis to members and non members.
Coaching is at the coaches and player discretion.
You will need to contact the coaches directly to arrange sessions.
NO group coaching will take place.
Important guidance
Detailed advice for players, venues and Coaches can be found via the LTA website in addition to the guidelines on this infographic. Please read these before you play.
https://www.lta.org.uk/about-us/tennis-news/news-and-opinion/general-news/2020/march/coronavirus-covid-19---latest-advice/