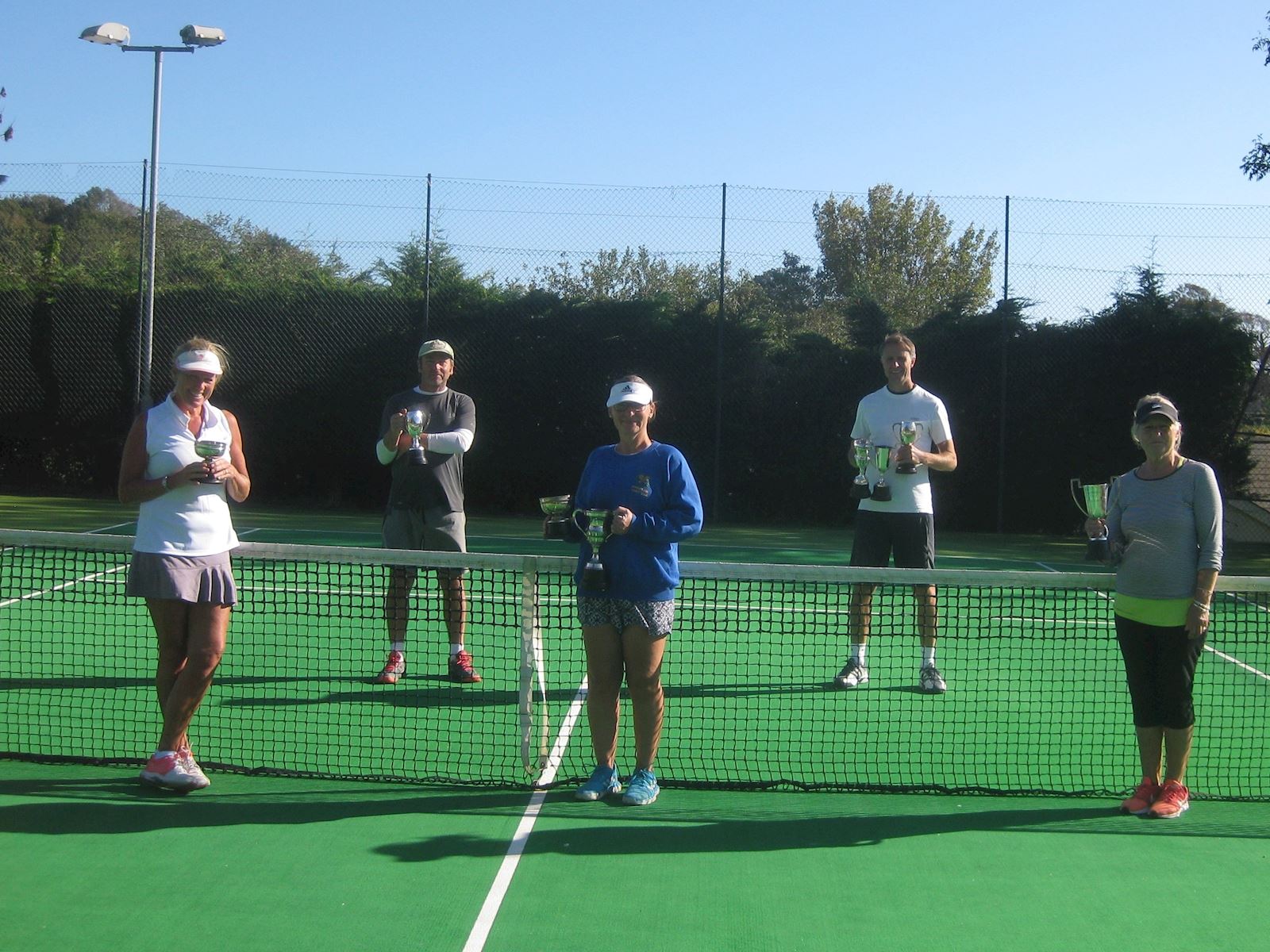 Kingsbridge Tennis Club has regular Club Sessions and occasional American Tennis Tournaments.
Club Sessions:
Monday and Thursday from 5pm.
Saturday from 1pm (GMT); 2pm (BST).
Sunday from 10am.
Balls provided.
* * * * * * *
Kingsbridge Lawn Tennis Club Finals Day 2020 - Saturday September
Hat-Trick Haul for Kingsbridge Tennis Champion
There were no customary egg and cress sandwiches nor delicious trademark home-made cakes, but everything is different these days including Kingsbridge Tennis Club's socially distanced finals tournament. The day started with a blazing sun etched across blue skies and conditions remained glorious throughout.
The Men's and Women's Singles Cups were first up for grabs. On court 3, perennial champion Andy Wilmott faced first time finalist Rob Masters across the net. Andy's heavy serving and reliable backhand brought him the early edge until Rob found the shots to match his impressive court coverage. Despite the revival, Andy remained calm to regain his now annual Singles crown, winning in straight sets. (6-2, 6-2)
Over on court 2, Zoe Martin was playing another Finals debutant, Jo Jenkins, for the Women's Singles Cup. There was some heavy hitting from both women before Zoe's lower error count began to tell. Nevertheless, the rallies remained competitive and entertaining throughout, with Zoe eventually winning in straight sets. (6-3, 6-2)
Next up, the Men's and Women's Doubles. Gareth Bewley and Rob Masters were pitched against Andy Wilmott and cup final newcomer Greg Allen in the Men's. The first set got off to a lively start with the four men holding nothing back. Neck and neck for a time, the combination of good work at the net from Greg and Andy's characteristic reliability began to pay. With the first set secured, the pair went on to take the match. (6-4, 6-2)
Straight from her singles victory over Jo Jenkins, Zoe Martin teamed up with her earlier opponent for a much anticipated Women's Doubles Final against club stalwarts Jane Ryan and Judy Wigg. Zoe and Jo got off to a quick start leading 3-0 before Jane and Judy drew level at three all. At that point Zoe's trusty forehand drive and Jo's rapid serve returned to take the first set. The second set was a closer affair with the lead changing throughout. In the end Zoe and Jo came out winners in straight sets. (6-3,7-5)
The last Cup up for grabs was the mixed doubles. With Andy Wilmott and Zoe Martin's victories in their respective singles and doubles finals, this match meant one of them would come away with a clean sweep. Partnered by Judy Wigg, Andy got off to a quick start while Zoe and George Matheson found the going tough throughout and it was Judy and Andy who emerged victorious in straight sets (6-2,6-2) marking a hat-trick of cups for Andy.
(Honourable mentions are due to Men's Singles Plate winner Sandy Mathews and Mixed Double Plate winners Claudette Uff and Steve Puckett)
If you're interested in next year's finals or just want a friendly game at one of our club sessions, Kingsbridge Tennis club welcomes all abilities. We're located at the south end of Ebrington Street just up from the estuary embankment. For more information visit our Website: www.kingsbridgetennis.uk.
* * * * * * *
Kingsbridge Lawn Tennis Club Finals Day - Saturday September 8 2018
Tennis vied with competitive baking at this year's Kingsbridge Lawn tennis club finals and both pursuits were tested to the limit. Alongside shouts of dismay at missed shots and enthusiastic applause for aced serves, the sound of contented munching drifted from the clubhouse as the inaugural 'Finals Bake-Off' took place last Saturday.
More on the culinary contest later but first the Tennis. On a cool grey day, a spot of early drizzle soon moved away and the Men's Singles Plate got underway with Alex Stephenson beating Rob Masters to the silverware in straight sets. (6-3, 6-2). The Women's Singles was next with reigning champion Carol Philox up against Zoe Martin. In a match that was tighter than the score suggested Carol took the title in straight sets. (6-2, 6-1) Over on Number three court, the Men's Singles saw multiple Champion Andy Willmot up against debutant finalist Gareth Bewley. Andy took the first set 6-2 with a string of elegant shots but Gareth rallied in the second, using his power game to even up the match. Andy showed his championship credentials in the decider, stepping up to take the title. (6-2, 4-6, 6-1)
On court two, Carol Philox was back in action, this time with Claudette Uff, in the Women's Doubles against Jane Ryan and Judi Wigg. In the end, the reigning title holders Uff and Philox were too strong for their opponents, winning in straight sets. (6-1, 6-2)
As the sun remained obstinately behind clouds, hardy spectators braved the chill to cheer on the players. By now, the Men's Doubles had started with club chairman Keith Olver and partner George Matheson taking on Andy Wilmott and first time finalist Peter Flaherty. In windy conditions Keith and George got off to a quick start, taking the first set 6-2. The next was in stark contrast and could have gone either way. Try as they might, Matheson and Olver couldn't break down their opponents' dogged resistance and only a tie-break separated the four with the incumbent champions taking the title. (6-2, 7-6)
The mixed finals saw men's doubles partners Olver and Matheson on opposite sides of the net. Keith and partner Carol Philox (her third final of the day) overcame Zoe Martin and George Matheson in a toughly contested match to retain their title. (6-4, 6-2)
The final tennis action of the day, the Mixed Plate, was won by Jane Ryan and Alex Stephenson who won out over Jo Jenkins and Andy Willmot. (6-2, 6-2) Zoe Martin was awarded the women's plate on a walkover.
Fevered speculation followed as members awaited the results of the first ever Kingsbridge LTC official Bake-Off. Having sampled perhaps a little too much of the home baking, the judges delivered their crucial verdict. Judi Wigg's Lemon Drizzle cake took third place, Gareth Bewley's mouth-watering chocolate brownies were second but the unanimous winner was five year old Leo Wilmott for his delicious and ingenious tennis ball biscuits. (pictured)
If you fancy your luck in next year's finals or just want a friendly game at one of our club sessions, Kingsbridge Tennis club welcomes all abilities. We're located at the south end of Ebrington street just up from the estuary embankment. For more information visit our Website: www.kingsbridgetennis.uk or call Jane Ryan on 0843 289 4041

* * * * * * *
Kingsbridge Lawn Tennis Club Finals Day - Saturday September 9 2017
A double rainbow over the estuary was a fitting end to Kingsbridge Tennis club's "Finals Day". Players and spectators had been met with waterlogged courts after one the summer's heavier cloudbursts. Luckily the sandy underlay of the all-weather courts soon soaked up the rain and play got under way on time.
The first ties saw victory for Jo Jenkins over new member Anthea Pope (6-4, 6-1) in the Women's Plate whilst Greg Allen took the honours (6-4, 5-7, 6-3) against Rob Masters in the Men's Plate. There was an early scare for club champion Andrew Willmott in the Men's singles final when George Matheson took the first set, but like all champions Andrew stepped up his game to win in the third. (3-6, 6-3,6-2). The Women's Singles saw another former champion Carol Philcox end Zoe Martin's winning streak (6-2, 6-0). In what was described as the best finals match witnessed at the club in years, Keith Olver and George Matheson met Alex Stephenson and Gareth Bewley in a highly competitive Men's Doubles Final. Over 40 games, momentum switched on countless occasions but eventually, after two and a half hours, Matheson and Olver broke their dogged opponents' serve at seven all to go on to take the match (5-7, 7-5, 9-7). It was another close fought affair in the Women's Doubles where Zoe Martin and Jo Jenkins took on champions Claudette Uff and Carol Philcox. A tie break was needed to settle the first set with Claudette and Carol eventually taking the honours in straight set sets (7-6, 6-4). The mixed plate gave Zoe Martin, paired with George Matheson, her first silverware of the day following victory over Thurlestone legend Richard Swan and Judy Wigg in the Mixed Doubles Plate.
Last up, the Mixed Doubles final, and another entertaining three setter with Keith Olver and Carole Philcox eventual winners over Andrew Wilmott and Joe Jenkns. (1-6, 6-2, 6-1)
Article by George Matheson
* * * * * * **
Kingsbridge Lawn Tennis Club Finals Day - Saturday September 10 2016 - Photo & Article by George Matheson with grateful thanks
Photo: Some of the Winners - From left to right: Pete Flaherty (Men's Singles Plate Champion), Ball Dog!, Claudette Uff (Women's Doubles Champion), George Matheson (Men's Doubles Champion & Mixed Doubles Plate Champion), Keith Olver (Men's Doubles Champion and Mixed Doubles Champion), Carol Philcox (Women's Doubles Champion & Mixed Doubles Champion), Joe Jenkins (Women's Singles Plate Champion), Andy Willmott (Men's Singles Champion), Future Tennis Champion!
Despite Saturday's early downpours, glorious sunshine dried the courts just in time for this year's Kingsbridge Tennis Club finals day. It began with the Men's Singles where 2015 Champion Andrew Willmott faced Keith Olver across the net in a rerun of last year's match. Both players had battled through to the singles, doubles and mixed finals and would have plenty of time to size up their opponent's game throughout the day. The first set was hard fought and needed a tie break with Wilmott triumphing. Unfortunately Olver suffered from the intense heat and had to retire with Wilmott retaining his champions crown (7-6 walkover). Next up the Women's Singles Trophy. Relative newcomer, the much improved Zoe Martin took on former multiple champion Carol Philcox in a pulsating match. There was some fierce hitting from both women in an entertaining battle with Philcox emerging victorious (6-2, 6-3) after nearly two hours under a blazing sun.
Following intense treatment (cups of sugary tea and a sit down) Keith Olver had recovered enough to take his place on the court alongside George Matheson for the Men's Doubles against Alan Hodgkinson and Andrew Wilmott. Powerful drives from Hodgkinson and deft backhands from Willmott saw them serving for the first set at 5-4 but a resurgence from the now fully recovered Olver and partner Matheson saw them take the opener. The next set saw Olver and Matheson step up the pace and take the trophy 7-5, 6-3.
Last year's champions Carol Philcox and Claudette Uff were next up for the Women's Doubles final. For Carol it was the second of three final appearances on the day. Facing them across the net were Jane Ryan and Judi Wigg. In a match that was more competitive than the score showed, Philcox and Uff triumphed 6-2, 6-2 to retain the trophy.
As shadows lengthened across the green courts the Mixed doubles got underway. Carol Philcox with partner Keith Olver and Andrew Willmott were on their third match of the day. Kingsbridge Tennis club's Chairwoman Lesley Healey partnered Wilmott. This was a hard fought pulsating game which saw the lead switching often. Wilmott and Healey narrowly took the first set 7-5 but Olver and Philcox fought back to take the second 6-4. The decider went to Olver and Philcox who won the title (5-7,6-4, 6-2).
In the Plate events Pete Flaherty beat David Abrehardt in the Men's Singles (6-1,2-6,6-1). Joe Jenkins overcame Lesley Healey (6-3, 3-6, 6-3) in the Women's Singles while George Matheson and Zoe Martin beat Richard Miller and Lin Tucker in the Mixed Final (6-0,6-1).
If you would like to star in next year's finals or just play for fun, Kingsbridge Lawn Tennis club welcomes all abilities. Anyone interested in a taste of what the club has to offer on or off the courts should call 08432 894041, email [email protected]ingsbridgetennis.uk or visit the website at www.kingsbridgetennis.uk