Club
Changes to ClubSpark
Fri, 14 May 2021 00:00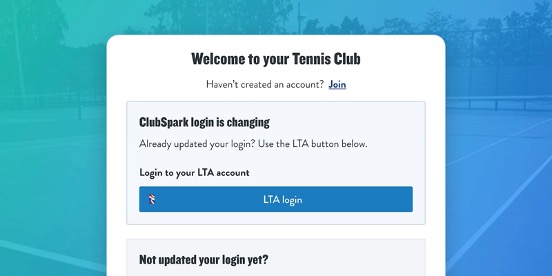 The LTA is changing the way in which you access ClubSpark.
From 2 November 2021, the only way to log into ClubSpark will be with an LTA account login. The LTA Advantage account is free, and you will be able to create one when logging into ClubSpark. If you already use an LTA login for ClubSpark, you won't need to make any changes. If you have an LTA account but use a different method to log into ClubSpark (for example, with an email address), you will need to merge these accounts.
Starting in the next few weeks, when you log into ClubSpark you will be prompted to update your account. This is a simple process that should take a couple of minutes. You will be then be able to make course bookings as usual. You do not have to make any changes to the way in which you access ClubSpark and book courts until you see the 'ClubSpark login is changing' screen.
The LTA and ClubSpark have already tried to roll out this change, but there have been problems. We don't yet know when the rollout will start, but we'll send out more information as soon we have it. In the meantime, there's a helpful video about how to make the changes here: https://youtu.be/0WocGUch8z0
Please contact [email protected] if you have any problems with your account.
Romsey and Abbey Tennis Club