Cardio Tennis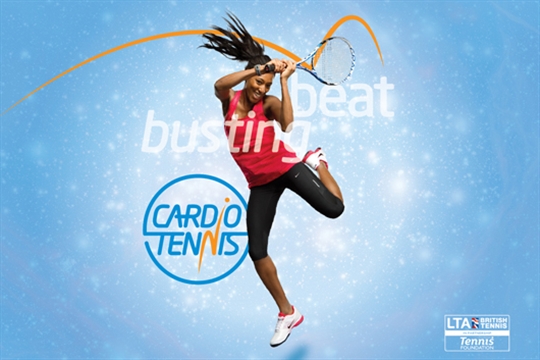 Please see the Programme section for details of sessions. Please see here for example Cardio Tennis drills.
Cardio Tennis is a fun, group based high energy fitness activity that combines the best features of tennis with cardiovascular exercise, delivering the ultimate, full body, calorie burning aerobic workout. Each session is done to high tempo music that gets people engaged and active, as well as featuring lots of different drills to give people of all abilities a high energy workout.
How It Works
Each hour long Cardio Tennis session is broken down into 3 sections; warm-up, high intensity and cool down. The warm up lasts around 10 mins and includes dynamic movement, throwing and catching skills as well as light hitting exercises to prepare the body properly for top performance. The high intensity section uses a combination of different tennis drills (to get all the strokes grooved in) which will get you working within your effective calorie burning zone. The session finishes with a proper cool down to bring your heart rate down and flush the body of metabolic waste. All participants are encouraged to work at their own pace, and have pedometers to record the number of steps taken in each session to track their own individual targets.
Who's It For
You don't need to be a tennis player to take part in Cardio Tennis; even if you've never played tennis before it is a great way to be introduced to the sport and enjoy a workout that rivals going to the gym. The session is not about hitting perfect forehands or backhands, and when you're not hitting, you're moving and doing side line exercises. If you are an experienced player then you can still benefit from taking part in Cardio Tennis, as the best way to train for tennis is through playing tennis. In each session you will hit more balls than in a traditional tennis game, giving you the chance to perfect your shots and improve your overall game. In addition Cardio Tennis helps improve your speed and agility, making players faster on court and able to adapt to the variety of situations faced in a typical tennis match.
Benefits Of Cardio Tennis
In a single Cardio Tennis session, most women will burn between 300 to 500 calories per hour and men between 500 - 1000. In addition players will, on average, take about 4000 - 6000 steps in each session, meaning players will cover a distance of around 3 miles - after 9 sessions that's the same distance as a marathon. So not only are you getting a great workout, but you are also learning a skill and training for tennis.