Eleanor Nobbs
Thu, 10 Dec 2020 00:00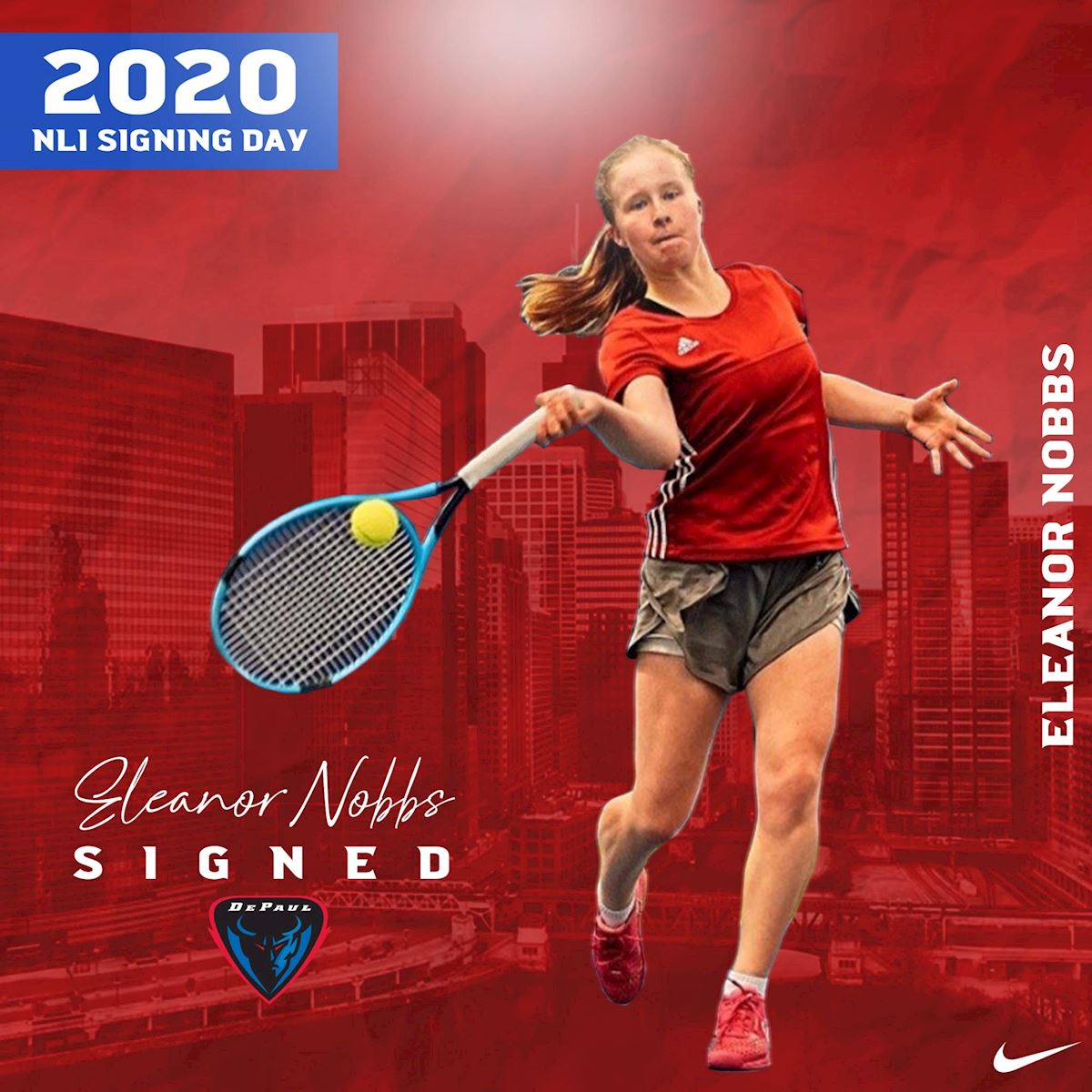 Eleanor Nobbs, pupil of Midsomer Norton Sixth Form (and former pupil of Norton Hill School has received a full 100% tennis scholarship, committing to DePaul University, Chicago for Fall 2021 to study History alongside furthering her tennis career.
Said Eleanor "I chose DePaul University for its great tennis programme and its very good academic record. What swayed my decision most though was the warmth and enthusiasm of the coaches and tennis team who have made me feel very welcome. I can't wait to get out there and start training with the team, and I'm also so excited to have the opportunity to explore Chicago."
Midsomer Norton Sixth Form commented "we are exceptionally proud to be part of Eleanor's journey".
Eleanor started her tennis journey at Bishop Sutton Tennis Club at 7 years old. Since then, she has been coached by Tom Entwistle, Head Coach at Writhlington Tennis, after he spotted her whilst coaching at her local primary school in Timsbury.
Tom has been coaching Eleanor for 10 years now, and as well as developing her game to enable her to compete nationally, he has shown unceasing patience, and has never wavered in his belief and support of her. Eleanor has been truly fortunate to benefit from assistance from the Malcolm Eglin Trust which supports aspiring young juniors tennis players, she is very grateful for the opportunities this has provided for her to train and compete regularly. Mandy Stonier, now secretary of Somer Valley Tennis set up this programme of financial support over 13 years ago, which has helped so many young tennis players and continues to do so. Eleanor is now such a good role model for those younger players on the programme.
As well as this, Eleanor has attended sessions at Balance Countryside gym in Timsbury to improve her fitness. She has benefitted from regular buddy hits in the past with older players, and more recently she obtained her Level 1 LTA coaching qualification to be able to do the same for the younger players.
Eleanor's drive and motivation is outstanding. "The encouragement from her parents and also the coaches at Writhlington and Bath guiding her through her tennis allowed her game to develop over time. Said Tom 'Coaching Eleanor is a pleasure. Occasionally I've had to find ways to convince her on things, but mostly I've just had to gently steer her tennis in the right' direction - rarely having to motivate her even at such a young age. I especially enjoyed the lessons after a baking weekend when she would bring some very tasty cakes to top up my energy levels after a tiring day on court'
In recent years, she has combined her individual lessons with Tom with high performance squads at Bath University Tennis Academy, under the direction of Barry Scollo and his coaching team! Eleanor loves the team opportunities and camaraderie that tennis brings too and is a committed member of the Avon County U18 and Ladies County teams. She also enjoys representing Somer Valley Tennis and previously Bishop Sutton Tennis Club in the Avon summer doubles league. Eleanor's also been lucky enough to go on tour with Writhlington to compete in the Torbay Summer Tournament, organised by Tom, along with fellow coaches Patrick Lodge and Mandy Baldwin who gave up their holidays to enable the performance players to attend.
Her recent success in British Tours and National events showed just how well Eleanor coped through the first Covid lockdown. Her timetable was filled with home workouts off court work to keep her from falling behind. She not only managed this but saw an opportunity to play more tournaments after lockdown to capitalise on her work at home. Together with a strong period at Team Bath tennis, with thanks to the coaches this provided some great training with her peers to improve further aspects of her game in recent months.
PRESS RELEASE – for more information contact Tom Entwistle [email protected] or Mandy Stonier [email protected]