Club
Summer League - week 8
Mon, 05 Jul 2021 00:00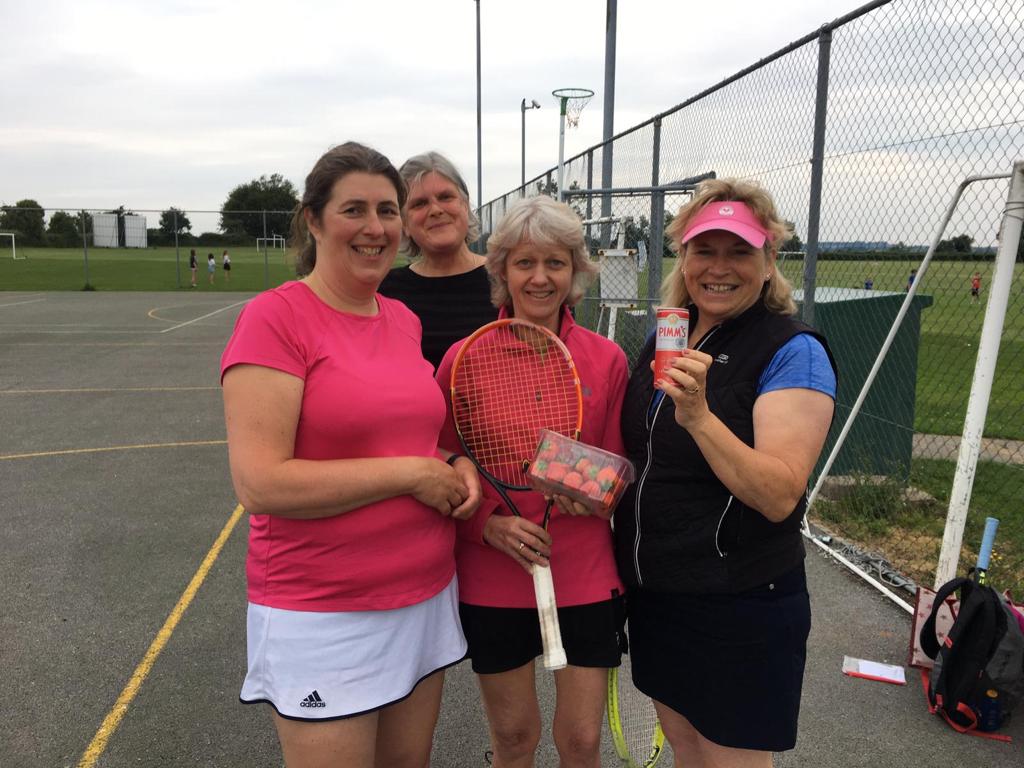 A turnaround for the ladies this week with a clean sweep across the board with four wins ! Said ladies coordinator Jane Benney, ' we have been short of players this week, but the 16 ladies that played were immense, with two teams finishing after 10pm', after nearly four hours of tennis being played'!

1st Ladies 8-2 win v Central brought a strong team to play on Friday evening (arriving early) we started bang on time. Mandy Baldwin/Francesca Beg played the strong A pair and played fantastically whilst Sarah Dawe/ Alex Hull took on the second pair and also won in straight sets. Unfortunately Alex and Sarah lost the second rubber against the first pair after a number of fantastic games. Mandy and Ces cruised through their remaining match. Overall 8-2 win.
2nd Ladies 6-4 win v David Lloyd (Bristol) It was a drive across Bristol to the dreaded David Lloyd carpets for the seconds on Friday evening. Arrived to face friendly opposition and very warm indoor courts. Sarah Alexander/Lucy Burminham played great solid tennis against a really consistent opposition and rattled up the game count, winning their first and losing the second. Rachel Gibbs/Louise Derrick pairing for the first time this season didn't fare quite as well games wise but enjoyed the matches, again winning one and losing one. The great game count from Sarah and Lucy meant we managed to snatch a 6-4 win followed by drinks after with our opposition. A lovely friendly evening of tennis
3rd Ladies 6-4 win v Clifton playing on courts at Chilcompton the partnership of Mandy Stonier/Catherine Brand was too strong for the 1st pair winning in less than an hour 6-0,6-1, on the next court Jacqui Grainger/Jenny Perez were grinding out a lengthy battle sadly losing it in 3 sets, in the reverse matches, the rain started coming down and the light was going, but both pairs carried on, again Jacqui & Jenny lost out to their opponents but Mandy/Catherine managed to win in a 3rd set championships tiebreak, finishing at 10.10pm but with the total set score of 5-5, Somer Valley squeezed the win 6-4, on game countback. Phew !
4th Ladies 8-2 win v Hanham Ladies 4ths travelled to Hanham hoping for a better result than the 4-6 loss in the previous fixture. We won it, but made very hard work of it! Tracey Stephen playing with daughter Cerys lost the first set quite convincingly, then took the second on a tie break and won the championship tie break third set 10-4. The second rubber followed a very similar pattern, but we won the second set 7-5 after being 5-2 down. We then won the championship tie break 10-6. The second pair of Nicki and Luce worked even harder. Their first rubber went 7-6, 6-7, 10-8 and the second 5-7, 6-4, 11-9. A very long night, not finishing until 10:20pm, but a satisfying result of 8-2.
.
The mens teams
1sts match in progress - depending on the result of Patrick Lodge/Sam Perryman unfinished rubber, they will lose 6-4 or 8-2 at Kings. Luis Jauregui/Ewan Allman came close but couldn't close off. With 3rd placed Backwell beating top-of-the-table Almondsbury 10-0, we are now an outside bet for promotion.
2nds won 10-0 - Cleeve Hill sent a woefully poor team who managed just 8 games all evening against a Somer Valley team boasting the deft skills of Tom Hunt and stalwarts Ollie McGee, Darren Thompson and Andy Jeffery. With rivals Bishop Sutton losing 10-0 to Olveston, only Downend and Olveston have a theoretical chance of beating us to promotion, and they play each other next week!
3rds lost 6-4 - despite Graham Steer's injured hamstring and rib, and Adam Benney's lack of match practice, this new pairing managed to win both their rubbers, one of which was a tight champ tiebreak - great stuff! James Brocksopp/Sam Harris had a disappointing evening, but nearly managed to overcome Portishead's B pair in the 2nd rubber. If they had, we would have won 8-2 and be on course for promotion!
4ths - no match
5ths lost 10-0 - Downend sent 3 players who have played against our 2nds this season, so this defeat was not a surprise. However, Mike Cuthbert/Richard Hood came very close to winning both their rubbers, so huge credit to them. Tom Craig/ Neil Scott battled away, but couldn't get over the line. The team spirit of the 5ths is never diminished, and admirably hosted Downend at the Fromeway afterwards.