Club
Summer League - week 6
Mon, 21 Jun 2021 00:00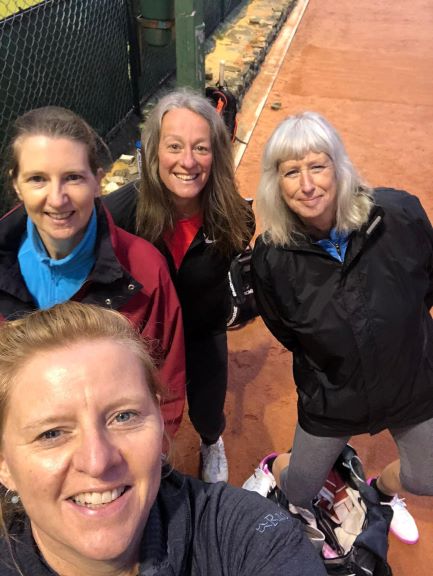 With the current committed membership of Somer Valley, there is lots to play for over the next few weeks to gain promotion to higher leagues, fight to stay in the current one or prevent demotion !
The ladies had three teams playing this week, two wins and one loss :
2nd Ladies 8-2 win v Lansdown SVT ladies seconds got their revenge on Lansdown in the return match by beating them 8-2. Kelly Lycett and Rachel Gibbs lost the first set of the tie but then only dropped 4 more games to win both rubbers. Janie Bullus and Louise Derrick lost their first rubber in a second set tie break and then managed to win an exciting second rubber in a third set championship tie break. A competitive match against the nearest rivals in the table, hopefully means security in division 3 next year.

1st Ladies 6-4 win v Bath. Both teams played well and we enjoyed some great tennis and hospitality from Bath Lawn Tennis Club. A big thank you goes to Sarah Dawe and Sarah Alexander for stepping in at the last minute.
3rd Ladies 2-8 loss – no report
The mens teams did not have such a good week, with only one win out of 5 teams playing.
1sts won 10-0 - Revenge for an earlier 6-4 loss at Henleaze was sweet, with both pairings of Patrick Lodge/Sam Perryman and Jon Doel/Tom Hunt grinding out tight 3-set wins against their A pair.
2nds lost 8-2 - Olveston & Tockington had wanted to postpone the match to watch the football - we now wish we had agreed! With a player needing to dash off midway through to a family crisis, it was left to the remaining pair of Andy Jeffery/Darren Thompson to try to salvage a couple of points, the team are clinging onto 2nd place in the division, though.
3rds lost 6-4 - A very strong team and home advantage gave SVT every hope of a big win. But Pensford's Dan Church was brilliant, injury to an SVT player prevented a strong showing, both JamesBrocksopp/Ewan Allman and Chris Cox/Graham Steer won tight 3-setters against the B pair, though, which edges us into the top-of-the-table slot.
4ths lost 10-0 - The only points Cleeve have dropped this season are to promotion rivals Congresbury, so playing on Cleeve's newly laid carpet-and-sand "ice rink" was a challenge! However, Payman Fathi/Richard Hood gave their B pair a fright, and it had to be settled with a championship tiebreak. Bryn Jones/Sam Harris enjoyed the match so much that friendlies against them should be considered.
5ths lost 10-0 – A very strong Nailsea team demolished our 5th men, however Tom Craig/Steve Sakikini and Alan Gammon/Lee Wood put on a brave show in the face of insurmountable odds. Nailsea were very hospitable and welcoming afterwards.