Club
Press release 7th June 2021
Mon, 07 Jun 2021 00:00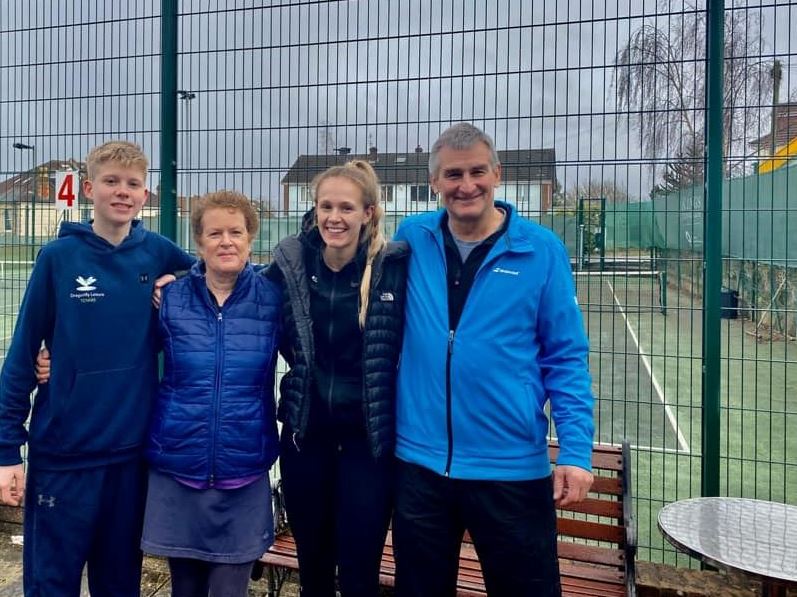 Chair's statement for Press Release – June 2021
It has been an eventful year since transforming Somer Valley Tennis back in June 2020. Covid-19 was a challenge but this hasn't stopped the club holding club events, competitions and making headway with our drive to support tennis community in the Somer Valley area.
With excellent and timely guidance from the LTA over the last 12 months, Somer Valley Tennis was able to provide tennis at every opportunity for our members during the ever changing lockdown restrictions. Big thank you to Dragonfly Leisure and Chilcompton Sports Ground for doing everything possible working in partnership with Somer Valley Tennis to help keep tennis being played though challenging times.
Tennis has been one of the few sports least affected by lockdown restrictions and has proven itself to be a great social distance sport for all the family, young and old. Never has there been a better time to help the community tennis courts and get them back on the sporting map within the area.
Somer Valley Tennis has completed two village projects to provide an online booking system, LTA affiliation and visibility of the courts on the tennis map with the area. Timsbury's single court at Conygre Hall was the first project during the summer of 2020 and has proven very successful in managing access to the court and boosting the courts usage.
This year, with help from Somer Valley Tennis and the superb coaching team from Dragonfly Leisure in Writhlington, two tennis camps for local children were ran at Timsbury during Easter and May bank holidays this year. The trustees of Conygre Hall have been enthusiastic supporters of the tennis project and special thanks to Peter Buchanan and Matt Bramley for their passion and drive. Tennis now has a presence at the recreation ground and adds to the multi-sport venue for the village.
The second village tennis project recently competed was the single court at Farrington Gurney Memorial Hall. A different proposition to Timsbury's online 'pay & play' system, with Farrington Gurney having an existing membership group and also 'pay and play'. The primary aim was to help with the management of the court bookings and membership renewals, plus getting the court on to the Somer Valley tennis map. Once again, Somer Valley Tennis' task was made so much easier by the brilliant organisation of the court management committee of David Bury, April Totham and Clinton Dando. Another example of a great community partnership!
A third village project is underway with early discussions with the single court ran by Farmborough Parish Council. Building on the success of the first two projects, Somer Valley Tennis are aiming to facilitate another online 'pay and play' and membership options for the parishioners of Farmborough. Testament to the LTA's Clubspark system that is implemented by Somer Valley Tennis, its flexibility and customisation is able to provide three unique solutions to the three different village projects.
It has been a busy year and a great summer of tennis coming up in 2021 with the Avon Summer League underway, our club activities getting back to normal and the launch of a new singles ladder league App. As Chair, I have been amazed by the support from the national LTA, Avon LTA and local villages but overwhelmingly my admiration goes to my club committee and all the volunteers that support Somer Valley Tennis. Hard to believe sometimes we are all volunteers trying to make a difference for the local community and the sport of tennis which we love. Special thank you to Mandy Stonier (Club Secretary) who has picked up the batten of Clubspark system expert! We make a good team but I think my job as Chair is the easy part...the nuts and bolts of putting it altogether on the system has been undertaken by Mandy.
Future? Tennis has never had a better opportunity to showcase the sport as a fun, social distance and accessible activity for everyone. A great sport for those who just want to have a hit with their friends and yet having many avenues for those who wish to play serious competitive tennis. Somer Valley Tennis is committed to make sure tennis is at the heart of the community and open to all. Follow us on Facebook, Twitter and Instagram plus visit our website just such on google Somer Valley Tennis !
Bryn Jones
Chair of Somer Valley Tennis