Newly-painted surface ready for play!!
Please feel free to book and use the new court surface.
Please note following refurbishment of the courts, we have increased the cost for non-members booking to use the courts. On the other hand, bookings remain free to members. Membership is good value and especially for new members who can request 50% off their first subscription.
>>> REMINDER FOR ALL USERS - THERE IS NO PARKING ON SITE <<<
Please respect social distancing rules, and see the latest News for rules on safe play permitted under government guidance.
Bookings can be made online when logged into a ClubSpark account. Bookings are FREE to members (including "paused" members). £10/hour to others.
Members with a booking can bring up to three guests for a fee per visit. Pay here.
For play after dark, the floodlights can only be accessed with a clubhouse key (and £1 & 20p coins). In case of doubt conatact us ([email protected]).
NHS TEST & PROTECT - IMPORTANT Venues you book play at are required to collect and store your data for 21 days to support NHS Test and Protect. Bookings must therefore include contact details and the user must keep details of any others who join them in the booking. Please make sure your ClubSpark profile has email and phone details attached.
Most club members have a ClubSpark account already. Just ask if you are unsure and we can remind you of your username.
Club members wishing to open a ClubSpark account should contact us to receive an invitation so that your ClubSpark account will be automatically linked to your membership. If you get really stuck, get in touch and we can make bookings by phone.
Non-members wishing to open a ClubSpark account will have the option to create their account when making a booking.
The Sportlabs BOOKER app is available for easy booking via your phone or tablet. (Links and instructions below.)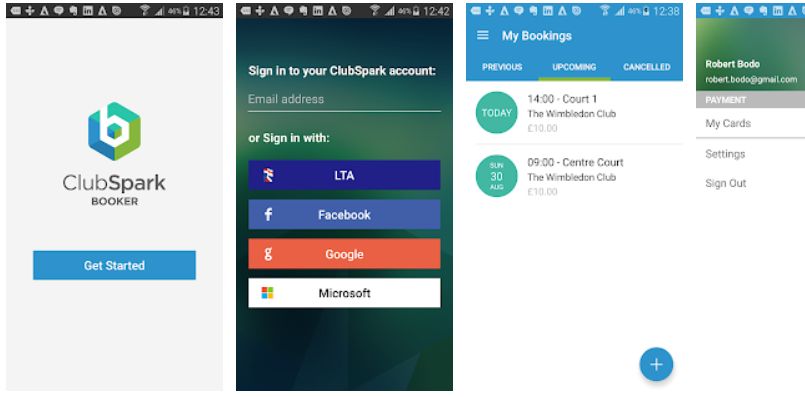 Booker Instructions
Once you are logged in, bookings can be made easily, from 15 minutes to 90 minutes duration. There are two ways to do this, using the options (1) or (2) shown in this image. HINT - Option (2) is much easier!!

METHOD (1)
Click on the first slot you want then click "+" to extend the duration from 15 minutes to 30, 45, 60 or 75.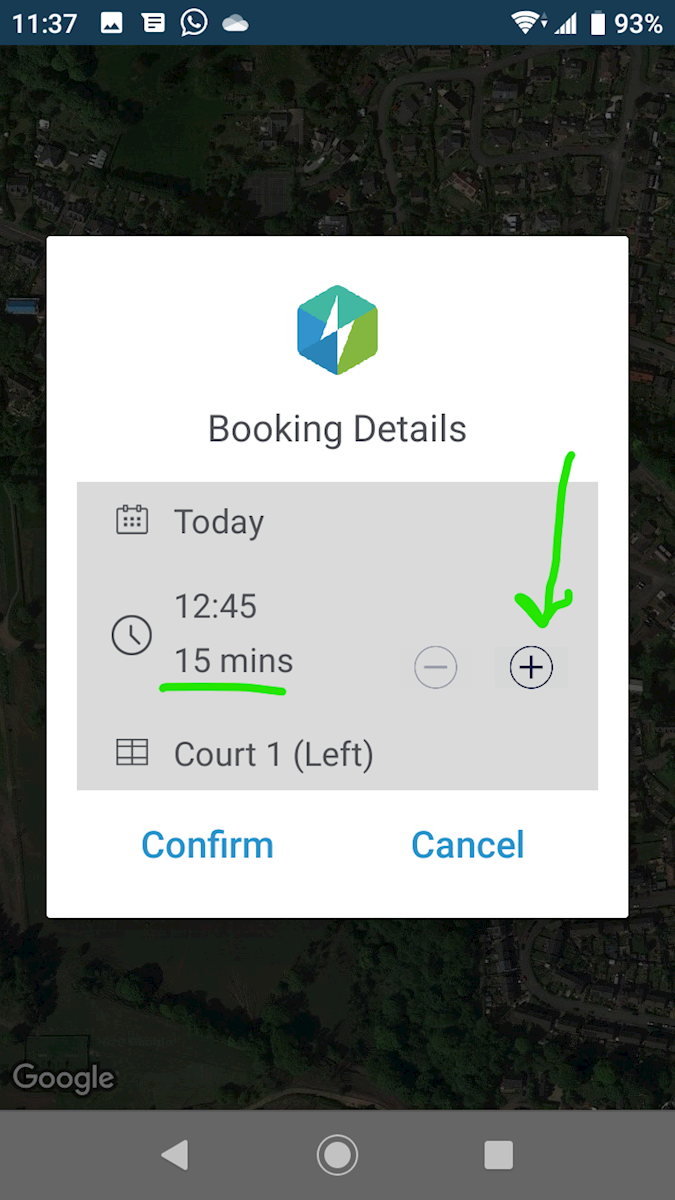 METHOD 2
Change the view using the button (2) in the first image above. Click on the duration.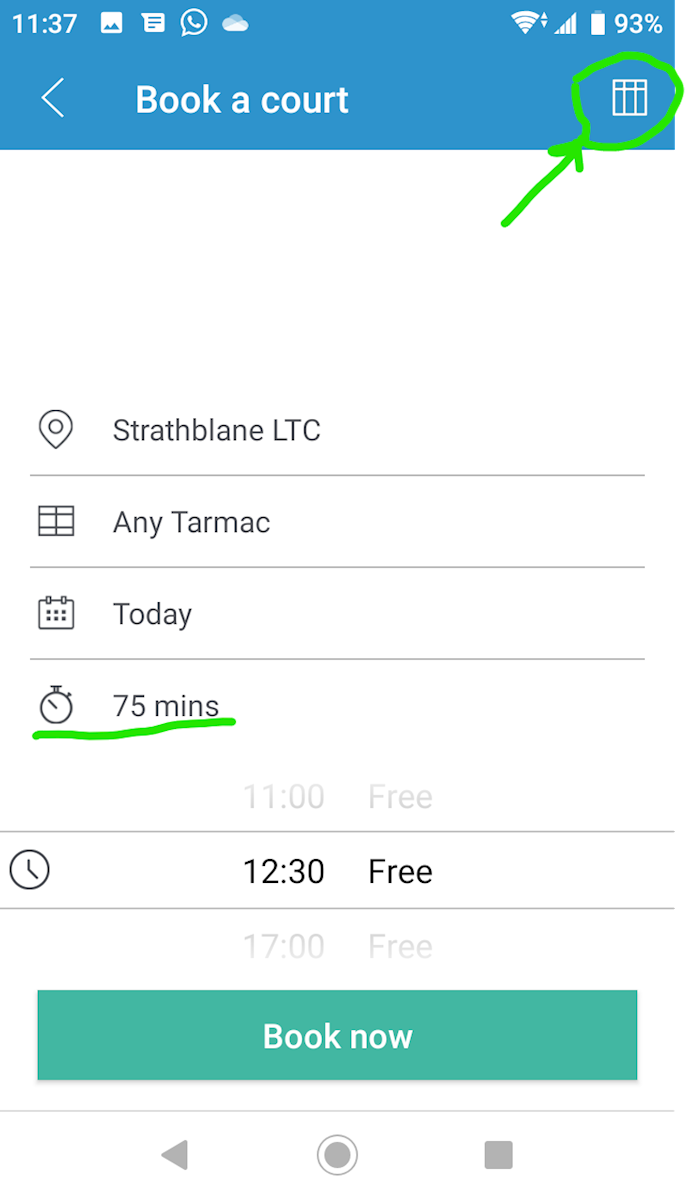 You can then change the duration you want, to see what start times are available.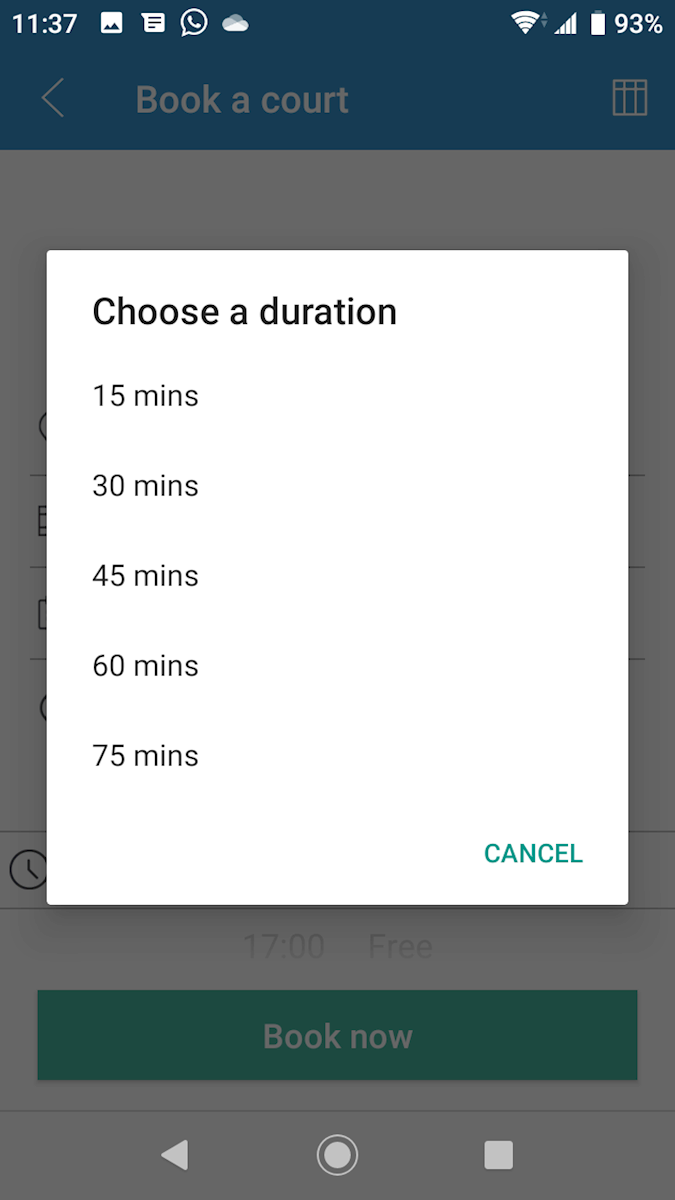 Members with a free booking can play with guests on payment of additional a fee per visit. Pay here.