Looking for something new for your child? LTA Youth Start can help bring out the best in them – both on and off the tennis court.
This is a modern approach to tennis training. Forget standing around waiting for your turn to hit a forehand. Think dynamic sessions catered for all abilities.
We want to encourage children to play tennis throughout their lives – and be active too. So, if your child is aged 4-11, why not give it a try?
£29.99 (+£5 P&P) gets you:
Six top-class tennis sessions with specially trained coaches

A tennis racket and set of balls

A branded t-shirt

Activity cards, a lanyard, stickers and a certificate (provided by the coach)
CLICK THE IMAGE TO VIEW VIDEO BELOW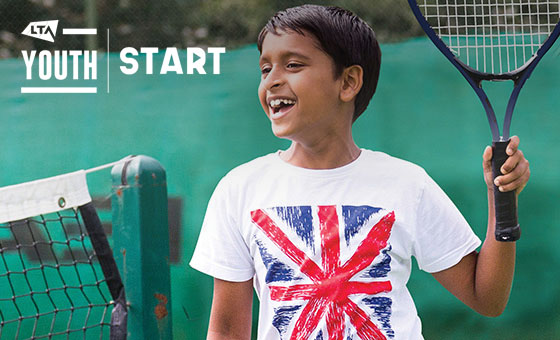 Youth Start is a fun starter course for kids aged between 4 and 11 who have never before played tennis or have played very little. Packed full of games and drills to get kids active, it also gives parents the chance to join in too.
*If your child has played tennis before then they should try our LTA Youth Programme.
What's it all about?
Tennis is one of the best sports to help your child develop valuable life skills, like respect, teamwork, fair play and concentration.
Youth Start is a great way for kids to learn these skills as well as the basics of the game, so they can build confidence on court and a foundation in tennis, whilst enjoying themselves in a safe environment.
Simple games, drills and activities delivered by specially trained coaches ensure kids are given the best possible start to their tennis journey, and after each session, they receive an activity card so they can practise at home with the whole family.
Most importantly, they'll be having fun and making new friends - and who knows, it may even be the start of a life-long love for the game.
Since the course was launched in 2016, we've been overwhelmed by the response we've had from mums and dads. Demand has been so high that more specially trained coaches than ever are running courses…
Start your tennis journey today
Call us on 01792 650484 for more details or click on the link below to book on to the next available course.