Coaches News
2020
Due to Covid 19 Season was a non event.
16-12-19 James Brobin:
Saturday the 14th of December saw a fun session and presentations take place at Wadebridge tennis club.
The junior club champions for 2019 were
Junior boys- Cameron Hutchinson
Junior girls- Lucy Marshall
Junior Doubles- Jacob Martin & Kenan Nichols.
The Davis cup winning team were the USA and 15 players were presented with medals that re-presented them throughout the year.
The Junior Davis cup leaderboard winner was Ollie Wilson.
The coaches most improved player of the year was awarded to Jacob Martin and the club's most promising player was awarded to Jacob O Hanlon.
A great way to round off 2019 with recognition and awards for the club's junior players.
As we are now entering 2020 I hope participation and progress are common place and players are enjoying themselves around the club.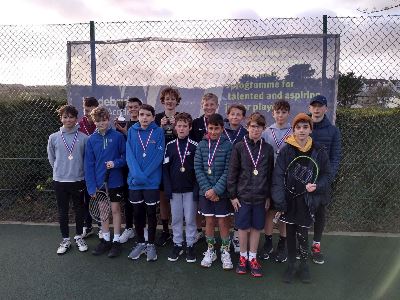 ---
08-11-19 James Brobin:
The autumn term has seen pleasing participation levels in most venues throughout Cornwall.
Tennis is now an all year round sport with coaching and completion in place throughout the UK to compliment the sport.
We are lucky to have great facilities throughout much of the county with all weather courts and floodlights allowing club programmes such as Launceston and Wadebridge to flourish.
You cannot beat playing under a floodlite courts on a cold, crisp, clear Evening sky
In the autumn months. Players are very Lucky that the sport and facilities cater for such great occasions within are sport.
The most recent competition was held in October half term, the tournament was called clash of the club's, featuring Host Wadebridge, visitors Launceston, Bude and Newquay.
The mourning started with players aged 10 and under playing in the mini tennis competition. The afternoon was the turn of the junior tennis players that saw a record junior boys entry with 20 players in attendance for this event.
The boys were a credit to all concerned as the weather took a turn for the worse with heavy rain and gusty winds arriving before the event concluded. Jacob Martin (Wadebridge) and Sam Jennings (Bude) had a final to decide the winner and had to start in such conditions and were keen to do so. Jacob Martin was the winner in a closely contested match.
Maisy Hunt (Wadebridge) took her first title in the girls and Wadebridge also were the clash of the club's champions.
A great event that has remained popular throughout 2019 will continue in 2020.
My many thanks to fellow coach Rachael Stacey who along with myself runs these events. My many thanks to Thomas Leach who along with myself is head coach at Just Tennis (Wadebridge), fellow coaches for Just Tennis Yvonne Arnott, Owen Young and the legend Howard Gunn.