Junior & Adult Coaching
Nigel Little provides our coaching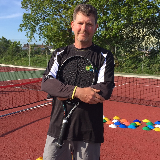 I have been a LTA level 3 tennis coach for over 10 years. I originally coached in Bucks and moved to Devon in 2016. I like working with all age groups from my youngest tots at 3 to retired improvers at 80!
I still play competitive tennis in the Mid Devon League for Willand and I am also captain of the Devon 45 senior county team.
All new tots and juniors receiving coaching must sign up for either Tots or Junior membership. Please see Membership section on this website
Junior Coaching
Tuesday Term Time Only
Tots (age 3-5) - 4.30pm thru 5pm
Mini Red (age 5-6) - 5.00pm thru 5.45pm
Orange/Green (age 7-9) - 5.45pm thru 6:30pm
Young Junior (age 10-14)- 6.30pm thru 7.30pm
Junior (age 15-18) - 7.30pm thru 8.30pm
Wednesdays Term time only
Tots (age 3-5) - 4:30 thru 5:00pm
Red (age 6-8) - 5.00pm thru 5.45pm
Orange/green (age 8-10) - 5:45 thru 6:30pm
We also have adult refresher programmes.

NEW ADULT REFRESHER GROUP STARTS 4th MAY
7PM TO 8.30PM
4 week course aimed at the "rusty" player who wants to get back into the game. Members £5 per session, non members £10 (Rackets provided).
Nigel is also available for One-on-One Lessons. Contact Nigel on 07951 140974 to book.
Email: [email protected]
For coaching application form for Summer 2022, please click on this link Coaching application form