COACHING T&C's & FAQ's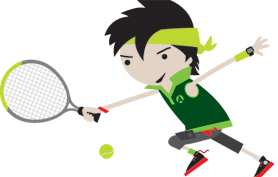 1.Parents are required to advise the coaches of any medical conditions before starting a tennis course. If in doubt please consult your doctor.
• 1a. If a child is sent to class then the coaches assume that the parent acknowledges that the child is fit to play tennis and all the associated warm-up and fitness tasks.
• 1b. A child can not attend the class with a parent requesting that the child will be ok if... e.g. ... he/she will be fine as long as they don't have to run too much.
2. The classes will run in blocks of 10 - 14 weeks to coincide with term times. Saturday classes tend to run through terms times and holidays.
3. Your child's place is booked on the course only when we receive payment.
• 3a. Once a block of lessons is booked there will be no refund, unless the class is cancelled by us or 3b below.
• 3b If your child does not like any new class after the first two weeks then we will refund the remainder of the unused classes. After two weeks there will be no refund whatsoever.
• 3c. After an initial 6 week trial period children are required to become members of Lisvane Tennis Club to continue with coaching. Your contact detail will be passed to the membership secretary during this period.
4. Classes cancelled due to heavy rain, snow, ice or unforeseen circumstances:
• 4a If your player does not attend a class on any given day (maybe due to an injury, illness or other) there will be no refund or no alternative class offered.
• 4b. Our classes run in all weather, only in severe weather are classes cancelled.
• 4c. If the class is cancelled due to adverse weather condition after it has started then there will be no refund or alternative class offered.
• 4d. If a class is cancelled due to severe weather or heavy rain we will try to post the announcement approximately 20 - 60 minutes before the class start time, and you will be offered an alternative class during the current term (this may be a different day of the week). News posted to: www.TournamentTennis.uk/News - please save this link and check NEWS page before you contact us! When classes are cancelled we will not reply to individual texts, calls or emails until we have posted on the News page. With the unpredictable UK weather we never make the decision to cancel a class until we have checked several forecasts, normally 20 - 60 minutes before class start time.
5. Classes do not run in the month of December. This is the official tennis rest season. Individual coaching resumes early new year (on selected dry/mild days). The coaching team review the long term forcast early february. As a guide only, in the last few years group coaching has resumed after the February half term.
6. Players are expected to arrive to class punctually to participate in the warm-up, under no circumstances will a correct warm-up be missed if your player arrives late, for whatever reason.
• 6a. Players make every effort to attend classes regularly.
• 6b. Parents/players are requested to advise the coach (by text message) in advance if a player is unable to attend the class (see also 4a above). Note: many classes have waiting lists so it's unfair to the child waiting if this place is not made available. We will have also planned the class in advance for the numbers booked on the course.
7. Advanced Classes: For advanced classes (look for classes marked advanced when booking) are for players that are already technically developed, compete regularly and normally attend at least 2 group classes weekly @ Lisvane Tennis Club. The advanced players also show a high level of attendance, punctuality and discipline during the training session. These Classes are for players that are looking to take their tennis a step further, maybe tennis is their first sport and they will all thrive on competitive tennis, they will need to meet the requirements of 7a, 7b, 7c & 7d and agree with 7e before entering an advanced class.
• 7a. before enrolling your player please check your player is technically developed i.e. using the correct grips, can serve, volley, smash and rally on both forehand and backhand. Should you want your child to be considered please speak to the Head Coach who may advise some extra lessons (if needed) to work on this technical development.
• 7b. advanced class players try their best to make themselves available to play regularly in our amazing Internal Leagues. It is NOT an option for your player to be in an advanced class and not play in our Internal League. Matchplay is by far the best way to develop what they are taught in class.
• 7c. we recommend that an advanced players attend 2 sessions a week at Lisvane. A player not attending two sessions will need to be invited to an advanced/squad classs.
• 7d: they have good punctuality, have high class attendance and importantly make every effort in their training sessions.
• 7e: if an advanced class player has not played an Internal League (formally Ladder) match for two weeks then he/she may be requested to play the match during class time. Parents are requested to fully support the coaches with this, the Internal Box League is our measuring tool for your player's development, ability and commitment.
***If an advanced class player does not meet the condition in this section (section 7) then it is very unlikely they will be invited to return to the advanced classes the following term***
8. My child wants to be in an advanced class but doesn't want to compete? The advanced classes are specifically for children that compete regularly. There is tennis specific fitness training involved (S&C in every class), drills are specific to matchplay and the classes are for children that are already technically developed. E.g. Spin serves may be taught in an advanced class, a child not using the correct technical grip would not be able to achieve a spin serve.
9. At Lisvane we strongly believe in group sessions and Matchplay for players development with all players being of a very similar ability. We make every endeavour to achieve this. Players are also welcome and strongly advised to have individual coaching when they need to work on something specific or need some extra help with something not covered in group sessions.
10. My child just wants to play tennis for fun? Brilliant! The vast majority of classes are game based to maximise fun. We cater for every level player regardless - however points and some form of competing is always implemented in EACH and EVERY session.
11. Private lessons - are available for ALL Club members.
12. My child wants to be in a higher class with his/her friends the same age? At Lisvane we are strict on the correct technical development for your child's ability, this may not be age related. We will not move your child to a more advanced class until we believe they are ready. In addition, a higher class may be related to the WTN (World Tennis Number). The WTN was rolled out by the LTA in 2021 and is now used worldwide to promote people playing with players of a similar standard to maximise development and increase fun when competing.
• 12a. Please allow your qualified tennis coach to decide your child's correct level and appropriate class.
***********************************************************