Club
September 2019 update
Mon, 30 Sep 2019 00:00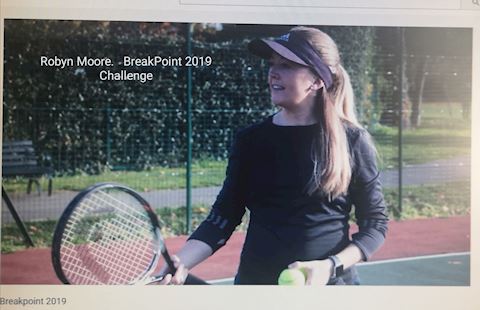 I am delighted to report that the charity even we hosted on Monday 3 June, was a great success. Many thanks to all those who came to play alongside Robyn Moore or just to cheer her on. Particular thanks to all the staff and pupils at Lakefield School who arrived in class 'shoals' throughout the afternoon. Robyn said that their cheering and counting of her hits brought her close to tears. She achieved her target of hitting 200,000 balls in June at 46 different venues, despite some dreadful weather. Money raised goes towards a Tennis Disability Programme…well done to all concerned.
Our 7 July 7 Great British Tennis Open Day was also successful. Although quieter than last year, we nevertheless attracted a lot of young families; some with parents were keen to discover tennis themselves while others wanted their children ( youngest 3) to see what it was all about. Several new members were recruited but it was really all about offering the local community the chance to experience tennis in what must be some of the best surroundings in the County. The only disappointment was that someone felt it necessary to take away our expensive banner advertising this community benefit. It has still not been returned at the time of writing and I hope those responsible are pleased with themselves.
On 5 July a tennis club team played cricket against the Frampton cricket club in a 20 over competition on the Green, another wonderful location for a traditional English sport. Despite the ball not taking top spin and not bouncing as high as our team was used to, we managed to win. Thanks to the organisers and participants, especially to the Cricket Club for not, I suspect, fielding their demon team! We have offered a return tennis match and this may become an annual challenge.
The Summer Leagues are underway, albeit dogged by the early poor weather. Apart from Frampton Men's B and Ladies A who are second in their respective leagues, we are struggling at or near the bottom. Still, there is plenty of time to improve! All the Juniors, whose competitions have already finished, performed really well despite not winning any of their leagues. Well done to all. Our Club Championships will shortly be under way, with the Finals days taking place on Saturday 21 September (Juniors) and Sunday 22 September (Seniors). Do come along to watch some really good tennis and enjoy a bar, BBQ, teas, coffees and stunning cakes.
Very best wishes for a splendid summer of sport and relaxation.
Bob Roberts. Chairman