About Hythe LTC
A little history . . .
The Club was formed in 1889 when it was connected to the Hythe Cricket Club. After 57 years, in 1946, the Club was separated from the cricket club becoming completely independent. Rumour has it that HLTC is one of the oldest tennis clubs in the world!
We are a friendly Non Profit Club (run by our members for our members) situated in the Cinque Port town of Hythe in Kent. All money made is placed into the club funds to improve and maintain the best standard possible to allow amateur tennis for all of the local community & visitors to the Town.
The Club has eight all weather floodlit courts and everything for all standards of play; from the tiniest child who will play mini tennis on a specially reduced court with a smaller racket and softer ball, right through all ages and abilities to our Kent Teams. There are several Social Mix-Ins per week and Members can play at any other time, booking courts via our online booking facility.
The club was delighted to be nominated and subsequently receive the Hythe Civic Award in 2009 for the improvements made to HLTC.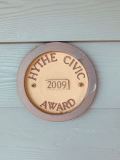 ---
Hythe Lawn Tennis Club (HLTC) is a Community Sports Club & has provided social and competitive tennis to the local area for over 125 years. We have significantly upgraded our facilities over the last few years, with support from the LTA, Sport England & KCC and successfully expanded our membership.
Club Development Timeline:
1889 - Club opened with 8 grass courts
1970 - Replacement of 2 grass courts with hard courts
1988 - Floodlighting of the 2 hard courts
2003 - Replacement of the 2 hard courts and 2 grass courts with a block of 4 hard courts
2007 - Floodlighting of the 4 hard courts
2009 - Replacement of the old clubhouse with a purpose built Pavilion
2010 - On line membership and social media focus
2013 - On line court bookings introduced
2013 - Replacement of remaining grass courts with a 2nd block of 4 hard courts & floodlighting
2014 - Extension of the club car park
2020 - Refurbishment of the club kitchen facilities
2021 - Extension and resurfacing of the club car park