Coaching
The club coach, Brian Knox, LTA DCA Level 3 (Accredited+) Coach has over 20 years' experience in all forms of club coaching including tot's tennis, mini tennis, junior and adult tennis. Knowledge and experience promoting and delivering tennis to mainstream primary schools and shortlisted for the 2015 Tennis Scotland Coach award and shortlisted for the Tennis Scotland disability Programme Award 2016.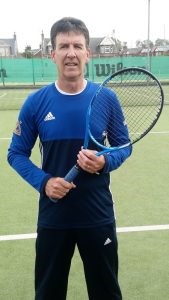 The club runs a programme of coaching classes.
For our adult membership, players have the chance to practise drills and play games on Tuesday evenings and group coaching on Saturdays.
TUESDAY - DYNAMIC DOUBLES
Advance booking: numbers available limited to max 24 people per session.
19:00 - 20:30
Geared to specific skills and tactics required to play effective team doubles..
Suitable for players who can maintain a consistent rally looking at technical aspects such as how to control the ball and decision making to allow the player to play the right shot at the right time.
Combines specialist shot development, tactics, drills and match play.
The cost for Dynamic Doubles group coaching is £5 per player per session and can be paid when you arrive for your coaching session.
SATURDAY - EXPRESS TENNIS for BEGINNERS
12.30-13.30
Advance booking: numbers available limited to max 8 people per session.
For players who are new to tennis or those returning to the game who would like to learn the modern way of playing the game.
Covers technique, positioning and scoring to allow players to play the game straight away.
The cost for Saturday Express Tennis for Newcomers coaching is £5 per player per session and can be paid when you arrive for your coaching session.
All adult coaching must be pre booked using the "bookwhen" site (the link for which is provided in your membership info sent out when joining) If you have misplaced this link - email [email protected]
Private coaching lessons are bookable by contacting coach Brian on 07919 060381 or emailing [email protected] to arrange your session. Please also note, you will be required to book a court in advance for the lesson.
SATURDAY JUNIOR COACHING
Saturday junior tennis coaching caters for primary and secondary school age groups with Brian Knox, LTA DCA Level 3 (Accredited+) Coach .
**All classes are currently FULL, with a large waiting list - from May 2021 we are unable to take any more names at this time**
Please check back again around October 2021
9.00am – 10.00am
P1 - P3: MINI RED
Mini Tennis Red is for players 8 and under. It is played on smaller courts with short rackets and softer balls. It's just like the real game and gives players opportunities to have rallies and play different types of shots.
10.15am – 11.15am
P4 - P6 : MINI ORANGE and MINI GREEN
Mini Tennis Orange is a great way for players to continue their progress from Mini Tennis Red. It is played with short rackets, softer balls but courts are bigger and wider than the red stage yet still smaller than full-size tennis courts allowing players to develop a rounded game whilst learning a range of techniques and tactics.
Mini Tennis Green ball tennis is a great way for players to continue their progress from Mini Tennis Orange and is played with low compression green balls on a full-size tennis court.
11.30am – 12.30pm
P7 - S1-6 to (U18) JUNIOR YELLOW BALL
Yellow ball tennis is for those aged 11 and upwards and continues the players skills and knowledge of the game.
The cost for all coaching sessions is £4 per club member and £6 for non-club members and is paid when you arrive for your coaching session.
REMINDER; to be involved and kept up to date on this years sessions – please download the Junior coaching registration form 2021 and return to [email protected]
Travelling to and from the Court
Please arrive as close as possible to when you need to be there.
If you need to wait, then please do so away from the courts and clear of the gates.
Physical Distancing
Children aged 11 and under do not to physically distance at any time, but 12-17 year olds must physical distance both before and after activity. (i.e. off the court)
Hygiene
Hand hygiene is imperative – use alcohol gel to clean your hands before and after every coaching session.
If you need to sneeze or cough, do so into a tissue or upper sleeve
Avoid touching your mouth and face whenever possible
Supervision
We would request that parents do not stay to spectate, but if attendance of a parent / guardian (non-participant) is necessary – this should be off court and limited to one adult per family, with physical distancing strictly observed while watching the sessions. (per Scottish Government's physical distancing guidelines staying at least 2metres away from others)
Equipment
Children should bring their own equipment where possible.
All rackets provided by the club will be cleaned and wiped before and after use.