Club Championships 2021
Thu, 07 Oct 2021 00:00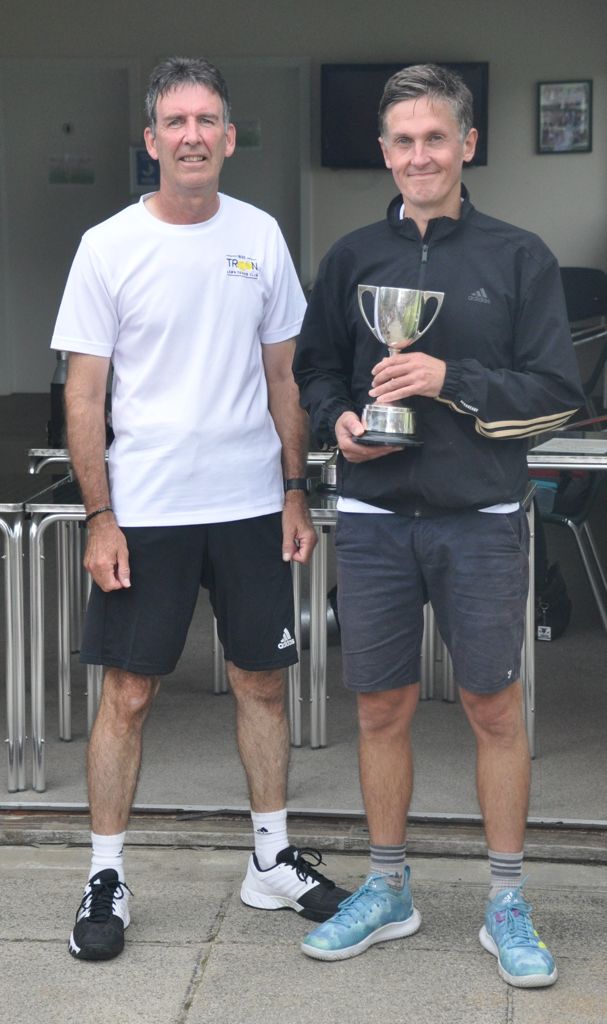 A very successful finals day was held on Saturday 25th September 2021. The weather was kind and the spectatators were treated to some fantastic tennis.
Justin Kewney was crowned Gents Singles Winner after a very exciting match against Brian Knox.
Lindsay McCall beat Katherine Woodhouse in a tense final to become Ladies Singles champion.
Gents Doubles winners were Leslie Sawers and Brian Knox . Their match against Dougal Macpherson and Dylan Sweeney was very gripping with some amazing rallies enjoyedgreatly by those watching.
Ladies doubles final saw Lindsay McCall and Katherine Woodhouse winning against Linda Crawford and Jayne Carson.
Mixed Doubles is always entertaining and Leslie Sawers and Lindsay McCall were the winners against husband and wife team Lesley and Russell Ferguson.
Not only did we manage senior finals but we held very successful junior events too.
The under 14 girls final was a well fought game between Connie Smith and Isobel Barclay. Connie was the eventual winner but we look forward to watching both girls develop their game and hopefully become Ladies team members in the future!
In the morning of the 25th, we held two very succesful LTA Youth Team Challenge Events as part of the Club Championship Finals Day.
23 children with school ages covering P1, 2 and 3 took part in session 1.
21 children with school agescovering P4.5 and 6 took part in session 2.
In both sessions children were split into 4 teams where they were then challenged with four stations of activities. The activities covered coordination, target throwing, tennisball/ racket balance, racket push rallies and a hoop challenge.
Points were awarded for each activity and team scores totalled at the end. The winning team members received a medal and presentation of an inflatable trophy. Every child who participated received a certificate and sticker.
Both events were thoroughly enjoyed and a big thank you to Judith Brown and parents who assisted with scoring on the day.
Most of all a well done to all the children who participated in a very sporting manner and we look forward to watching them progress and improve through our ever expanding junior tennis training programme.