RETURN TO TENNIS
Fri, 29 May 2020 00:00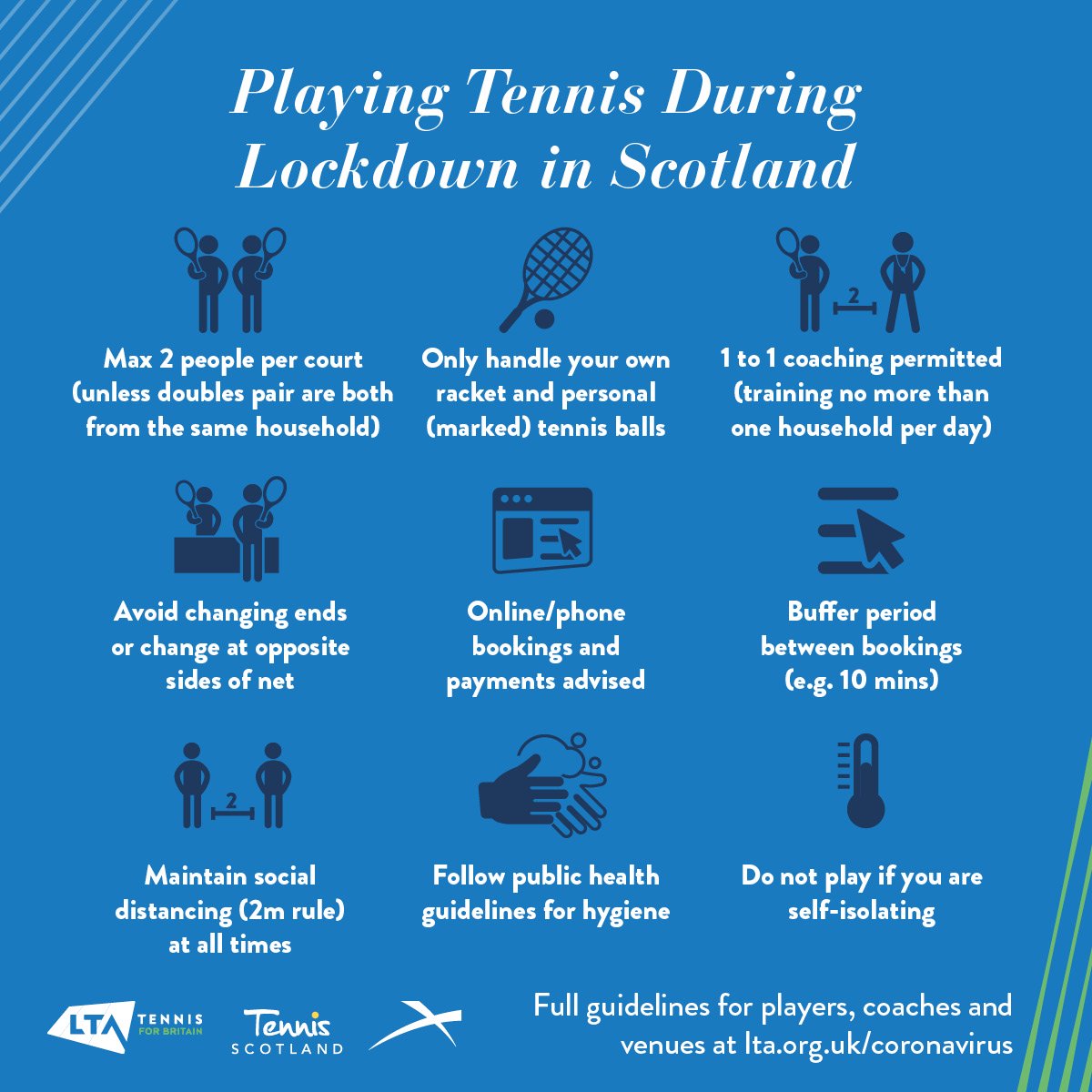 FANTASTIC NEWS FOR TENNIS, THE FIRST MINISTER HAS GIVEN TENNIS THE GO-AHEAD IN SCOTLAND IN A RESTRICTED WAY. THE COMMITTEE HAS WORKED CLOSELY WITH THE GOVERNMENT AND TENNIS SCOTLAND GUIDELINES AND HAVE SETUP RULES FOR PLAY AT THE CLUB. BELOW ARE THE GUIDELINES FOR PLAY ASWELL AS INFORMATION ON MEMBERSHIP FOR 2020/21 SEASON.
Additionally :
The clubhouse will have to remain closed so there will be no first aid facilities, toilet or washing facilities, or floodlights
You can ONLY play if you have booked via the Booking page on Aberdour Tennis Website https://clubspark.lta.org.uk/AberdourLTC/
Bookings can only be made by members and names of all players must be logged on the booking system
If you have no internet access and are unable to book via Clubspark please ask another member to do it for you, or as a last resort TEXT our coach Neil Harden (07786268709) with your name, name of other player(s), proposed date / time of play & duration
A member may play with a guest but they must pay the guest fee of £5 by BACS : to Aberdour Tennis Club, Sort Code 09-07-25 Account No. 31065189 Reference (Member's Name)
Under current circumstances children on the courts must both be at least 12 years old unless accompanied by an adult
Please bring your own hand sanitiser
You must bring your own pre-marked tennis balls and ONLY touch them – flick any others back by racket or foot
Do not change ends
Arrive and leave the court separately
Do not adjust or touch the nets
Groups of 3 or 4 (you can have a doubles pair on one side if they currently reside in the same household) can only play on court 3 (top court)
Currently we are not reserving any existing slots (e.g. Gents Monday nights, Ladies ….) so that everyone has equal opportunity to play
Maximum booking slot is 90 minutes (bear in mind 10 minute buffers) Please make sure you fully use your time so that there is no wasted availability
Bookings slots will be available from Friday morning 29 May (assuming the Scottish Government gives the go-ahead)
We will monitor the situation over the next few weeks as to how the sessions are being used and the guidelines abided by. We will also review whether there should be any return to previously set aside slots; availability for key workers; priority for over 70s etc
Fees
You must be a current paid up member to play and book, however, we realise that the season is limited since the club has been closed for a couple of months and play will also be restricted for a certain period as well.
We applied for the grant available to tennis clubs during the Covid-19 lockdown and have been successful so we have applied this to reduce the fees by half.
We have also carried over uoto 50% reduction, agreed at the AGM, to new members in the areas where we need to encourage new membership and have aimed to ensure this is balanced fairly. This new membership offer is available for a limited time at the discretion of the committee.
Existing Renewal New Member (1)
Adult £82.50 £41.25
Concession 65+ £67.50 £41.25
Concession 75+ £25.00 £25.00
Family £165.00 £82.50
Associate Member £25.00 £25.00
Junior 21/Student £25.00 £25.00
Minis £15.00 £15.00
Social Member £10.00 £10.00
(1) New Member is a special incentive given to new members joining who have not been a member of the club for at least 3 years
Payment
As usual this is via Clubspark https://clubspark.lta.org.uk/AberdourLTC/ .
Alternative methods are by BACS transfer (as per point 5 above) and you must also email [email protected] stating that you have paid the membership by BACS and give the usual membership detail : Membership Category, Name, DoB, Address, Telephone, Email, other family members & details (for Family memberships).
Finally, a cheque made out to Aberdour Tennis Club can be posted to Colin McKinlay with all the same details as above, at 2 Dovecot Park, Aberdour, KY3 0TA
Refunds if Full Year Membership Already Paid (lump sum or monthly DD)
If you have already paid (… thank you !) please let our hard working treasurer (Colin) know and he will figure out what refund to give you based on our now reduced membership for the year.
More Background Links
Please Read :
https://www.lta.org.uk/globalassets/news/2020/guidance-for-tennis-venues--players-in-scotland---covid-19.pdf
Optional Video
https://youtu.be/7aEZ79SEKYo (Courtesy of Giffnock Tennis Club)
ENJOY YOUR TENNIS EVERYONE PLESE FOLLOW THE GUIDELINES AND STAY SFAE