Social
The Queen's Platinum Jubilee
Mon, 06 Jun 2022 00:00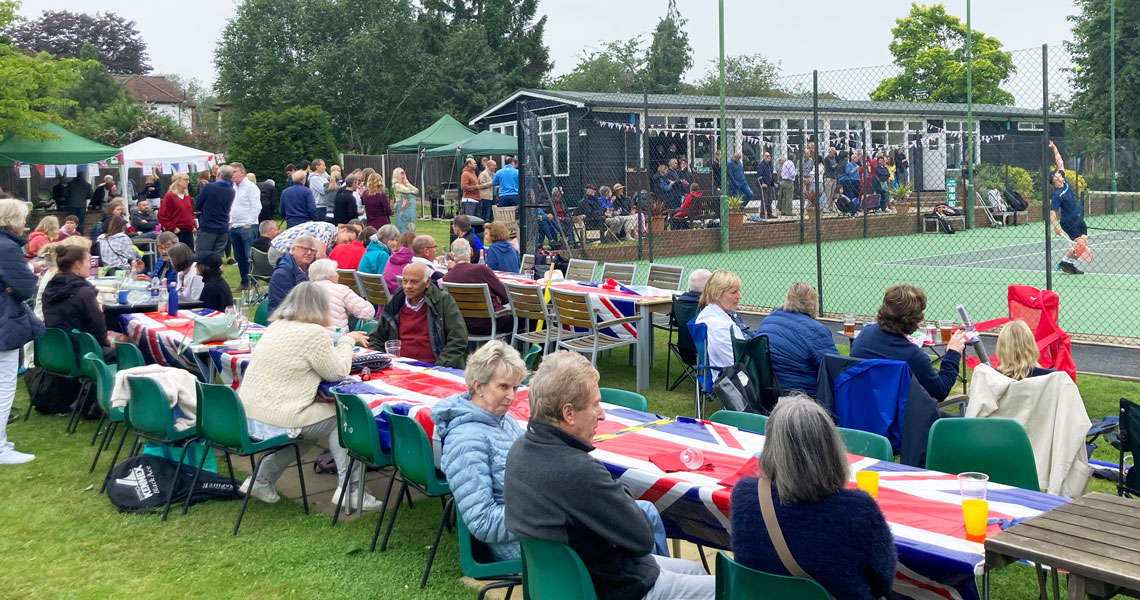 I am sure everyone enjoyed a fantastic Queen's Platinum Jubilee long weekend. Thanks to many members and guests the Tennis club was also able to celebrate in style on the 5th June.
For a fair time before the event there was continuous concern about how the weather may affect the event. We need not have worried. Thanks to Elizabeth Laurent and the social committee, along with a significant number of volunteer members, the planning and organisation was amazing. From Dr Jazz and Judders music under cover, to BBQ's, booze and strawberries all sheltered outside from the impending rain that never came. Even the exhibition tennis match by the Maidstone Tennis Academy coaches was played on dry courts.
We had a fantastic turnout to celebrate the Queens Platinum Jubilee at the tennis club with over 200 tickets sold. Dr Jazz's music was excellent, with Judders keeping the great music going during the band's breaks.
We managed to raise a net figure of £350 for the two charities Shelter and Cancer Research.
A huge thank you needs to go to Elizabeth Laurent and the Social committee, along with all the members who volunteered to offer their services in the build up and on the day. The list of names is far too long to mention individually but your support was invaluable and hugely appreciated. Thank you all.
A special thank you also needs to go to Philip and Beryl Charlton for the very kind donation of the strawberries. A very welcome treat with the burgers and alcohol.
Thank you to Adrian Mole and his team of coaches from the Maidstone Tennis Academy for giving us all a fantastic display of how doubles tennis should be played. A particular mention needs to go to Alex who climbed off his sick bed to entertain us. Thank you very much chaps.
A final thank you needs to go to all members and guests who attended. Without you the event would not have taken place. Thank you for all the support.
Until the next event we look forward to seeing you on court through the summer.