Stories from Members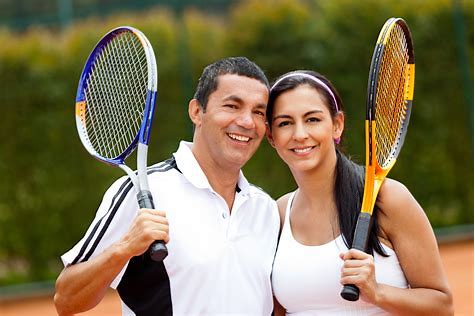 Paul – Recently Retired New Member
I retired in early 2017 and was looking at how I could take advantage of my increased leisure time to improve my health and fitness after spending many years sitting behind a desk. I had played some tennis with friends in the past and I wondered whether the local tennis club was a place where I could get some exercise in a relaxed environment. I therefore went along to the tennis club to see what the atmosphere and standard was on a Saturday afternoon, when social tennis sessions take place. I was pleasantly surprised how relaxed the atmosphere at the club was that afternoon with all standards and ages of players mixing in to play against each other. It was very different to the atmosphere that I had experienced at another club several years before. I was quickly welcomed and decided to join that afternoon.
Whilst the first impressions were good, my last year at the club has exceeded all my expectations. It is a very friendly club with good social tennis sessions on a Tuesday and Saturday supplemented with regular social events. I have also been encouraged into having the odd game of tennis in one of the many leagues that the club plays in.
Not only has my fitness improved and my weight dropped, but I have replaced my interaction with a group of ex-colleagues at work with a group of friends at the tennis club.
Michelle and Darren
I joined the tennis club along with my husband recently after we moved into Balsall Common in 2009. We thought it would be a good sport we could play together and it would be a good way to meet other people who lived nearby.
I had only played tennis on holidays and was a complete novice whilst my husband was a bit more sporty but not very good at tennis. At first, we attended the group rusty rackets sessions on a Thursday evening and played together on a Sunday afternoon. We enjoyed the Cardio Tennis sessions and improved our fitness over time. We were soon encouraged to attend social tennis on a Tuesday evening and Saturday afternoon and over a couple of months our tennis improved dramatically. It is always good to go for a drink after a tennis session and we have met many new friends from the tennis club and look forward to the social events that are put on at the club.
We have also been lucky enough to get Wimbledon tickets through the club ballot a few times and have some great days out at Wimbledon.
If you are new to the village, I would recommend you pop down to the tennis club and give it a try.
Chris - Junior member now young adult member.
I have been a member of the club since when I was six.
I found that the club is very supportive of juniors, introducing them into competitive teams at a young age and integrating juniors amongst more experienced players at practices. The depth of the coaching set up is also notable, with five full time coaches meaning I never struggled to get a lesson and weekly group sessions allowing me to train with players of similar ability.
As my ability progressed, I was invited to help out at holiday tennis camps, that were run to introduce youngsters from the area to tennis. This allowed me to develop my leadership/interpersonal skills and I've even gone on to talk about this in job interviews.
I would highly recommend BBCTC to juniors of any ability, who are looking to develop their tennis and meet people from around the area.