New junior and adult coaching programme from JWT
Sat, 20 Jun 2020 00:00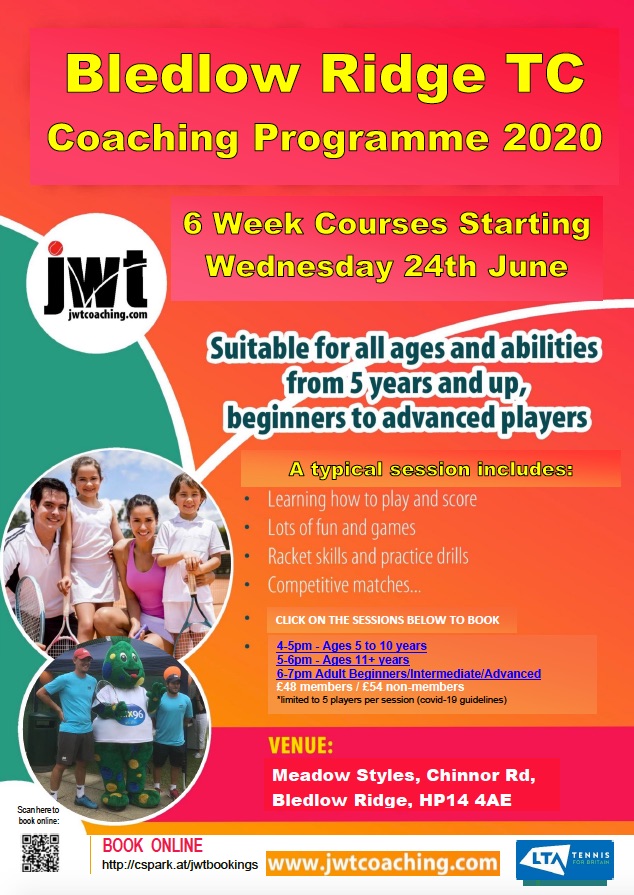 We have arranged for two new club coaches to start this season, from JWT Coaching who are based at Aylesbury Tennis Club. We are very pleased to welcome them to the club.
Tennis coaching for juniors and adults will start this Wednesday 24th June at Bledlow Ridge, with 3 group courses, and you can also book 1-2-1 sessions with either coach. There are details in the email below from JWT with instructions on booking, and also in the attached posters. There are only limited places on the courses, (due to LTA recommendations) so book your place soon.
Message from James Woodwards
Now that tennis is back for all of us, here's a great chance to improve your game and have fun on the court too.
Our NEW Club coaches from JWT COACHING, James Woodwards and Sam Frost, are offering a chance to join a 6 week coaching course BEGINNING NEXT WEDNESDAY, JUNE 24th.
There are 2 courses for all juniors at 4-5pm and 5-6pm, plus an adult-only course from 6-7pm. Both courses run for 6 weeks and cost £48 for Members.
Non Members are welcome too. Spaces are limited to 5 players per session, so please book quickly to avoid missing out.
All the details are in the attached document - or simply click on the correct group below to book:
JUNIOR COURSE 5-10 years (4-5pm)
https://clubspark.lta.org.uk/JWTCoachingOnlineBooking/BookCourse/dda989fa-3c8b-4785-8940-a1bf9b327644
JUNIOR COURSE 11+ years (5-6pm)
https://clubspark.lta.org.uk/JWTCoachingOnlineBooking/BookCourse/19ae0940-febf-4df2-b337-0e41faf005cf
ADULT COURSE (6-7pm)
https://clubspark.lta.org.uk/JWTCoachingOnlineBooking/BookCourse/7f006bd7-00d6-4564-9720-6189bea6989e
For 1-2-1 coaching sessions contact James Woodwards on 07834 826130 or Sam Frost on 07801 978377