Club
Re-opening newsletter
Mon, 09 Nov 2020 00:00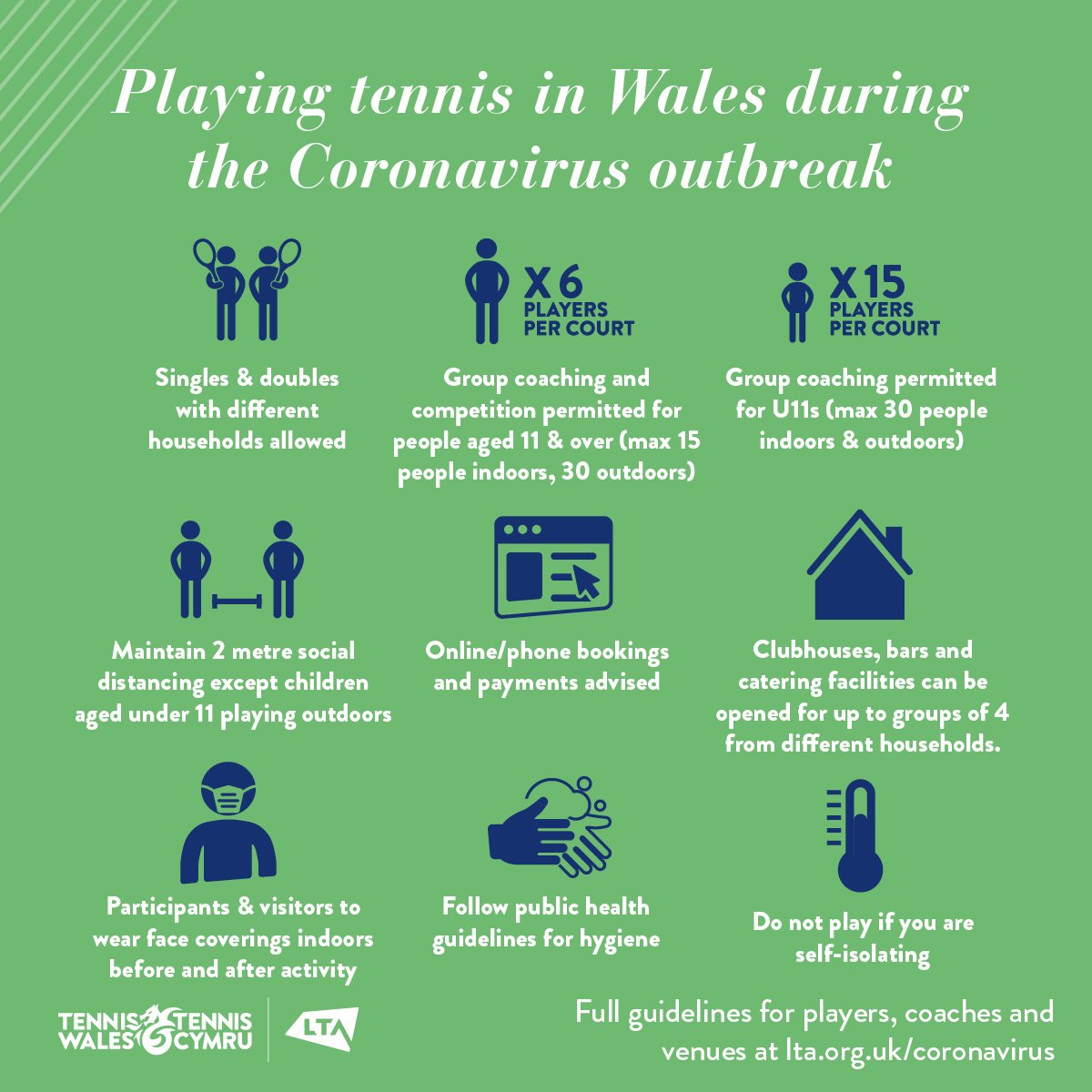 WHAT ARE THE NEW RULES?

Following the end of the Firebreak Lockdown in Wales, the First Minister and the Welsh Government have updated the legislation related to COVID-19 in Wales. Tennis Wales and the LTA have announced that tennis activities can resume and the 'Return to Play' guidance for tennis, has been updated to reflect the new national restrictions.

PLEASE MAKE SURE YOU READ THE FOLLOWING UPDATES CAREFULLY AND ARE COMPLIANT AT ALL TIMES.
You can view the full updated guidance document here. The following is a summary of key updates and changes to guidance following the Firebreak Lockdown:
Players and coaches must not travel to England to participate in tennis activity during the English Lockdown.
People who live in England must not travel to Wales to participate in any tennis activity.
There are no restrictions on travel to play tennis inside Wales.
Group coaching and competitions can recommence outdoors for groups of up to 30 people.
The maximum group size for tennis coaching and competitions indoors is now 15 people aged 11 and over.
Children under 11 can participate in group coaching of up to 30 players indoors.
Children under 11 can participate in organised competition only in a maximum group size of 32 both indoors and outdoors.
Coaches, volunteers, competition organisers and officials are no longer included in these group size limits.
Multiple groups for coaching activity are allowed indoors and outdoors but they must be discreet groups that do not mix and have separate coaches/support staff.
Limited groups to up to 4 people (not including any children aged under 11) unless they are from a single household in the clubhouse or bar
Court 3 Update:
During the lockdown period we have had scaffolding errected and electricians at the club to appraise and hopefully fix the floodlights. The good news is that both courts 1 and 2 have both been fully fixed with new bulbs and parts and are working at 100%. Unfortunately Court 3 which currently has 3 lights out was assessed and the proposed cost of repairing due to the age of them was considerably high. A vote was taken by the committee for the remainder of the winter season and next summer that court 3 will only be available as a daytime court only. The club are seeking planning permission for next year to replace all of the lights with new LED's and hopefully Court 3 will be back working then.
LTA Nominations: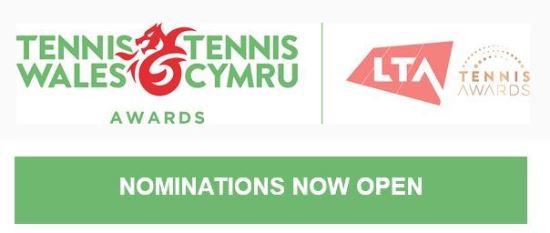 The Tennis Wales & LTA Awards are now OPEN for applications. There are so many superb people and places across Wales who deserve to be nominated.

The criteria for this years categories have all been altered slightly to take into account the turbulent year we have all faced. Despite such uncertain times our tennis community have demonstrated just how fantastic they are, and these efforts deserve to be recognised.
As in previous years, the winners of the Tennis Wales Awards are automatically nominated for a National LTA Tennis Award held later in the year. Last years Young Person of the Year Jonah Jones from Caerphilly Tennis Club (pictured below with Tennis Wales Chair Barry Cawte), went on to win a LTA Award in recognition of his tireless work on and off the tennis court. Jonah was presented with his award virtually by Gordon Reid MBE, multiple wheelchair tennis Grand Slam champion.
If you know of a person, a group of people or venue that needs to be recognised for their efforts this year, please nominate via the link below before the 15th November.

Details of the ceremony itself are yet to be confirmed, however the shortlisted nominations will be confirmed before the end of the year.