Who are we?
Dave McIndoe Tennis Coaching
Mission Statement
To create an environment where people are inspired to play and be involved in tennis for life. A safe place to play with fun and inclusive activities all year round.
Core Values
Reliability - Being trustworthy and performing consistently well.
Professionalism - Demonstrating a combination of skill and high standards in teaching.
Integrity - Honesty and having strong moral principles.
Teamwork - To work well together, showing determination, and leadership capabilities. Having the interests of the team at heart, working for the good of the team.
Community - Involvement in, collaboration with and concern for the local community.
Inclusiveness - A policy of providing equal access to opportunities and resources for people who might otherwise be excluded or marginalized, such as those having physical or mental disabilities or belonging to other minority groups.
Passion - A passion for Tennis is an important factor that allows both players and coaches to experience high-quality relationships.
Honesty - Truthfulness and sincerity.
Dave McIndoe Tennis Coaching
Dave McIndoe
Dave is a Level 5 Master Club Coach. Dave has been a full time Tennis Coach for more than 20 years. He has been involved in the game his whole life and has worked with all ages and level of player from Mini Tennis beginners to international performance Wheelchair players.
Dave has previously worked as Head Coach at Wirral Indoor Tennis Centre, been a Director at Tennis Vision and is now Head Coach at Thorndale Tennis Club & Oxton Tennis Club, on the Wirral. Dave is a Married father to five and keen football fan.
Junior Coaching
Junior coaching for all ages happens weekly in our comprehensive coaching schedule. Details can be found by selecting one of the sessions listed in the junior section of this site. There are other dates and times available with a great deal of flexibility. For further information, call Dave on 07791 964342.
Adult Coaching
Adult group Coaching is available on Wednesday evenings at 6-7.30 £7.50 members & £9 non-members. Most people stay on to play a few games and have a few drinks afterwards. There are other dates and times available with a great deal of flexibility. For further information, call Dave on 07791 964342. There is also lessons for members available at Oxton on Monday evenings. Adult Social 9-11am Wednesday at Thorndale.
Cardio Tennis
A fun way to get fit. No tennis skills needed, but a great way to burn up to 600 calories in an hours session. With great music and fun, it is one of the most effective ways to improve your overall fitness. We have tennis and non tennis people taking part in our sessions. For more information go to our adult coaching page. The sessions are at 8am Saturday , 9.15am Monday and 7pm Thursday at Thorndale or Monday 6pm at Oxton. The cost is £5/session.
Private Coaching
Thorndale's and Oxton's Head coach is David McIndoe.
Dave is an LTA Master Club Coach (Level 5). The only Master Club Coach in Wirral.
Dave and his team are available for private coaching at Thorndale Tennis Club or Oxton Tennis Club at various times to suit.
Dave is experienced at coaching all levels and ages and can be contacted by emailing [email protected] or by mobile on 07791 964 342.
Please note, cancellation of private lessons should be given with a minimum of 24 hours notice, or charges will still apply.
Lessons must be paid for on the day of delivery, late payments may incur penalty charges. Late payment penalty charges, are £5 for every day late.
In the event of cancellation of a group lesson mid-block, we will honour the session by adding an extra class. This will be during school holidays, when we don't normally run, if possible, otherwise at the end of a block. We will always try to have lessons start dates to stay in line across the week. Where a class has been made up for and honoured, refunds and credits are not available.
Prices for private lessons do not include floodlight costs, if required. Gift Vouchers and coaching offers must be redeemed within 6 months of issue date.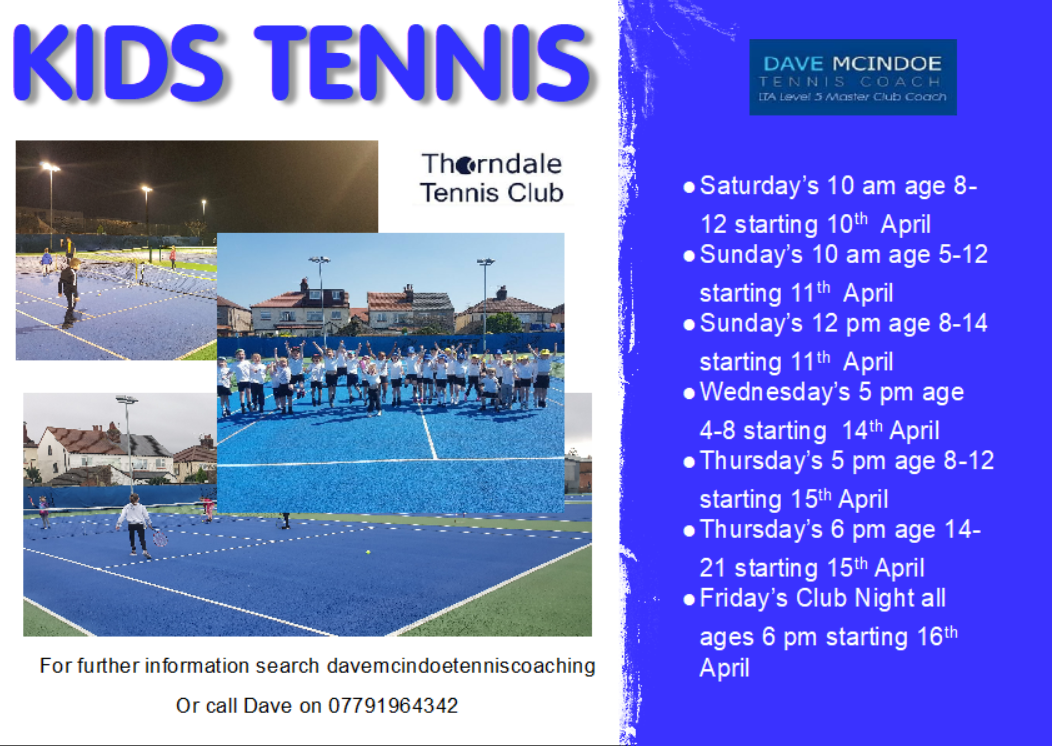 ---
Where we teach
Here are the David McIndoe Tennis Coaching venues where you can play.
Harrison Park Wallasey

Harrison Drive, Wallasey, Cheshire, CH45 3HL

Marine Park New Brighton

King's parade, Wallasey, Cheshire, CH45 2NY

Oxton Cricket & Sports Club

Townfield Lane, Oxton, Oxton, BIRKENHEAD, Merseyside, CH43 2LH

Thorndale LTC

Thorndale Tennis Club, Wallasey Road, Wallasey Road, WALLASEY, Merseyside, CH44 2AG