Coaching
Our Head Coach is Mrs Penny Batchelor.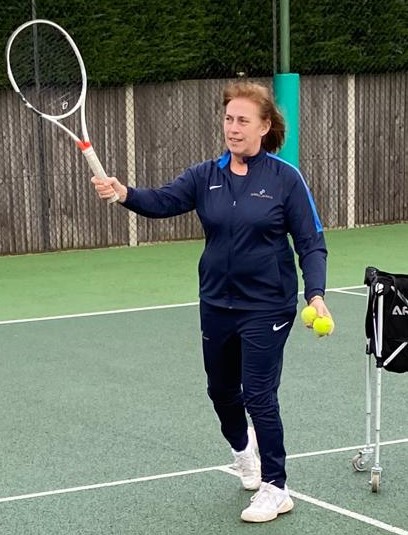 Penny is a Level 4 Accredited plus Licensed and qualified Coach. She manages the U14 Surrey Girls Team and is involved in the U14 Girls County Training sessions. She is part of the Committee of the Surrey Coaches Group and a member of the Surrey LTA Awards Committee. Penny also has links with schools in the local area, Aberdour, St Christopher's and Downsend School.
Penny runs a comprehensive Adult and Junior coaching programme.
Adult group coaching is held on Wednesday afternoons, Thursday mornings and Friday evenings.
Junior group coaching is held on Saturday mornings, Monday evenings and Friday evenings. Performance coaching is held on a Tuesday and Thursday after school.
Coaching Information
JUNIORS
Tennis Tots - (children 3+yrs) is held on Friday mornings. Please ask for details.
Mini tennis - held on Saturday mornings, Monday evenings and Friday evenings. Mini Tennis includes running, jumping, balancing, co-ordination, throwing and catching as well as the more formal tennis skills. Children need to learn a range of skills to play any sport. As their skills improve, so will their tennis. The 45 minute weekly session (red/orange) costs £65.00 per term and the one hourly weekly session (green/yellow) costs £70.00 per term.
Junior Coaching – held on Saturday mornings and Monday evenings. This will build on the range of skills taught in the Mini Tennis sessions. The lessons are designed to be fun and enjoyable, mixed with structured tennis, coaching and development. The coaching is tailored to help the juniors with their technique, contact points, match strategies and footwork. One hour weekly sessions costs £70.00 per term.
Individual Coaching is available and should be arranged directly with Penny.
After a trial period (4 weeks), children attending coaching courses must become members of Downswood Lawn Tennis Club.
Saturday morning
Mini tennis - red
9.00 - 9.45
4-7yrs
Mini tennis - orange
9.45 - 10.30
7-10yrs
Mini tennis - green
10.30 - 11.30
10+yrs
Junior coaching
11.30 - 12.30
13+yrs
Junior coaching
12.30 - 13.30
15+yrs
Monday evening
Mini tennis - green/yellow
17.00 - 18.00
8+yrs
Junior coaching
18.00 - 19.00
12+yrs
Junior coaching
19.00 - 20.00
15+yrs
Friday evening
Mini tennis - red
17.00 - 17.45
4-7yrs
Mini tennis - green/yellow
18.00 - 19.00
8+yrs
ADULTS
Adult group coaching courses catering for players of all standards are held at the following times –
| | | | | | |
| --- | --- | --- | --- | --- | --- |
| | Wednesday | 14.00 - 15.00 | | | |
| | Thursday | 9.30 - 11.00 | | | |
| | Friday | 19.00 - 20.00 | | | |
If you would like any further information about coaching please contact our Head Coach:
Mrs Penny Batchelor E-mail: [email protected] Mobile: 07711 946947