Squash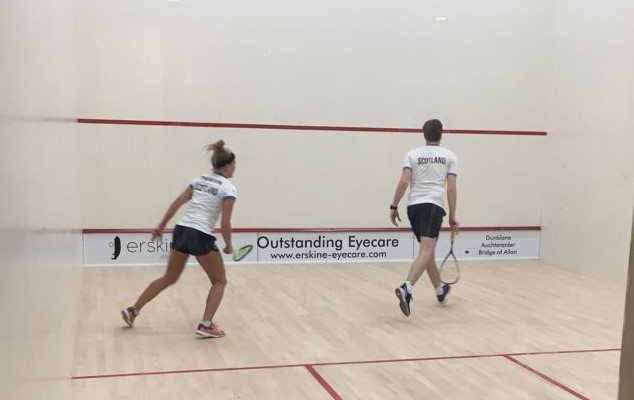 The squash courts are open for members in line with Scottish Squash and Scottish Government guidelines.
From 19th July 2021, play between households is allowed.
Courts must be booked in advance and have been staggered and buffered to avoid people leaving and arriving at the same time and to let the air in the court replenish. Face coverings must be worn on entry to the club but can be removed during on court activity. See further instructions by the courts about cleaning up afterwards.
Please read and adhere to the guidelines before playing.
We have 2 squash courts, newly refurbished in June 2019, which can be used for squash, racketball or table tennis. Lights are metered and require 2 x 50p coins or £1 coin for a 44 minute session. Courts may be booked up to 3 weeks in advance using the online booking system below. Generally the squash courts are only available to club members.
SQUASH COURTS ONLINE BOOKING (Members only)
Club Nights
Mens - Tuesday 7.15pm to 8.45pm
Ladies - Wednesday from 6.30pm to 8pm
Coaching
Junior group coaching sessions are held regularly on Saturday afternoons throughout the season (September to June). Contact the club for more details.
Mini leagues
We have monthly mini box leagues for adult and junior players interested in playing competitive games against other members. Just add your name to the bottom of the box league sheet to be included in the next month.
Tournaments
Various fun tournaments are also held throughout the season as well as the club championships usually held in March. Watch the noticeboard for details.
Teams
Anyone interested in joining one of the teams that play in the local leagues should contact the club and we will pass your details to the appropriate team captain.
Squash Champions 2019
Mens - Andy Hunter
Ladies - Sabine Mackenzie