Club
Mayor opens resurfaced top courts
Fri, 14 Aug 2020 00:00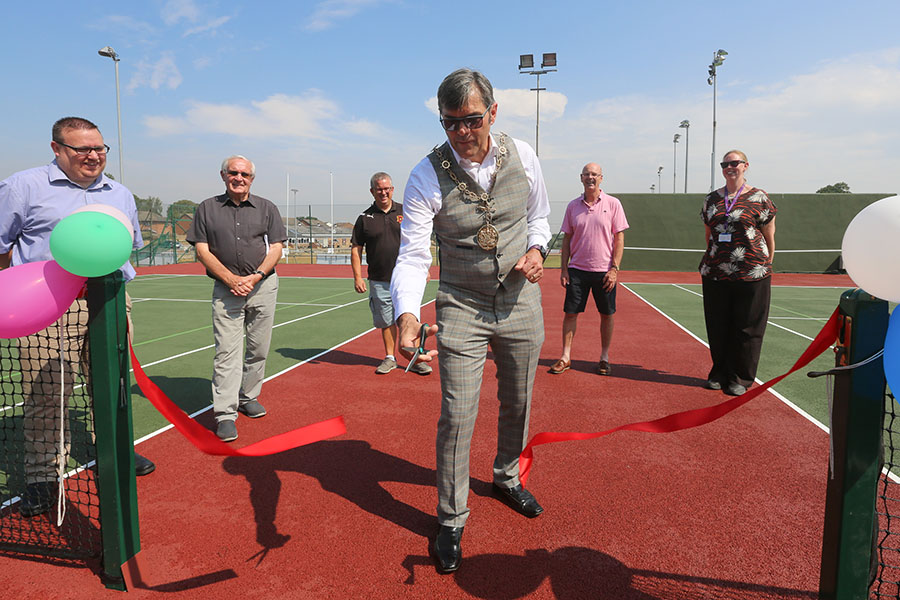 The Mayor of Gravesham Cllr John Caller has officially opened three newly-resurfaced courts at Gravesham Tennis Club located within the grounds of Gravesend Rugby Club.

The £50,000 project was financed entirely by the tennis club and, along with the other five courts, returns it to eight court capacity - amongst the biggest in the county.

Six of the club's eight courts have flood lighting and the three freshly-resurfaced courts all have additional lines for junior and mini tennis so younger players are well catered for at the club.

Cllr Caller arrived at the socially-distanced event in hot sunshine at 11.15 on Tuesday morning to meet with club committee members and players before cutting the red ribbon to officially declare the refurbished courts open.

He said: "I'd like to wish Gravesham Tennis Club all the best for the future. The facilities here, now, are second to none. They're the best in the borough we've ever had. I hope that you go from strength to strength and hundreds, if not thousands, of people join your club and take up this really healthy sport."

Club Chairman Damian Pender commented, "We'd like to thank the Mayor for officially opening our three top courts which have a splendid new playing surface. Our members will benefit from the increased capacity with our busy programme of social and competitive tennis. We can now also make more court time available for 'pay and play' where non-members can hire a court - all of this can be enjoyed with social distancing observed."

Club member and former chairman Roy Dinnis managed the resurfacing project. He commented: "This is the latest in a series of projects we have managed over several years to improve the quality of the tennis experience for those living in Gravesham hopefully encouraging many more to become involved for both social and fitness reasons. We are in fact one of the premier clubs in the county having won the Kent LTA Club of the Year award twice and organising LTA Tournaments all year round."

After the official opening of the courts, the mayor exchanged shots with his colleague Cllr Shane Mochrie-Cox, who is the council's cabinet member responsible for sport.