BRIGHT IDEAS FOR TENNIS - INCLUSIVE TENNIS TRAINING FOR OAK TREE SCHOOL
We had a marvellous day on Wednesday 6th September when we hosted Bright Ideas for Tennis who are a UK charity who help more people play tennis by creating inclusive environments for everyone. They kindly came and trained a group of Club volunteers to help run a weekly Coach-led course at Hadley Wood for a local SEN school proving to us that Tennis is indeed inclusive and enthusing us to share the experience that tennis can be beneficial to all. Our Coach Paul Rock participated in being trained to teach children who may have visual or hearing impairment, along with other disabilities and 14 other volunteers took part in the activities and training stations too ... 3 hours in the hot sun and we all loved it! It was so inspiring. Danny Sapsford and Stuart Wilkinson from Bright Ideas were wonderful, enthusiastic, encouraging and incredibly inventive in making the experience for us and ultimately the children who come every week to visit us for their hours tennis have a fun time and an introduction to the sport in the fresh air.
This is Alex demonstrating just one of the 4 different training stations.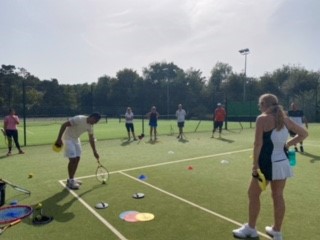 This is Coach Paul learning to trust the sound of the ball and moving in the direction it is travelling, simulating a person with visual impairment and introducing them to ball with a bell inside it.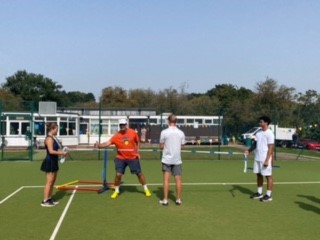 Our second visit from Oak Tree School on Wednesday 20th September was a very wet affair, but the children all had fun and so did all the volunteers. After a few warm up games which Coach Ignacio had set up they got to actually hit the ball over the net guided by Coach Athos. We were all very wet and soggy but there were smiles all round.
We were also lucky enough to be joined by professional tennis player Lauryn John-Baptiste who gave up some time to volunteer with us. It was a shame the weather was so bad otherwise we would all have been queueing up to have a hit with her ... another time perhaps? Thank you Lauryn, please come again.