Click here for Latest News
Wed, 29 Jan 2020 00:00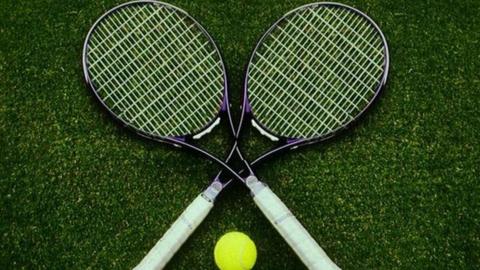 Older news
Dated 29th December, 2019 - Wimbledon Tickett Ballot Opt In and Car Park Passes
URGENT, URGENT, URGENT!!!!! If you want to be part of the clubs Wimbledon Ballot draw in 2020,for a chance to win Wimbledon tickets, (still have to pay for them though!), then please remember to Opt In via the LTA web site by February 14, 2020 . You must also remember to say that you are a member of Henley Tennis Club. This can be updated when you log in and look in Personal Details. Only members that have a BTM account, and Opted In and say they are members of Henley Tennis Club will be eligible for the Wimbledon Draw.

Car Park passes are on-line for printing or available from the club house. Please do get one and display it in your car if you are using the club car park.

If you need help with either of these message, then please do get in touch with me.
Dated 29th December, 2019 - New Non Slip Club House Decking Being Installed now.
Just to let you know that we are having brand new non slip decking installed at the club over this next week.
Please take care around the work.
Apologise for the disruption.
Dated 13th December, 2019 - URGENT!!!! Car Park Passes Available now.
The car park is now being monitored for cars not displaying college car park passes. The college have authorised us to print our own pass, with our own logo. The link in the members area will take you to a word document so that you can print your pass. I will also leave some passes in the club house.
Dated 12th December, 2019 - URGENT!!!! Car Park Passes
The car park is now being monitored for cars not displaying college car park passes. We are supposed to get them each year from the college but that hasn't happened for a few years, (even though we have asked nicely). The college now say we can print our own, with our own logo. I will set this up so that you can create your own pass.
In the mean time I suggest putting your own small sign inside your car, sying you are with Henley Tennis Club and awaiting your car park pass, please add your name and contact number.
Dated 12th December, 2019 - New Free Life Time Membership Award Goes to ......
BIG NEWS !!! ooops Almost forgot this one.
The Committee has given free life time membership to Allen Levy, for his long and continued involvement on the club Committee. Allen is currently helping us with the Planning Application for floodlights.
We now have 3 Life Time members:
Allen Levy
Eric Davies
Mike Pugsley
This award will continue to be given to members that have shown extrodinary commitment to Henley Tennis Club over many years. I wonder who will be next?
Dated 12th December, 2019 - New AGM and Committee Minutes documents
All committee meeting minutes and AGM minutes can now be found under Club Articles. Click on the link or find the page under "More" tab.
Dated 11th December, 2019 - LTA Competition Links, Children and Adults
Interested in LTA competitions? We now have a page that links to the LTA Competitions web site page for each age range, from age 5 to adults. Click here, and find the links on that page.
Dated 10th December, 2019 - HTC Ladies and Mens Team Information
We now have a Team Information area which can be found here. The page can also be found via the Members tab, followed by clicking on Henley Tennis Club Ladies and Mens Team Information LINK.
Dated 10th December, 2019 - Sunday Morning Club Session Court clashes with Team Matches
These are the Mens and Ladies Team Matches that will clash with Sunday morning club session.
The teams will usually take courts 1 and 2 from 10am to 1pm.
Club session can still go ahead as we still have 3 other courts.
However, please note that club session attendance may be affected as some of the usual attendees will be involved in the matches.
Changes to these dates may occur due to re-arrangements. Please check Latest News for the most up to date list of dates.
BerksSun 05/01/2020Men's Doubles - Division 8Henley Men's 2-Marlow Men's 2
BerksSun 26/01/2020Men's Doubles - Division 5 EastHenley Men's 1-Wellington Men's
BerksSun 23/02/2020Men's Doubles - Division 8Henley Men's 2-Shinfield Tennis Men's 2
Dated 5th December, 2019 - AGM Information
The Club AGM was held at the Bird In Hand at 8:30 on 3rd December, 2019. All future AGM's will be held on the first Tuesday in Decemeber. AGM agenda and minutes will be published this coming week.
Dated 3rd December, 2019 - AGM Information
The Club AGM will be held at the Bird In Hand today, at 8:30 on 3rd December, 2019.
Dated 20th May, 2019 - Wimbledon Ballot Draw Winners Information
Wimbledon Ballot complete. Next steps for lucky winners!The Henley Tennis Club Wimbledon Ballot took place yesterday, Sunday, 19th May.
This information is specifically for those members who were allocated tickets.
Please note: The LTA will no longer be sending letters to members who do not have an email address registered with us. Members will still be able to pay for their tickets by calling our team on 0208 487 7000.
If you were allocated tickets then you should get a notication email from the LTA asking letting you know your allocation and how to register and pay for them. If you have not heard from the LTA then please contact them directly.
Declined/Missed Deadline Tickets
Please Note: Any tickets that are declined or miss the payment deadline will return to the clubs allocation providing they are declined or miss deadline before the close of the ballots (May 24). The tickets will return to your club allocation 48 hours from decline or missed payment deadline.
This information will also appear on the club web site.
Dated 12th May, 2019 - Wimbledon Ballot Draw
Wimbledon Ballot will run on the 19th May, 2019 at 12 noon
The Wimbledon Draw will take place this Sunday 19th May at Noon by the club house. All members who have opted into the draw via the LTA web site this year and are paid up members of the club for 2019/2020 will be entered into the draw. If your name does not appear on both lists then you will not be eligible. We have 11 pairs of tickets, and 68 opted in members on the LTA list but not all paid up members!. If you want to know if you are on the list then please go to the members area tomorrow where you will find a list. If you turn up or assign a proxy and are drawn then you will be able to choose your tickets. If you are drawn but are not there then you will be assigned random tickets. Please note that I have added new pages to the web site to show upcoming Events and Latest News. Many thanks, Please do get in touch with me if you need more info. Col Main
Available ticket dates.
Court Event Date
Centre 03/07/2019
Centre 06/07/2019
Centre 09/07/2019
Centre 10/07/2019
Court 1 03/07/2019
Court 1 04/07/2019
Court 1 05/07/2019
Court 1 10/07/2019
Court 1 13/07/2019
Court 2 04/07/2019
Court 2 06/07/2019
Dated 10th May, 2018 - Various
Our planning application for flood lights was submitted to SODC last week.
The lease for the club is now in the hands of the college solicitors for changes to include an increase in the buy-back clause, and removal of yeasr on year buy-back reduction. We are researching recomendations for our own solicitor to handle the lease changes.
Maybership renewals have been very slow this year and we are still under the 200 members mark. Where is everyone?
This years juniors Road To Wimbledon will run Saturday 18th May, 2019 from 14:00 onwards. All courts probably in use.