Singles Ladder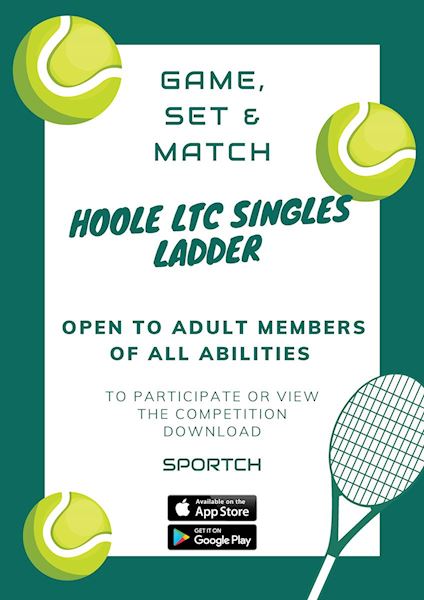 We are pleased to offer Hoole LTC members the opportunity to play free friendly singles matches against other members through a new club singles ladder.
The new ladder allows you to join at any point, play as much or as little as you want and take a break or leave when required. It's extremely flexible.
The ladder is accessed through a free app called Sportch (download our short introductory video here).
After signing up, you will be placed in groups of 5 within the overall ladder. Your starting position is based on how you self-assessed yourself during registration and your position will change as and when results are submitted.
How to join
Download the free Sportch app from your app store (https://sportch.page.link/app).
Open the app and tap Sign Up
During registration ensure to select Hoole LTC and opt to play in "club ladder"
You're done and ready to play
The app allows you to easily contact opponents to arrange matches, record results and view rankings and results in real time. The ladder competition is very flexible and open to all adult members of all abilities. It doesn't matter what level you play at or how often you can play. This is a great way to meet and play with players of a similar standard, enjoy some friendly competition and (hopefully) improve your tennis!
If you have any questions please contact Pete at [email protected].
Ladder Rules
Matches will be the best of 3 sets with the first two being normal tiebreak sets and the third being a Championship Tiebreak (tiebreak to 10). How to play a tiebreak
Players to record the results of their matches in the Sportch app.
Results of matches played between players with LTA Ratings will be processed through the LTA and count towards your Rating.
Players will be expected to liaise with each other to arrange their own matches.
The competition is open to adult male and female players and selected juniors.
Players under the age of 18 must return a completed parental consent form before competing in the league.
It is recommended that participants under the age of 18 do not give out their own contact details and that matches are arranged via their parents/guardians
All players aged over 18 must read the 'Safeguarding Policy' which can be found in the 'Policies' section of our website and on our clubhouse noticeboard.
All players must be Hoole LTC full members and should adhere to the LTA Fair Play principles found at https://www.lta.org.uk/play-compete/competing/clean-tennis-fair-play/fair-play/ and on the clubhouse noticeboard.