Welcome to
Monmouth Tennis Club
New Date - LTA Big Tennis Weekend
The LTA Big Tennis weekend will now be held on Sunday 11th September from 10am to 12 Noon, please visit the events page to book in, everyone welcome.
Monmouth Tennis Club
Welcome to Monmouth Tennis Club
Situated at the Chippenham Fields Sports Ground, Monmouth Tennis Club provides tennis for everyone in the community with access to 3 recently refurbished hard courts that are accessible all year round.
We offer a range of playing opportunities to cater for all your needs whether you are looking for great low cost membership and benefit from unlimited tennis or alternatively you can 'Pay & Play' on a causal basis by booking a court online.
We are always welcoming new members to the club of all ages and abilities and there is a busy tennis programme in place which includes:
Weekly club social sessions
Club competitions
Competitive team tennis
Coaching programme for juniors and adults
We are an LTA/Tennis Wales registered venue and are also part of the Monmouth Sports Association.
Join our facebook page to stay up to date with all the latest news at the club.
Please go to the LTA website or the Welsh Gov Website for guidance on playing Tennis in Wales.
As a Club we are continuing with the booking system for the clubs social sessions. To do this please go the bottom of the coaching tab page and follow the link through to book, make sure you mark yourself as a member so there is no cost. For non-members the cost is £5 per session.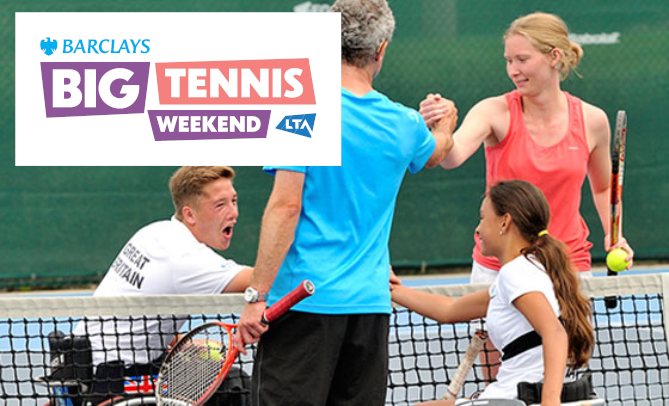 We're hosting an LTA Big Tennis Weekends event!
Try tennis for free this summer at an LTA Big Tennis Weekends event! Rackets and balls will be provided, so whether you've never picked up a racket before or you're a seasoned regular – there is fun to be had.
Latest news
6 week course coaching for kids
about a year ago
Winter league tennis matches
about a year ago
---
Winter Membership will be available from 1st September
Winter Membership packages will be available from 1st September for the 2022-2023 season. If you are interested in joining or if you need any further information please contact. - Email: [email protected]
Book in 3 quick steps...
2. Choose a session
Select your preferred available time and book. You can pay online with most major credit cards. Register online the first time you book.
3. Confirmation
We'll send you confirmation of your booking. You'll receive a pin number to access the venue. It's easy!