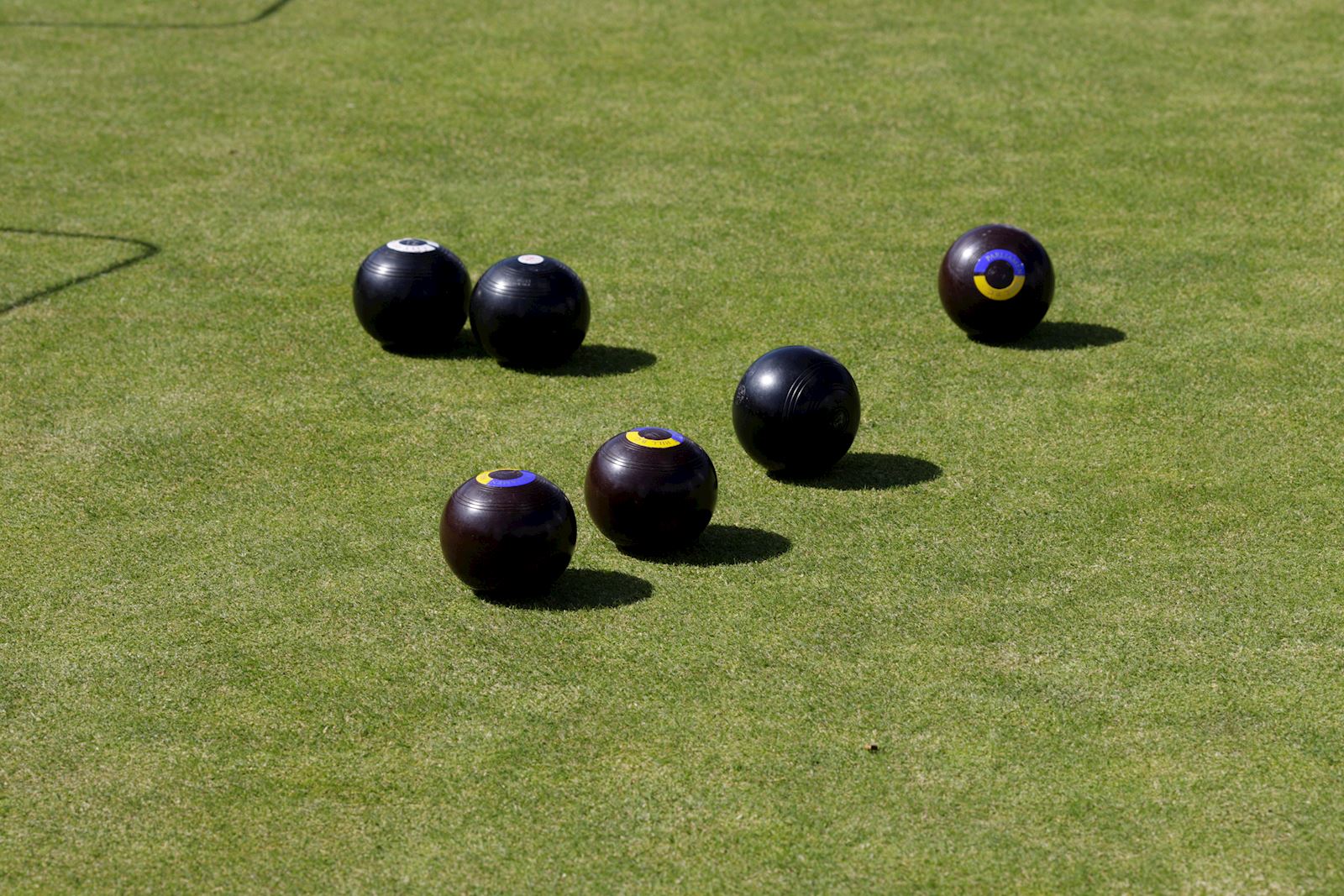 Following further Government advice, outdoor bowls clubs are now allowed to open. Each club, including council-owned sports facilities, will make their own decision about when their facilities are ready to open and can be operated safely.
Further advice on the safe play of Bowls can be found at this link. Bowls England FAQ Covid 19
NB: You are required to supply your own equipment.
Bowls basics
The object of the sport of bowls is essentially simple. It is played on a square of closely cut grass called 'the green', which is divided into playing areas called rinks. The green is surrounded by a small ditch to catch bowls which leave the green, and a bank upon which markers indicate the corner and centre of each rink.
Players take turns to deliver their bowls from a mat at one end of the rink towards a small target ball, often referred to as 'the jack', at the other end. Bowls are shaped so that they take a curved path towards the jack. To be successful the bowl must be delivered with the correct weight, along the correct line.
The object is to get one or more of your bowls closer to the jack than those of your opponents on each end – one point is scored for each counting bowl.
There are many different formats to the game, but the most common in England are singles or in teams of pairs, triples or fours. In singles, the winner is usually the first to score 21 points. In the other three formats, the winner is the team that scores the most points over a set number of ends.
Booking Play
One rink is to be made available to the general public during open times. Play will be bookable in hourly slots per rink:
Public play Booking will be available, in 1-hour slots from 10.30am, last play to finish at 7.30pm.
At present play is on a one to one basis without spectators. This will be under review and will be amended as Government advice is updated.
Advance bookings for rinks may be made by ClubSpark registered users. Further information is available on the PH Clubspark web page.
Pay and Play registered members can book a rink up to 48 hours in advance of the game being booked.
Advance bookings can only be made by the registered player; no player can register on ClubSpark twice. Duplicate accounts will be deleted.
Players may be asked to show a City of London Officer their proof of rink booking. At the time of booking ClubSpark will send an email confirmation of the booking to the contact email address which was used when they registered with ClubSpark.
All advance bookings must be paid for in advance of the rinks being used. This payment must be completed through ClubSpark.
If a player cancels a rink booking, he/she will be liable for the rink fee if cancelled under 24 hours from the time of the actual booking slot.
If the rinks are closed at the direction of a City of London Officer, then the rink booking fees will be refunded by the City of London through ClubSpark. A refund will be applied to the card which was used at the time of booking (it may take up to ten working days for this refund to show on the payment method.)
All monies collected will be re-invested into the management of the bowling facilities.
Use of the Green
Public play is to be with players own equipment. No equipment will be available on site.
Players must always adhere to social distancing. This will be under review and will be amended as Government advice is updated.
No child under the age of 12 years old will be allowed on the bowling green unless accompanied by a coach or parent / guardian.
Public are required to have smooth soled shoes whilst on the green.
Players must ensure they do not act or play in a manner that is detrimental to the playing surface.
No food or drink to be consumed on the green.
No smoking on the Green.
All litter to be taken home or put in to a bin.
The grounds person may give notice, via ClubSpark, cancelling play if it is deemed play would damage the playing surface. A full refund will be given.
General information:
Bowling Green Rink, maximum 1 hour session.
£8.61 per hour
£5.16 per hour (concessionary rate)
£20.00 Bowls equipment hire
Please register to play then book via the on-line booking sheet