Competition
2nd Team on course for League title
Sat, 18 Aug 2018 00:00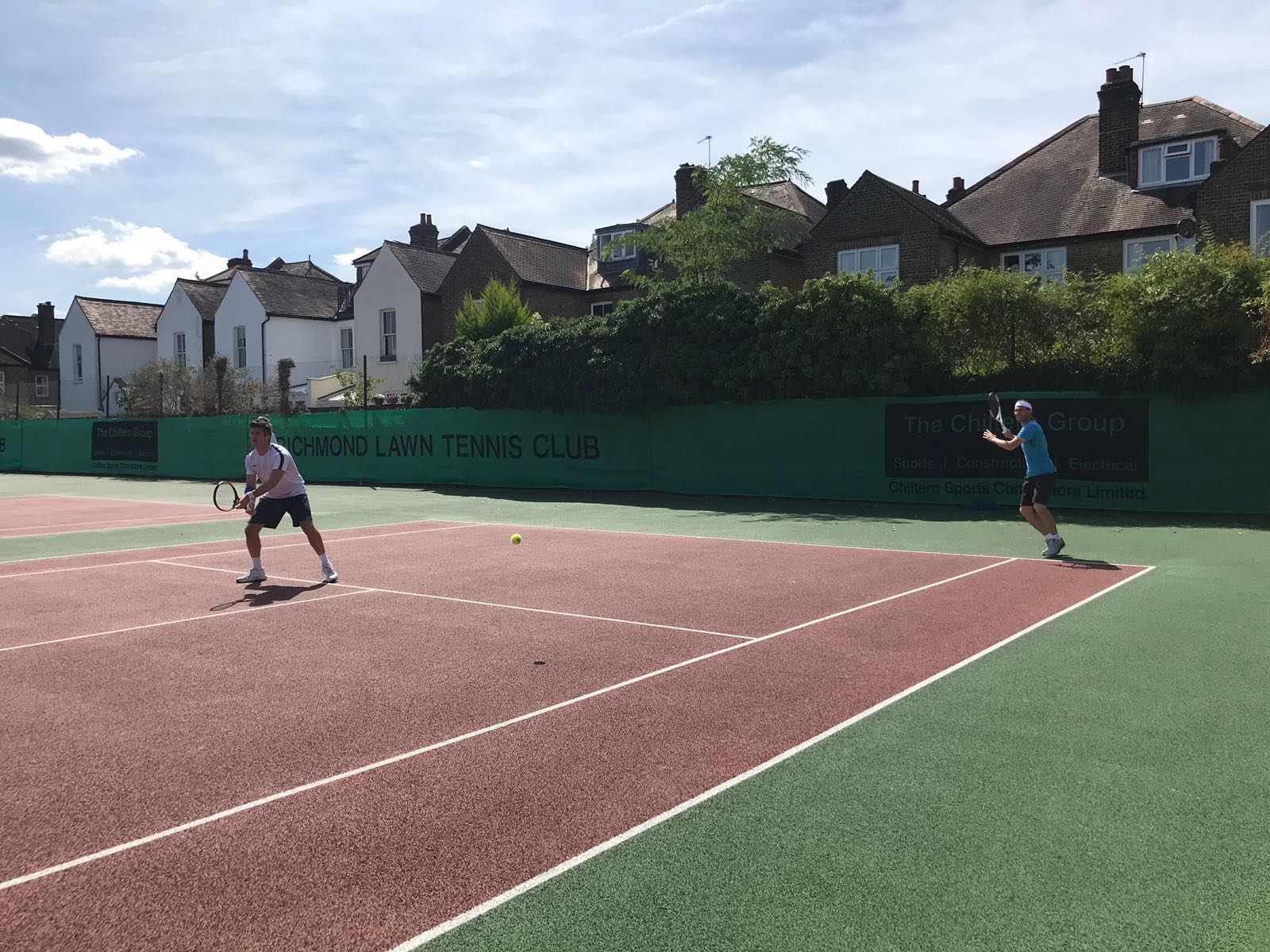 Match report: RLTC Men's 2nd Team v Surbiton - MATCH DRAWN: 2-2
"I am an artist at living-My work of art is my life"-Suzuki
Last Saturday, writes Olly Pimblett, "Richmond Men's 2nd Team's canvas was tarmac, and their paint brushes racket-shaped, as they looked to create a tennis masterpiece and cement top-spot in the division with victory over Surbiton".

With berets, arm-strapping, new balls and deep-heat in hand, the team skipped on court early on a sunny morning on the Richmond hard courts. Team captain Kisanga paired himself up with Manoj for the very first time, and reunited Olly & Patrice after a long break from playing together (not since the great over-65's final of 1978). It was a pivotal match but the dice was rolled, so let's see how it landed!
For those who are not familiar…

Manoj Krishnamurthi is a talented heavy-hitter, who's recently taken time-out from regular competitive tennis due to bringing a new life into this world as well as dealing with a recurring shoulder injury;
Patrice Metzger, the Gaelic spinning enigma, could be brilliant and brutal but was prone to outbursts of French profanity and self-doubt, so could he handle the pressure?
Kisanga Devendra, whose backhand was voted most beautiful in 2016, is an all-round talent, but did he have that 'big match' mentality?
Olly Pimblett, recorded (he says) as having the second-hardest forehand of any player this season, clearly has the finishing prowess, but does he have the consistency for this type of challenge?

So many questions, and only one way to find out. Game on!

Surbiton takes its name from Old English meaning 'south of the grange', and perhaps Olly & Patrice had brought the wrong compass, or were too relaxed and confident, because Surbiton took the first set surprisingly comfortably 6-3.
Reflecting on a necessary, urgent plan for a winning change, the pair decided Olly was playing a bit 'Alan Wright' and Patrice was still asleep.
Their new focus on accurate hitting duly sent Surbiton south. They dominated the second set, winning it 6-3, with Patrice picking off winning volleys at the net like a fox gobbling chicks on a conveyor belt.
The tie-break was quickly over, Richmond winning with aplomb.

Meanwhile, Kisanga & Manoj were experiencing similar contradictions. Kisanga served with new-found zip and Manoj pummelled from the baseline, winning the first set 6-4. But in the second, Kisanga - due to lack of match of play in recent times - struggled to assist Manoj's serve and volley tactics and the set was lost 2-6. Surely the tiebreak was nailed on… but it wasn't to be: fighting some close rallies, our pair went down by a handful of points.

The tie was poised at 1-1. All to play for. And so to round two…

After taking shade under the Bodie tree-like greenery around the hard courts, Kisanga & Manoj bounded back, playing more aggressively and taking the ball early.
But new opposition presented a tougher task, and our boys went down 1-6 in the first set. However, they managed to bag the second set 6-4. The tie-break was very close but, having started well, Richmond's pair lost valiantly and with honour and grace.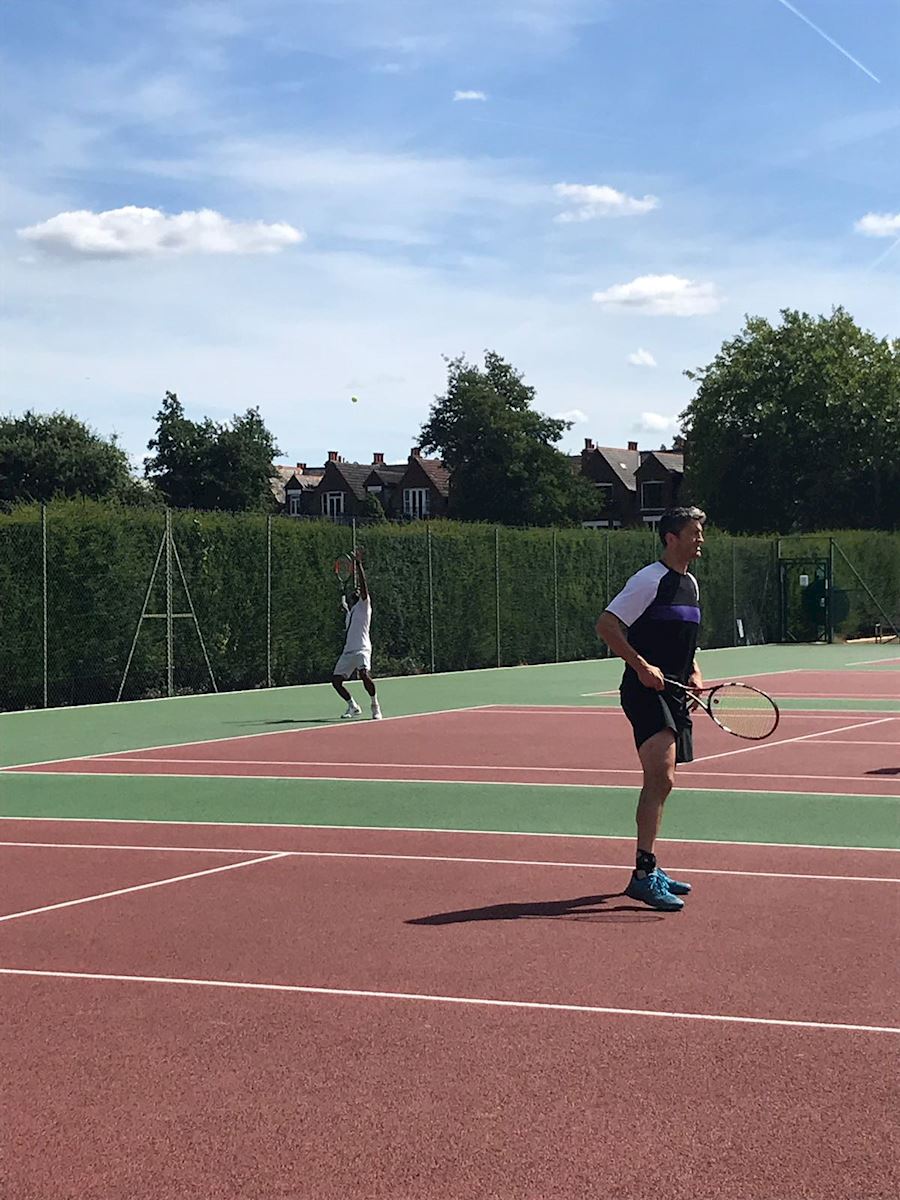 Richmond down 1-2. And so it fell to Olly & Patrice to salvage the match. A record crowd gathered - estimated at over 2,500 (actually it was 2: Iain Ure and Matt Joseph) - and a nail-biting first set concluded with Olly & Patrice taking it 7-6.
Tension built; even the surrounding shrubs seemed to quiver with anticipation. But Surbiton rallied, and our lads lost the second set 4-6.
Olly & Patrice were by now feeling the heat: both had been warned at least 5 times for racket-abuse, unsavoury language, fair-play issues, clothing eccentricities, violations of racket (again) AND language (again)! But despite their evident disgust at themselves for playing like 3-year-olds who'd never seen a racket before, they won the tie-break with relative ease. Match levelled!

"There's still all to play for," says Olly Pimblett; "victory in the next game guarantees the championship and double promotion."

Well played lads. Go for it!