Competition
Mens 1st Team v Badshot Lea
Fri, 27 Jul 2018 00:00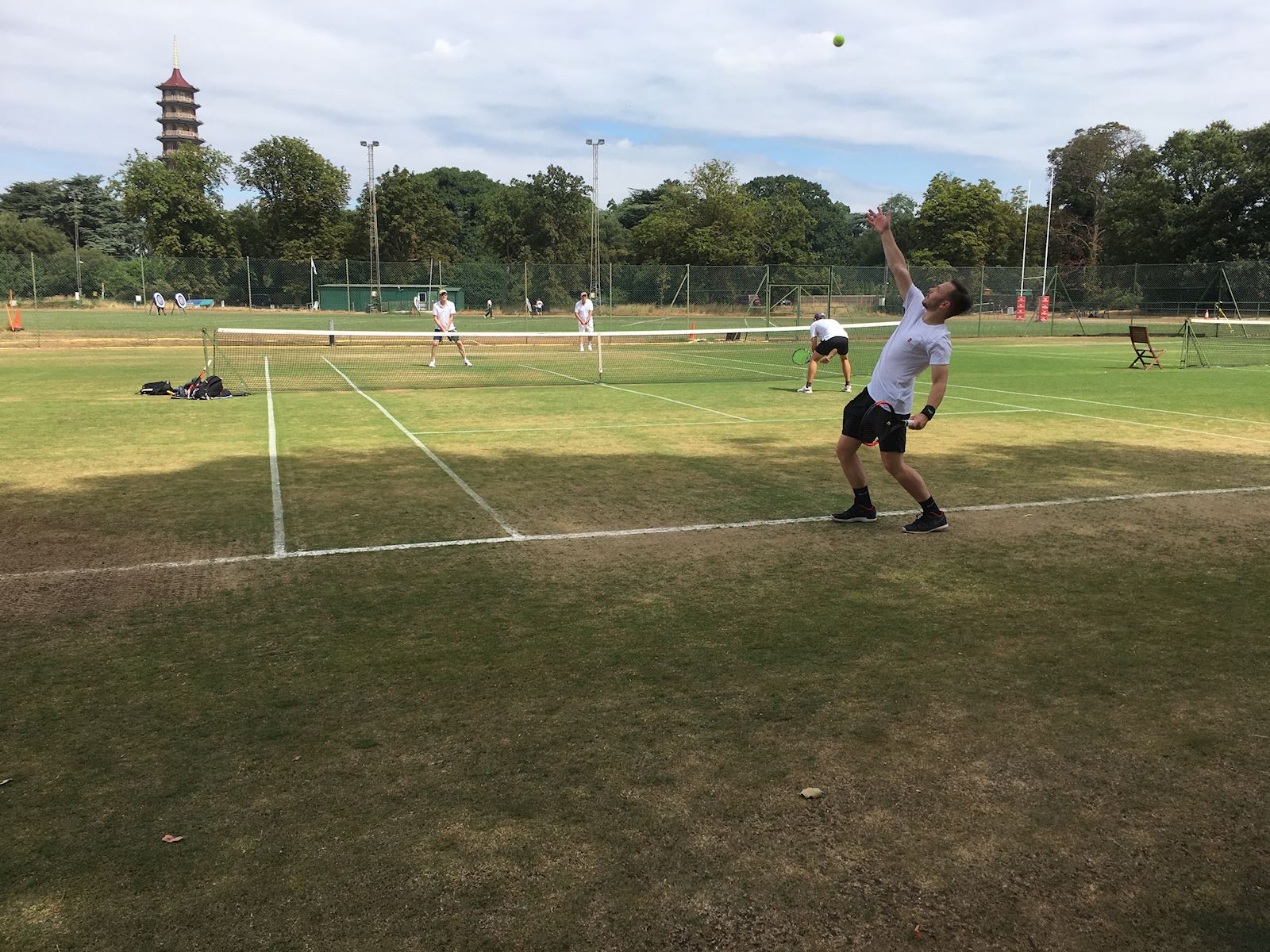 Match report: RLTC 1st Team v Badshot Lea 1s: MATCH WON 4-0

From Our Own Correspondent... Ollie Pimblett sent this match report from courtside:-

It was Sunday, it was sunny and hot, the sprinklers whistled their morning tune as the scorched Richmond tennis turf gulped down much needed watery drops. The memories of world cups and club finals day heroics now distant memories as they melted into the relentless heaving dry air. A lowly field-mouse scruffles through the undergrowth at the back of the grass courts trying to find a shaded haven. As Tiger Woods stretched his golfing paws over Scottish hills at The Open, it was the young cubs of Richmond Lawn Tennis Club's Men's 1st team that bounded onto court, their tennis claws sharpened, ready to take on the best that Badshot Lea had to offer.

Richmond's 1st pairing, Sam Barnes & Eliot Rowberry, a sleek and slimline mix of youth and experience, looked seriously focused. Sam, fresh and fully recovered from a hindering tournament injury, looked ready to unleash his tumultuous top-spinners, and newby Eliot ready to prove his speed serving worth in a Richmond shirt. Our second pair, Tom Smith & Cameron Kavanagh, are a tennis sponsors' dream. Despite rumours Cameron had been in a Wimbledon night club just a few hours before, he looked ready to rock and roll! And so the match began...

Tom & Cam began a clinical dismantling of Badshot 2s tennis. Tom's new found Kyrgios-inspired tactic of stepping up into the serve proved unstoppable as he hit several back-hand winners standing 8.2 inches from the net! Cameron found the first serve that had been alluding him for a while, hitting flat, hard and handsome. Their biggest challenge was keeping their motivation and concentration, but they managed this with aplomb - handing out double donuts to the opposition 6-0, 6-0 in rapid-fire fashion.

Sam & Eliot, against Badshot's first pair, were not to be outdone. A superb balance of serving and groundstroke power from Eliot combined with the cunning angles and net guile from Sam "The Spin" Barnes. No official figures were recorded, but it's estimated that Eliot hit 187 aces as his nuclear 1st serve pinged past opponents like a Moscow bullet train. Again, it seemed like only a few fleeting minutes had passed before the opponents were wrapped up 6-0, 6-1.

Take two, all change…

Maybe it was the heat, maybe it was the heaviness of the air, maybe it was the late-night cocktails, but the second matches were a little tighter (although only a little). Both Richmond teams mirrored each other's dominance with straight set victories for the loss of just 2 games.

This RLTC 1s win takes them to second in the league, with two to play against teams below them. Well done boys, and we expect you to bring home the tennis bacon (or Quorn, depending on dietary requirements!) with a Championship title victory.