Competition
RLTC Men's 2nd Team v Walton - MATCH WON: 4-0
Fri, 11 Jan 2019 00:00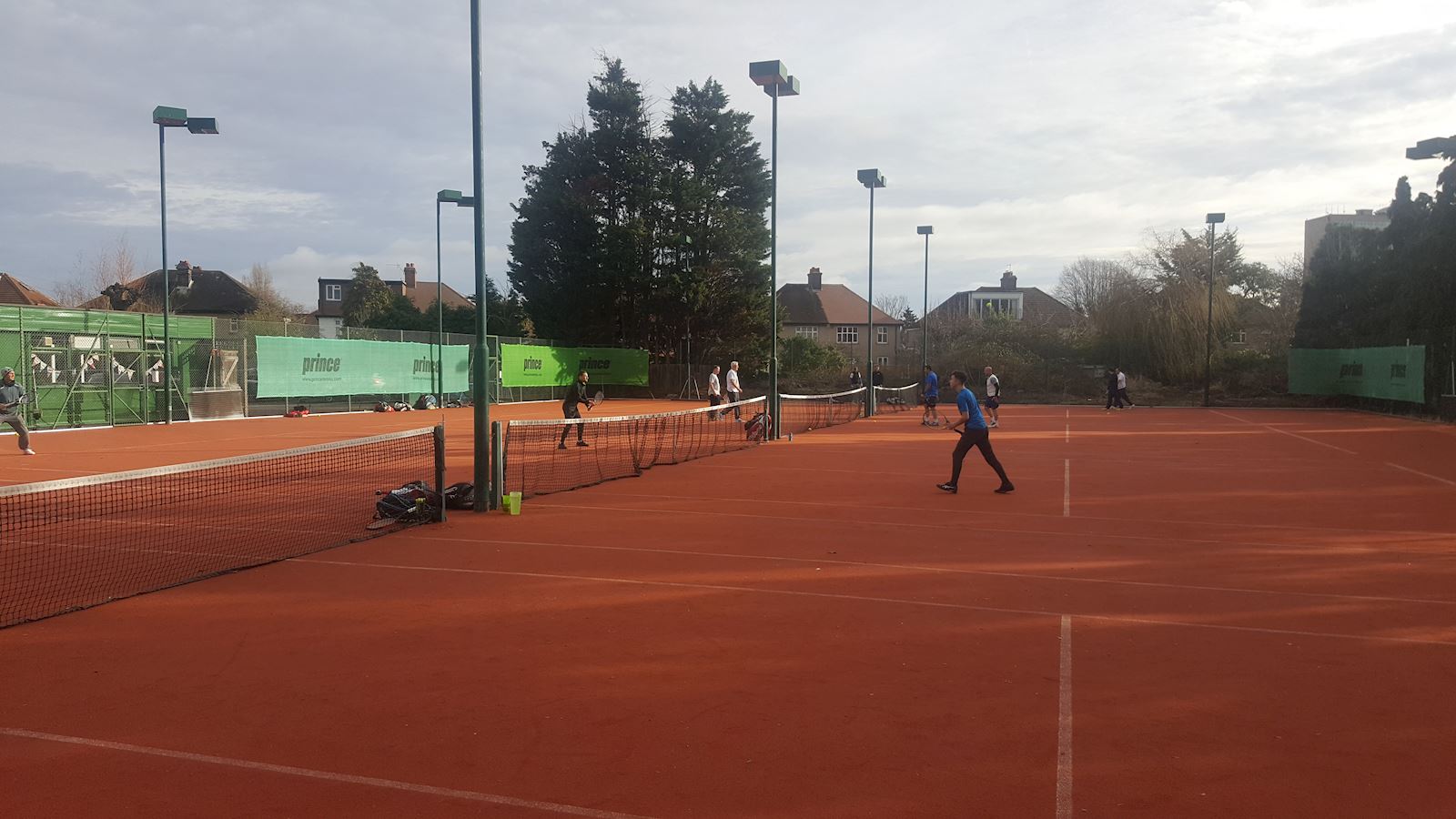 Match report:

Written by Olly Pimblett
'Twas 11 nights after Christmas when all through the Richmond Lawn Tennis clubhouse, not a creature was stirring, not even a Wolf or mouse. Four not so wise men gathered this Saturday past at the holy birthplace of friendly tennis (Richmond Lawn Tennis Club car park) to plot their raid on Walton Upon Thames'.
They were neighbours separated by just a few miles but tennis enemies of a seismic 3 league places. Who would return home heroes on this day of doubles reckoning?

As the clubhouse clock struck 9am, the early morning sun seemed tired as its weakened rays struggled to pierce the heavy deepness of the grey air.
The bitter cold wind biting hungrily to steal the warmth of these passing tennis travellers.
Yuletide stories were shared among the men to raise their cool spirits;
Captain Olly ("The Inspiration") Pimblett telling tall tales of Russian Vodka-fuelled Bloody Mary cocktails and Croydon Karaoke capers of New Year.
Balint ("The Budapest Bullet") Csegezi told tales of the belly-aching constant grazing woes of his visit to his girlfriend's homeland;
Scott ("The Shield") Shields spoke of his harrowing family jaunt to the Badlands of the Bedfordshire/Buckinghamshire borders;
Patrice ("Don't Mess") Metzger brought tears to the eyes with his regaling of romantic mountain walks through Chamonix.

And so, with hearts warmed, the foursome boarded their donkeys (Balint's 5 series BMW) and set off for Walton, guided by the shining tennis Northstar (Balint's Sat Nav). Father Thames was confidently straddled and the challenging Chertsey Road conquered by these young adventurers and they soon arrived amongst the cobbled streets of Walton.

The local parakeets screeched uneasy cries from the treetops surrounding Walton's tennis colosseum. Perhaps it was the youthful jaunty strides of these Richmond gladiators compared to the mince-pie filled heavy wading of Walton's third team that worried them?
Perhaps it was the knowledge that this Richmond rabble were confident on Walton's quick and slidey all-weather surface?
Perhaps they'd had too much cheese over Christmas?
Whatever the reasons, the parakeets were raucous on Richmond's arrival! Both sets of opposing ball-&bashers shook hands, stretched their muscles and smelt the air and were ready to rock.

Team 1 of Scott & Patrice ('Scottrice') was a cunning combination of guile and tennis whit... a worthy and wily partnership that gelled like gelling gel. A twosome so free-flowing it was like a Morecambe and Wise standup routine, a partnership so easy on the eye it made a rosy sunset over the pagoda look mediocre!
For Patrice, keeping his full arctic survival kit on (Ski-jacket, two jumpers, bobble-hat, one ski-glove, ski pants) clearly paid off as they stormed to 6-3, taking the first set with some hot hitting.
For the second set, maybe Patrice was over-heating in his snowboard jacket, maybe Scott's sandwiches were garnished with salmonella, whatever the reasons. Set 2 was a complete reversal of their first set dominance and they lost 1-6. And so, to a deciding championships tie break!

Meanwhile, on the other show court, RLTC's pair 2, the quaff-tastic combo of Olly & Balint, were easing their way past Walton's second pair with a sweat-free 6-1, 6-3 smashing. Balint nonchalantly pinged punishing double back hands down the line, and Olly slapped some stinging forehands down the middle…..the parakeets were now quiet and quite worried!
As Olly and Bal wandered over to Court 1 to show their support, things were getting tasty. 'Scottrice''s shoulders told the sorry story, they were getting lower and lower by the second… before long they were 1-6 down and it wasn't looking good.
Balint took a football manager-like stance at the side of their court directly adjacent to the unfolding drama, nodding encouragingly in their general direction (whilst at the same time giving worried glances to a chain vaping Olly sat behind him).
Suddenly Scottrice found something extra and dragged themselves back to 4-6. You could taste the teetering tension, the parakeets blood-curdling cries cut through the emotionally knotted air.
A Walton fist-pump later and Scottrice were 4-9 down, just one cruel point from defeat.
Their shoulders now so low they were in danger of tripping themselves up as they trudged back for Scott's two service points.
Balint glanced once more across to Olly and gave the kind of accepting surrendered look a vet gives his assistant as he realises he's mistakenly removed the testicles of a perfectly healthy dog that came in for a flee shot!
Scott mustered all his energies and managed to toss the ball just over his head for the serve and…
and.......
.....SMASHED DOWN AN ACE! It was 5-9.
Scott then smashed down another 'all or nothing' serve that didn't come back, and it was 6-9. Surely not!? Now it was Walton's service game, with only 1 point needed for victory.
Patrice wiped his nose (for the 38th time) with his handy pocket hanky and carefully placed his feet like a boxer readying himself for the final round... Walton put down a first serve, but it was timid and slow.
Patrice pounced like a cat on crack and looped a top-spinning return too deep to deal with: it was 7-9. Could it be on? Yes, it could. Scott deliciously sliced the next serve on an extreme angle and it doesn't come back. 8-9!

What followed can only be described as 'Tennis Sartori', a timeless moment when Patrice & Scott become one with the tennis ball, one with the racket, one with the court. They actually became the game and truly lived the situation as one flowing unit, a moment of higher enlightenment... they floated their way to an incredible 12-10 victory.
Richmond took a quick banana break to re-group and reset, but the momentum was well and truly with them. All change and match two

'Scottrice' quickly dispatched pair 2 with the same respectful disdain as Bal & Olly, with an easy 6-1, 6-2 cruise.
Then Bal & Olly's second match proved more of a challenge. The championship tie-break had clearly roused Walton's first pair and they were dicing and slicing some superb sizzlers down the court and had taken an early 0-3 lead.
Bal & Olly had a quick mid-match team meeting to take stock and decided to concentrate on "Tao-Chin" or "Relaxed Aggression" (an ancient Karma Sutral technique that loosens the lower shakras whilst allowing a heavy hip whip).
This little-known Eastern skill, along with Olly's gamesmanship (of using the ball with Parakeet poo on) and Balint's cheeky tactic of hitting as many net-chord winners as possible brought them back to 5-5 and left Walton frustrated and bemused.
A solid 7-5 win inevitably followed. The home team's spirit seemed broken and the second set was a walk in the Walton tennis park for the Richmond pair. skipping their way to a 6-4 victory and a glorious team whitewash for the day.

Walton were fine hosts and gracious in defeat, offering beer and crisps in their cosy bar afterwards. The Richmond team likewise showed sportsmanship with a peace offering of Balint's extra large salted caramel Galaxy bar. When the teams had had its fill of all the good things on offer from the Walton table, Richmond returned to their homeland to tell of their great tennis tales.
Well done boys. Their two games in the next 2 weeks are pivotal, but league victory is very possible.