Competition
Three wins on the bounce for men's 4th team
Thu, 09 Sep 2021 00:00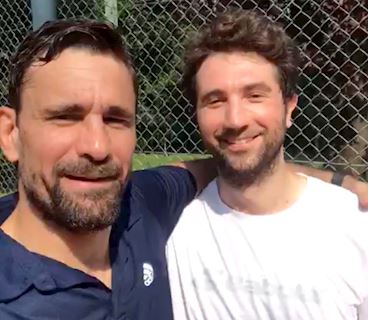 Tony Voller reports...
On a grey, overcast September Sunday morning, two new Team 4 partnerships ventured to leafy Claygate - heavy with the weight of expectation on their shoulders given Team 4's stellar performance in recent weeks.
Will White and Gonzalo Romero Vagni, confirmed clay lovers, took to the conditions like ducks to water, and clinically and efficiently despatched Claygate's second pair 6-3 6-4 with strong serving and deft net play in record time. Meanwhile, Akhilesh Pokhariyal (playing his first ever match on the dirt) and Tony Voller (reacquainting his deep dislike for clay for the first time in four years) took longer to get going, losing a tight first set 4-6. Despite Tony muttering that "clay was for pottery classes", they regrouped in the second set and stormed to a lead taking it 6-2. The championship tie-break didn't go well for the Richmond pair who were 2-5 and 4-7 down but once again they served strongly and play solidly to even up at 8 all. With the wind in their sails, two points later Team 4 were 2-0 up much to the frustration of the Claygate Captain.
As the teams changed courts, Will suffered a back strain requiring Team Medic Voller to administer drugs and potions to ease the pain. For good measure, Gonzalo gave his partner a "motivational" stare to make sure any potential talk of a walkover was not an option.
The second rubber started smoothly for both teams, both recording a 6-1 first set score. But as the sun broke through the clouds and temperatures soared on court, a couple of disputed service line calls led to an equally heated "discussion" (a.k.a. argument) halting play temporarily. Will and Gonzalo resolved their differences with their opponents and once again closed out the second set 6-4. Akhilesh and Tony struggled with the sun and found themselves 3-4, 0-30 down but Tony, deploying Gonzalo's motivational techniques gave Akhilesh a stare that said "get this done, the beer's waiting". Five minutes later, Team 4 had a well earned 4-0 victory.
Credit to the Claygate team who, despite the brief "on-court" disagreement, were a quality team and generous hosts who made us feel very welcome.
So where does this leave Team 4? After 3 fantastic wins in a row, we are now top the league. Plenty of motivation to finish the season on a high and head into the Winter league with renewed energy.
Watch the player post-match interviews
Phil Norris, TE4M Captain, concludes "this is another landmark moment with our first 4-0 victory that demonstrates - with new partnerships - the depth of talent in our squad.
As we pass the midway point of the season, we've already beaten - on paper - the strongest teams in our division, so as Tony said there is much to be motivated about for the remaining two matches and into the winter - BOOM!"