Club
Two new memorials
Mon, 11 Jul 2022 00:00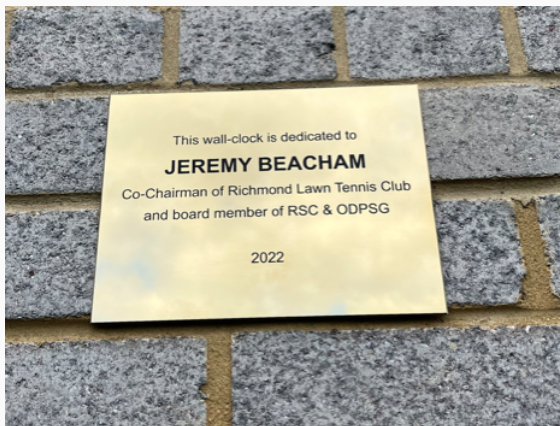 The Clock


Many of you may have recently noticed the new outdoor clock on the clubhouse wall facing the grass and Tiger Turf courts. Its arrival in May has been widely greeted as a welcome addition to our club scene. What may not have been so clear to everyone until now is the reason for its acquisition. Just over a year ago RLTC co-chairman Jeremy Beacham died following a short illness. In consultation with his family, it was decided to acquire this wall-clock in his memory – an added facility of which Jeremy would have approved. The new brass wall plaque – last weekend fixed to the wall below the clock – now records this fact.

Jeremy, a scientist by profession, was a member of RLTC for over twenty years and played doubles regularly until a few months before his death in January 2021. He was the tennis club's Finance Officer and also served on the two boards that govern our shared sports ground: Richmond Sports Club Ltd (RSC) and Old Deer Park Sports Ground Ltd (ODPSG). He was a dedicated custodian of all that's best about our tennis club: in addition to his significant administrative contribution, his many small tasks carried out quietly around the club and grounds may have sometimes gone unnoticed but they are not unremembered.
The Bench


Also in May, a new wooden two-seater bench appeared alongside Hard Court 1. This now also bears a plaque to record the fact that it's been acquired to commemorate two other long-time members of RLTC: Neville & Valerie Pinnington. Having joined the club back in 1963, they were both keen supporters of the club's Juniors tennis programme – hence the location alongside the courts where most of our Juniors activity takes place. Both their sons Hector and Clive played tennis at RLTC and it is with their agreement that this bench was acquired in the wake of Neville's death in August 2020, followed by Val's in July 2021.

Neville became a prominent figure at ODP. Having been a talented rugby player in his youth, as well as a keen tennis player, his business career made him an able administrator used to taking the lead, and for most of the 1980s he was chairman of our tennis club. He went on to serve as Chairman and President of what we now call RSC (the combined cricket, tennis and archery clubs), and later – capping a notable legacy – he became Chairman of the overall ODPSG Partnership between RSC and London Welsh RFC.