Competition
Ross Ladies A Team v. Stourbridge B Team
Tue, 10 Mar 2020 00:00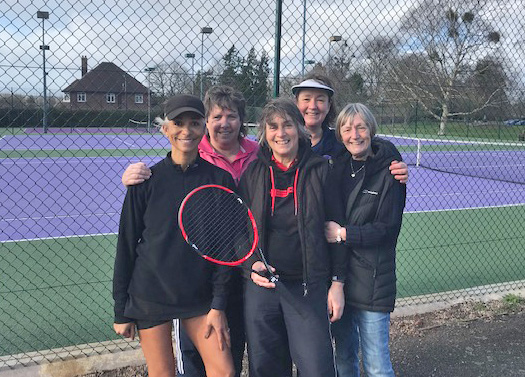 Sunday 8th March was the the last match of the winter season for the Ross Ladies A team. Brenda Saunders and Val Davies played as first pair and, after a long break, were excited to partner each other again. Despite some fierce serving from the opposition and consistent hitting Ross took the rubber dropping only three games. All four players had a cuppa and watched the third set of the match on court two, which Ross won 6-2.
The second rubber for the Ross second pair was a close affair. Sarah Drake and Jane Pepperell withstood the consistent opposition in a nip and tuck first set, eventually taking the tiebreak. This seemed to deflate the Stourbridge pair who then conceded the second set too. Brenda and Val had to concentrate against the second pair, who were tricky but secured a straight sets win.
The lunch in the pavilion had a celebratory atmosphere with lots of laughter, compliments on the food and a delicious gluten-free chocolate cake to finish. Captain Lynn O'Driscoll was a superb waitress and Gaynor's contribution was gratefully received. Well done ladies, 10 points for a great team.
Non-members are welcome to play at Ross Tennis Centre, details at rosstenniscentre.org.