Competition
Another convincing win!
Wed, 10 Jul 2019 00:00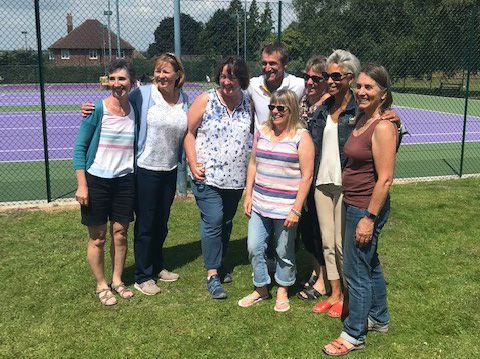 Whilst Wimbledon got into it's second week, the Ross ladies A team were competing against Old Hill on the newly refurbished courts. The tennis centre was still buzzing from a really successful tennis festival the day before when former World Number One, Mats Wilander came to coach local children and 8 lucky adults.

Ross's first pair Val Davies and Jane Pepperell got off to a flying start against Old Hill's first pair winning fairly swiftly 6:3, 6:2. There were some superb volleys and interceptions from the Ross pair who were just too strong for their opponents. Sarah Drake and Heather Peachy, played against the third pair first and after a bit of a slow start, quickly played to form and won 6:2,6:1. The Ross 3rd pair, Gaynor Raine and Sandy Faulkes played against the second pair first. The Ross pair had a long first set, but with Sandys unconventional play and superb mid court volleys the pair won both sets 6:4,6:1.

So at half time the Ross team were 3 rubbers up and in a good position to win the match, urged on by Sarah. Gaynor and Sandy went on to win against the third couple, losing only one set in the rubber. On paper Val and Jane should have had an easy game but the Old Hill second pair stepped up their play a notch, with lots of lobs and softer shots which didn't allow Val and Jane to play their usual faster paced game. Despite their frustrations and after losing the first set, Val and Jane kept their cool and won the rubber 4:6,6:4,7:6.
The final match , was a really close one, with superb rallies from both teams. Sarah and Heather won the first set on a tie-break, and with some great forehands from Heather and smashes from Sarah went on to win the second set 6:4.

So a 6:0 win for the Ross ladies, inspired by Mats Wilander, which keeps the A team near the top of their division with only one match to play.